Mobile apps and the restaurant business are the new best friends in the tech world. With an increase in the number of mobiles, the app-restaurant partnership, the bond only seems to be getting stronger. Mobile apps have gained some steady popularity over these years and in the hotel industry it has brought about a revolution that has created undying ripples. Mobile apps have proven that they are undisputedly the most sought after technology and that this partnership is here to stay.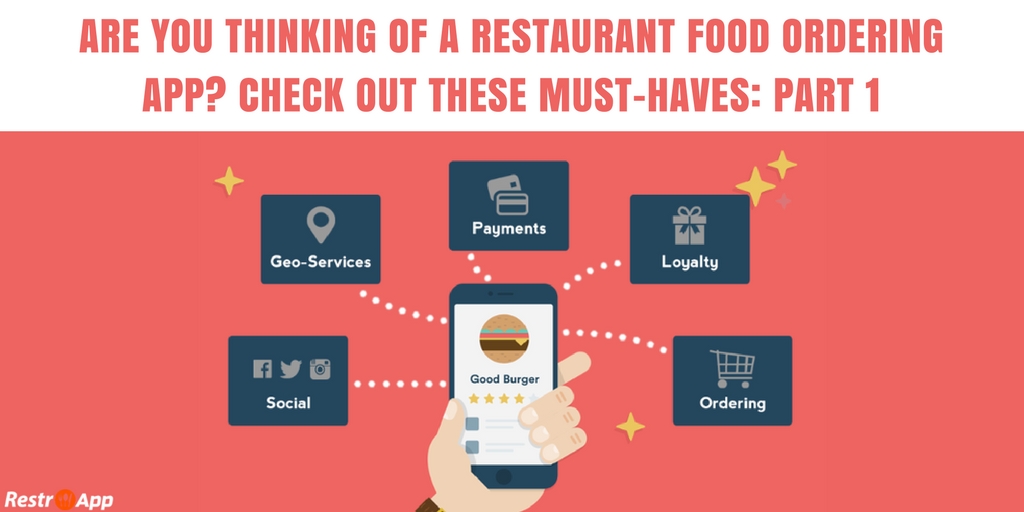 If you are a hotel business owner with a plan to develop a mobile food ordering app for your restaurant or if you haven't planned an app as yet or if you already have employed an app for your restaurant, this article is going to redefine the structural aspect your mobile app. By planning. Designing and investing money and intellect into developing a mobile app doesn't really suffice.
You have to work towards creating an app that follows the 9 must-have rules that make your restaurant food ordering app a perfect tech tool:
1. Invest in a customized app:
Value-based packages definitely provide an optimum solution yet customized app go that extra mile to exude your unique vision with regard to the restaurant business. If you are financially capable, it is advisable to opt for a custom made app. The customized app shows off the typical characteristics of your mobile app. So apart from the usual features that are associated with a clone app structure, you can add your very own functionalities that will help promote your brand. It breaks the monotony created by a 'me too' idea and can successfully create an original, richer version of yourself. After all, an app is your digitalized avatar that has to be perfect.
2. Shake hands with SEO best practices and social media:
Your database management must be such that it should be read by search engines. Your app (especially a customized one) needs to gain popularity and following the basics of SEO can help a lot here. They will act as a free source of constant traffic. Adding social sharing buttons to the app promises greater visibility and exposure. This does not happen by default but requires an in-depth development process by experts like developers and designers with a wide range of experience combined with the efforts of SEO experts. Social media can transport your app and business to a whole new level hence, a lot of emphases must be paid towards this aspect
3. Perfect it from the scratch:
You must have an exhaustive list of all that is needed of you towards the app. From a digitally appealing menu card to the various other aspects that you may have visualized for your app; there is a whole lot of things that demand your intellectual input as well. It is necessary to do conduct market research for your app. This will help you work well within its framework.
4. The niche matters:
Target a smaller area and then expand. It is always advisable to start your business targeting a particular niche and then working up the ladder. Focus on creating a mobile food ordering app that will cater to their needs. This will help build a stable brand name which if maintained well, will take your restaurant business to greater heights. Figure out optimum mobile app solutions for a particular area and later plan the expansion phase.
This forms the first half of your app story. There is a lot more that your app must have in store to ace the game. Stay tuned to get the complete mobile app plan for your restaurant business because evolving is what it takes to make it big here!
In the meanwhile, have something to ask or want us to assist you in your restaurant's app strategy? Feel free to connect with RestroApp at info@restroapp.com or click here to get in touch.