OpenTable is a restaurant reservation company which was started by Chuck Templeton in 1998. This unique and innovative idea literally revolutionized the way food industry worked and led to the growth of a monopolistic market for OpenTable. In a period of 2 decades, OpenTable has extended its services globally in around 18 countries and has maintained a firm grip on its restaurant reservation service market share. Imagine the convenience of booking a restaurant table right from your mobile phone without having to worry about waiting in long queues and wondering what kind of food you'll be served.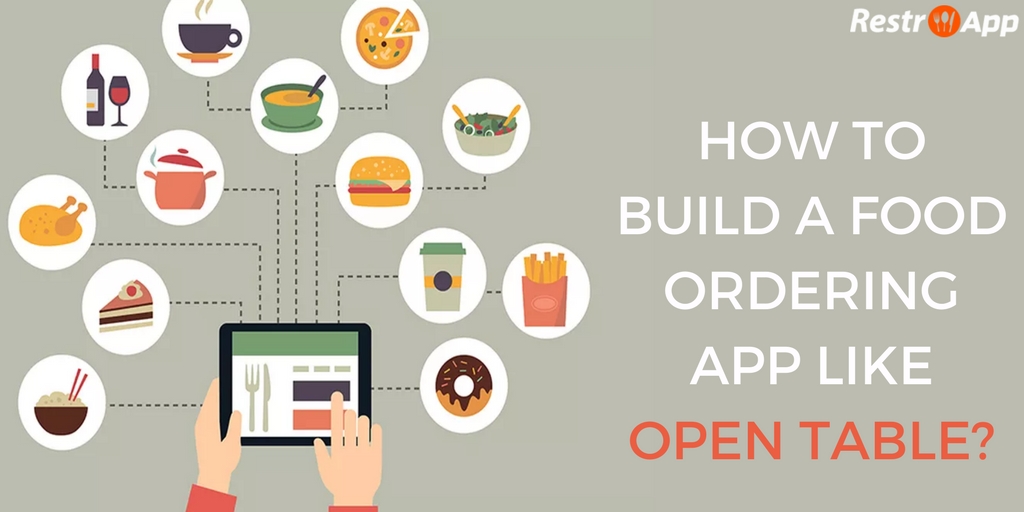 With OpenTable, your food cravings will take a back seat as all you need is to reserve a table, choose your favorite food from a variety of cuisines available to give your taste bud a delicious treat, sit back and relax.
Moreover, if you are a restaurant owner or a start-up ideator, and are wondering how to excel in the food industry, consider building a food ordering app like OpenTable and see how your sales boost instantly – just that you need to adopt the best practices and move smartly.
Wondering how to get a food ordering mobile app like OpenTable built? How does it work? What are the costs incurred in the development of such an app? Whom should you contact to get the best app built? Keep calm and relax. All your queries shall be answered in the points discussed below. Have a look.
The mechanism of OpenTable:
OpenTable carries out its work through a two-way process. It caters to the needs of both the restaurant owners as well as consumers.
Services for consumers or diners
The users need to create an account on OpenTable. Once the account is created, OpenTable determines their location and gives them options of restaurants to choose from.
Apart from letting them reserve table, it allows them to access additional features like details about the menu, the cuisines available, its price as well as reviews given by other customers.
They are also showered by rewards, loyalty programs, and discounts.
Services for restaurant owners
The restaurants need to pay a fee of $1 for each customer who booked the table through OpenTable.
OpenTable is beneficial for restaurants too as it provides restaurant owners with various marketing strategies like pay for performance where the users get 1,000 points for each reserved table. It motivates them to keep coming back to the restaurant and helps the restaurant owner generate revenue on a regular basis.
It also allows them to use features like Electronic reservation book which keeps a track of such customers who fail to show up, come late or often cancel their reservation. With this road map of consumer activities, restaurants can run ad campaigns, send emails to attract such consumers.
Can you build your Food Ordering Mobile App like OpenTable?
Food Ordering Mobile App like OpenTable does not really involve rocket science. It can definitely be built and help you have a competitive edge over your competitors through the ample revenue you shall generate through reservations.
Instead of using the facilities provided by OpenTable, it is better to build an app that provides similar services exclusively for your restaurant. In this context, all you need to do is opt for an authentic process for getting your app built. There are several ways available for building your app. Let's have a look at these processes and the cost incurred on them.
1. Restaurant App Development Company:
The restaurant app development company's approach is huge because it takes into account the customizations, screens required along with various complexities involved. Their charges for app building range between $10,000 and $60,000 in accordance with the size of the app.
2. Freelance developers:
The app built by freelance developers do not give quality assurance and their process remains ambiguous. They charge anything between $5000 and $10000.
3. App builders:
An app built by a restaurant app builder or through drag and drop tools of app maker has limitations of customization, technical knowledge, and scalability. The costs incurred are between $6000 and $7000.
4. Productized approach:
The best way to app building is by choosing the productized approach because of its cost-effective, reliable system of working along with contemporary features of customization, scalability, technical assistance and onboarding. They charge a minimum amount between $3000 and $8000 and create an app that fulfills all your business requirements.
Whom to contact and how?
Going the productized way would be the best decision you will take for having a food ordering app like OpenTable. In this context, product-based solution providers such as RestroApp is reliable solution providers who work extensively towards giving you the best experience of app building.
We can give you a fully customized app in a short span of time with their professional approach. So, don't waste your time and get hold of RestroApp or ValueAppz to get your food ordering mobile app like OpenTable built.
For any further queries or question, just drop a line at info@restroapp.com. We would be happy to help you right away.