Technology has transformed all the primitive methods of doing work. It has changed every facet of our life like how we work, shop, and do our daily chores. Technology is Impacting future of the restaurant industry in so many ways. It has become an integral part of the restaurant industry from the cash counter to the kitchen shelf.  New digital technologies have helped restaurants to run their business seamlessly and effectively.
Very rightly said by Godfrey Reggio: It's not that we use technology, We live technology.
Below are the innovative technologies which are transforming future of the restaurant industry:
Voice for Payments and Billing
People are running short of time so they prefer fast paying options over conventional methods of billing. Many restaurants have introduced online food ordering apps in which you don't have to pay money manually to the waiter.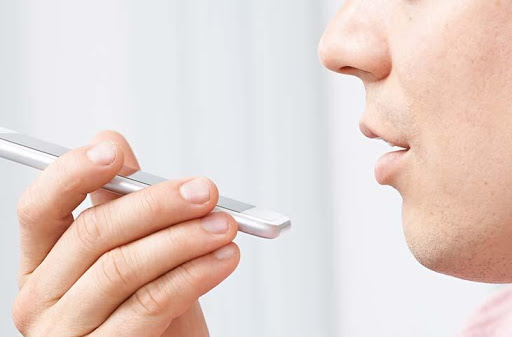 (Source: Google.com)
Voice will be popular in the future in the restaurant industries. Various San-Francisco based eateries have already introduced a Google-supported system. Which involves voice and facial recognition. All you need to say "I'll pay with Google," and you will be automatically charge. Also, some restaurants in London have introduced bill-splitting apps which come handy if you are in a group. This feature splits your bill amount.
Robot Services & AI 
It has been anticipated that robots will replace humans in the future. For instance, self-service machines have replaced manpower in many restaurant chains; the day is not far when this can reach to the preparation of food too.
Predictions have been made that 50% of jobs will be at risk with the coming of robotics. It will be scary to see robots all over interacting with humans especially in restaurant industries.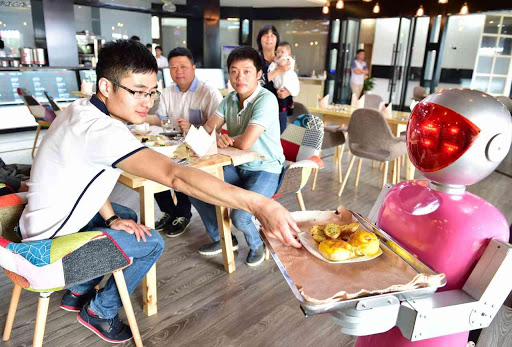 (Source: Google.com)
Wearables
We usually use smartwatches for tracking our diet and fitness. But the restaurant these days are wearing smartwatches to provide better customer service. Managers are informed and alerted via this watch about menu changes, complaints, and special guests. Oracle indicates we could see this technology along with the Internet of things reaching restaurants kitchen when they will be able to talk with appliances.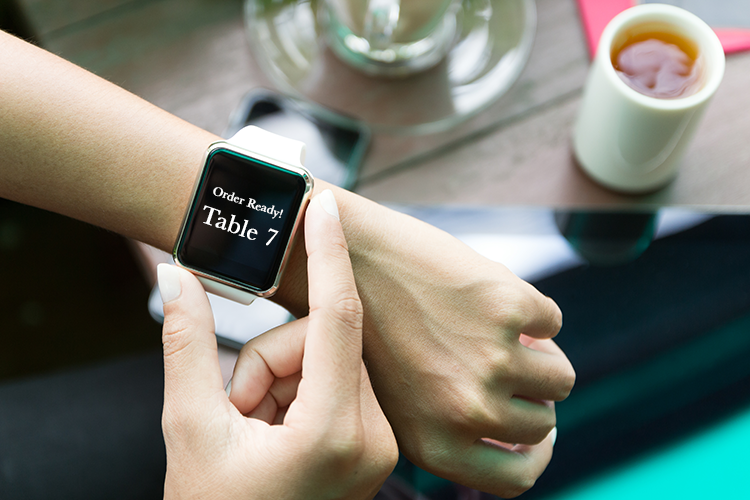 (Source: Google.com)
Virtual Reality Experiences
Big brands are using VR to offer an impeccable dining experience to their customers. VR not only transforms the tasting experience but provides a unique dining experience. This has been proved effective in engaging the young crowd and bringing them to their restaurant table. By adding VR to the menu many restaurants like Sublimotion which in Spain is able to charge high for their food and their VR experience. It considered one of the most expensive in the world at about $2,000 a plate.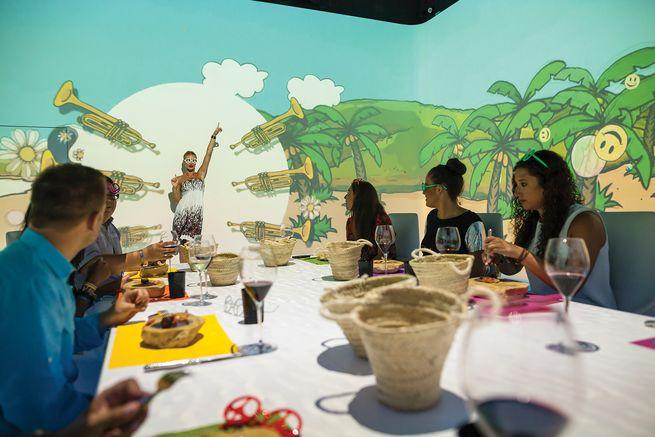 (Source: Google.com)
Samsung is one of the first brands to introduce its Gear VR glasses to the restaurant for the out of the world experience.
Augmented Reality
The judicious use of technology can increase your restaurant sales. The most promising technology that will boost your sales is Augmented Reality. This is a new way to engage your customers. It allows you to view 3D images of food on your phone or iPads. Visitors can just scan the restaurant's logo and they will be able to see the menu most realistically and attractively along with valuable information.  
Recently, Bareburger, a burger chain, has partnered with augmented reality startup Kabaq to turn its menu into 3D form. Customers can access their menu via Snapchat.
Technology has never been more spontaneous than it is today, and it's getting better day by day. With a better understanding of the technology, the restaurant industry has a better chance of thriving. Good luck to a digitally delicious journey! In case you have any questions drop us a line at info@restroapp.com.