Here October, Halloween is just around the corner. It's time to amaze your guests with creepy Halloween themes, decor, and menu items. You can utilize the festival to bring something different to your guests' tables. In this blog, we have highlighted some new Halloween restaurant ideas about how you can decorate your restaurant, organize events, and design offers to make this day memorable.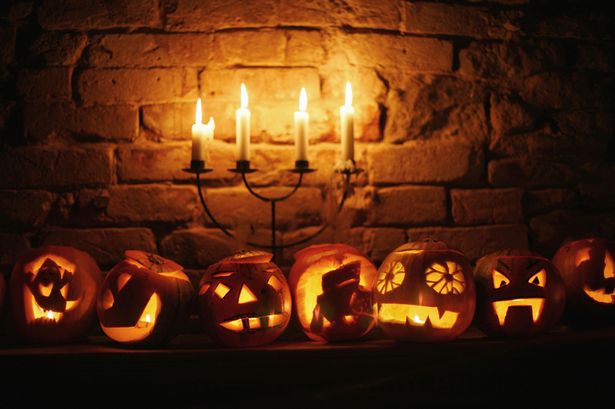 So, here are some Halloween restaurant ideas that you can try for Halloween this year.
Halloween restaurant ideas for your restaurant:
1. Run a Dress-up contest: 
Start by running a dress-up Halloween contest. People love dressing spooky for Halloween. So, many people will be willing to take part in your game if there is an incentive. Run the contest either the weekend before Halloween or on Halloween day. You can also keep this party going week long with different themes each day. You can select the categories like the scariest costume, best Halloween outfit or most creative idea. Involve all the participants and make them vote for the best costume and then select the winner. Treat the winner of each category with a free meal.
You can also let everyone win by offering a discount if they show up in a Halloween costume. Make it more exciting up clicking pictures and then posting them on your social media. This way, you can engage your followers and make them part of the fun.
Pro tip: Market your Halloween contest well in time through email or social media so that customers can prepare themselves beforehand.
2. Ideas for creative Halloween food menu:
Come up with the Innovative Halloween menu. Bring an exclusive Halloween menu to the table. You can also experiment with autumn flavors, like maple, cinnamon. Also, get creative with names and descriptions. Take inspiration from Halloween characters such as Dracula, Vampires, The Addams Family and more.
Also, introduce some new chilled drinks both alcoholic and non-alcoholic to delight your guests. Name the drinks like Dark and Stormy cocktails, Witches Brew, Devil potions and more. Present your drinks in cauldrons with dry ice.
Throw some candy into your bar snacks and add some chocolate pieces too. Also, any food or drink with red color can be used to give Halloween vibes. It will be great if these are served in laboratory tubes.
Pro tip: Post and advertise your Halloween Eve menu online so that people can look forward to visiting you for Halloween.
3. Make your Restaurant Bar hot as hell & serve festive Cocktails:
Serve flaming cocktails and other mixed drinks that contain flammable, high proof alcohol. It should be ignited prior to consumption. Proper precautions must be taken before serving the drinks. Also, drinks should never be consumed when flames are burning.
Take inspiration from other accounts on Instagram and incorporate some cool cocktail ideas for your restaurant. Search the hashtag #halloweencocktails and others for new ideas.  New cocktail ideas that are specially curated for Halloween will spark the interest of your guests. You can introduce ice molds, experiment with dry ice. Garnish your cocktails with gummy spiders, skeleton and more.
 4. Decorate juices with scary items:
Take an orange juice and decorate it with spiders, cocoa powder or skeletal motifs. This will make the drink look interesting and scary.
5. Decorate dessert with spooky things:
Serve pumpkin pie for dessert and decorate the cupcakes with zombies this will make them look scary. 
6. Change the names of your menu items:
Be innovative and think of some scary names that can relate to your menu items. For instance, tomato soup can become a "vampire's blood". Decoration, scary names and special pricing will make the items more attractive during Halloween.
7. Introduce some seasonal recipes:
Let your imagination and creativity on the table and add Halloween special on your menu like Pumpkin soup, apple cider, brew stew, etc. People are in Halloween mood, so treat them with these seasonal treats at a special discount. 
For your desserts introduce pumpkin pies, carrot cakes, pumpkin seeds and cookies which people usually cherish during autumn, but don't have to cook. Just like Starbucks, you can also use the power of pumpkin-spiced to anything.
When Starbucks used pumpkin-spiced, people were not able to resist their latte and the interest is still high. So, you can make the best out of pumpkin treats. Use food coloring or and icing pen to turn your marshmallows into little ghosts. Few additions and flavor adjustments can turn the existing dishes into something new.
9. Print your special offer
Design a special menu keeping in mind the Halloween theme and place it on your guests' tables.
Now, we have discussed all the tricks and tips about Halloween restaurant ideas like food, decorations, drinks, food menu, special recipes. Now, it's time to discuss how to attract customers to your restaurant's  Halloween party, which is why you should make the most of the opportunity by coming up with some innovative Halloween restaurant marketing ideas.
With a proper Halloween marketing strategy, you can make sure your place is the go-to destination of Halloween deals for your customers. Not sure where to start?
Check out these Halloween restaurant marketing ideas:
1. Hire a murder mystery company:
Halloween is great for hosting murder mystery at your restaurant. The company provides all the props, character and storylines. You can ask your guests to buy tickets for the same and experience a night full of suspense at your place. For murder mysteries, you can host a 1920s event or a creepy mystery from the 1980s. Encourage your customers to come up in their Halloween costume to make the experience more pleasurable.
2. Trick-and-Treat:
Well, trick and treat are mainly meant for the kids, but you can also involve adults in it. Offer some candy bags and goodies to your guests on Halloween night. Let families know that you are hosting this event so that they choose you before their door-to-door candy scoring journey. 
To make their quest more interesting, you can include some restaurant gift cards and let your customer know they chance a chance to win exciting gifts.
Take photos and post them on your social media page and Instagram story. Promote your trick-or-treat event on your social media prior to Halloween.
3. Decorate your Restaurant in a spooky way
Little decoration goes a long way. Incorporate pumpkins or faux leaves and other spooky things in the decoration. You can purchase decor from the local craft shop and then reuse it's for next Halloween.

Orange and black are ideal for Halloween. It's time for pumpkins so get some pumpkins, knives, and candles and keep that on your guest's tables.

Turn the light off and make the environment spooky. Let your restaurant be dark or just dim lights and decorate your guest's tables with branches and dry leaves.

Stretch some white or grey net on the ceiling bar and it will look like cobwebs.

Scatter some old-fashioned brooms in the corner, a witch hat on the walls and put some spell books on the shelves.

Also, use some dry ice to create a 'bubbling cauldron in a rustic-looking pot. 

Put some Chucky candles with candlesticks on your counter. 

Play some spooky music and sound effects at a low volume.

Make some black spider webs using bin bags and attach them to the walls.

Place some jar filled with tap water and a few drops of food coloring behind the counter.
4. Halloween Party  for Little Guests:
Children enjoy a lot on Halloween holidays, so you can arrange some fun activities for kids and their parents at your restaurant. So, don't forget to organize a party for your little guests.
During the day when your restaurant doesn't have much of a crowd, you can organize a party for little ones. Get ideas for the party theme from the new horror movies or cartoons and see what's trending. This may help you to gain more crowd than your competitor who might be still working on traditional themes. 
During the party, you can give various Halloween symbols such as amulets against evil spirits, Garlic clusters, Aspen stakes and more. You can make your staff dress as witches and zombies as kids enjoy such characters.
Give sweets, candies, and lollipops to kids.

Decorate your place with orange and black balloons.

Organize costumes and masks contest for kids.

Introduce some fun games like shooting pumpkin contest with paper balls and more to engage kids.

Use unusual names for your menu items to grab attention. For instance, draw a spider graph with chocolate over pancakes and name them "spider's cake". 

Organize a small school of cooking Halloween dishes for kids and their parents.
5. Halloween fun activities for adults: 
As much as kids enjoy Halloween, adults enjoy it too. So, organize a special party for your guests.
Call a famous DJ or musicians

Offer discounts on restaurant items for Halloween

Organize cocktail party at offer cocktails at discounts.

Send Halloween party invitations to your guests via email.

Don't forget to create notifications about your Halloween party. Send it to all your customers via your restaurant app.
Design some Halloween -themed games for your customers. Make them quick and easy so that your staff can focus more on their work. Here are some ideas that you can try:
# Guess the eyeballs: Fill the jar with ping pong balls submerged in some murky liquid. As your guests are about to pay their bills, ask them to guess the number of balls in the jar to win a prize or voucher. Have them write their guess on the card along with their name and email address. Also, give them 'opt-out option to make things simple.
# Play 'trick or treat': Put a handful of ping pong balls and label them with trick or treat into a box. Then let your customers choose the one before paying the bill. Rewards those who draw 'treats with free treats. You can also punish the ones who chose 'trick' it's completely up to you.
6. Halloween costume and makeup for staff:
Create an amazing Halloween atmosphere at your restaurant and dress your employees in Halloween costumes. Pick up some masks and costumes and disguise your staff as Halloween characters. Their scary appearance will impress your guests. Choose some popular themes to make things more memorable.
If you have the time and budget, you could hire a professional for doing makeup and helping your staff to look great. If you don't want to make it more spooky, then you still to the usual uniform with a small accessory like orange handkerchief or hat. This will also let you stick to the festive theme.
7. Social media advertising for your Halloween Event:
Social media is one of the most powerful forms of restaurant marketing. Post about your restaurant party and Halloween promotions in advance over your social media. Let people know about your plans and promotions over Snapchat, Facebook, Twitter, and Instagram. When people will come across your offers before others, then there are possibilities they will visit during the festive season.
Also, give a promo code like "Pumpkin fun" or more for free drinks, meals on social media to attract more customers.
Use your own hashtag and post pictures of your new seasonal dishes, drinks to gain more attention in the local community. Make a party announcement and share other content with people to get more likes and shares. This way, you will be able to make them visit your place for Halloween.
8. Collaborate with local businesses:
Be part of the trick-or-treat event that has been organized by local businesses. Find the local events happening in your society and see how you can get involved. For instance, a local school that might be hosting a scary movie night, find out how you can sell your snacks and refreshments at the event. Put some posters on your windows so people know you're part of the event. 
When visitors arrive, give them some sweets or your best baked as samples. The idea is not only to bring smiles on kids' faces but to showcase your goodies and have people coming back for more.
Halloween is a great business opportunity if done right to boost your revenue. So, make the best use of this special day and try all the above tips to make Halloween memorable at your restaurant. If you have more creative ideas for Halloween do share with us here at RestroApp. We would love to know what else we can bring to the table.