The food and restaurant industry has witnessed a major transformation after the emergence of food ordering mobile apps. With food being one of the largest segments in India's retail sector, IBEF (Indian Brand Equity Foundation) predicts the Indian food retail market to attain Rs 61 lakh crore ($894.98 billion) by the end of 2020. Moreover, the fact that the organized food business in India is worth $48 billion, of which food delivery is valued at $15 billion is enough to visualize the importance of food ordering mobile apps. A lot of restaurant owners are going the digital way and opting for food ordering mobile apps to satisfy and provide their customers with a convenient experience.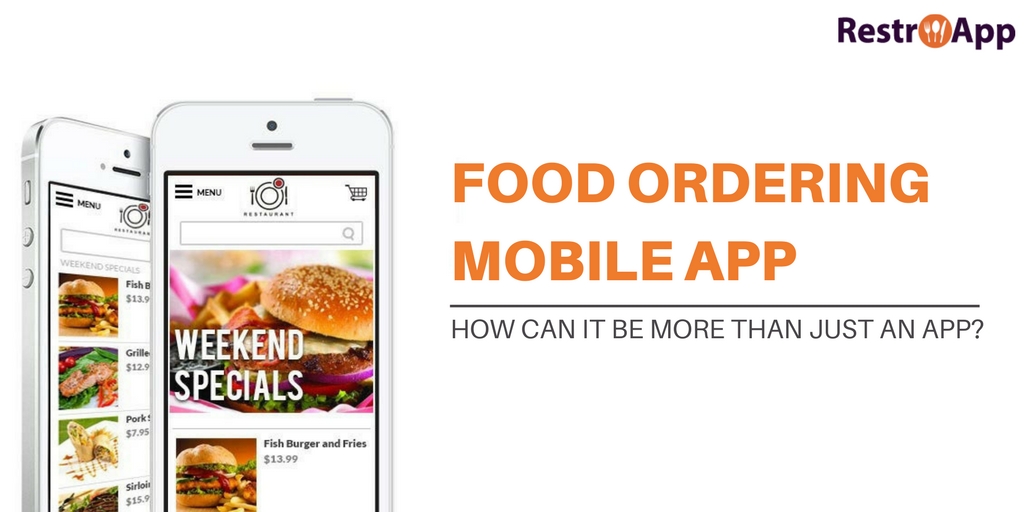 In fact, a food ordering mobile app is more than just an app. It has positively induced both customers and restaurant owners. Gone are those days when customers had to put the efforts of ordering through calls or standing in long queues for getting a taste of their favorite food. Paul Prudhomme says "you don't need a silver fork to eat good food". Well, I guess, you just need a good food ordering mobile app. Also, the restaurant owners going the app way not only witness an ample rise in their business but, also seamlessly provide great performance, efficiency, quality, and customer satisfaction. A food ordering mobile app isn't just an app, it is the backbone of your restaurant. Still having inhibitions about it? The below-mentioned points will definitely take away all your doubts and strengthen your trust in the benefits of a food ordering mobile app.
A fresh, innovative and welcoming experience: Midst the chaos and hassle of long restaurant queues and unattended phone calls, food ordering mobile apps is a breath of fresh air. It gives your customers a unique, genuine and welcoming experience. Once the customers' login through your mobile app, they can have the access to the whole menu along with enticing and visually appealing food at their fingertips within the realms of their smartphones. In addition, they also get all the information regarding your social media channels with instant browsing. Mobile food ordering app provides a picture perfect and user-friendly experience to your customers with your personalized brand touch. And, as a restaurant owner, isn't this exactly what you wish for? I know the answer would certainly be yes.
Exploring new avenues of mobile marketing: Your food ordering mobile app can open new avenues of mobile marketing. With rich features of push notifications, you can communicate instantly with your customers. All you need to do is send them relevant push messages regarding offers, discounts, location-based deals and special events. You can convert many potential customers into loyal customers by sending them smart and strategic push messages. It can serve as a cost-effective and proficient marketing tool for your restaurant.
Recurring customer visits through loyalty programs: Once you develop a loyal customer base, you can have a great return on investments and generate ample revenue. A food ordering mobile app motivate and influences customers to visit your restaurant more often. Coupons, referral codes, loyalty programs present within the app encourages customers to regularly use your app, order food and boost your sales significantly.
A whole new way of enhancing brand image: A food ordering mobile app is critical for increasing your brand value and image. Even if customers don't use your app every day, its presence on their smartphone is evident of the fact that they find your app valuable and might check it sooner or later. With appealing icons, custom templates, beautiful layouts and digital menu cards, your food ordering mobile app can enhance your brand image considerably. The longer the customers get exposed to your app, the higher are your chances of having a competitive edge over your competitors thereby enhancing your brand name.
Smart, error-free orders: During rush hours, a pile of orders can often be confusing. Wrong orders, engaged phone at peak times, asking customers to repeat their orders can be very annoying for the customers and can damage your restaurant's reputation severely. However, a food ordering mobile app can effectively provide smart and error-free orders to your customers. Allowing your customers to order their favorite food, reserve a table through the app not only makes the whole process of food ordering seamless but, also saves a considerable amount of time and money.
Seamless payment process: A mobile food ordering app doesn't only make dining easy for the customers but, also makes the payment process flawless. A huge queue in front of your restaurant desk waiting to pay for food can really get on your nerves. So, making payment a part of in-app ordering can work wonders for the smooth operation of your restaurant.
Hence, having an innovative and smooth function food ordering mobile app is vital for the success of your restaurant. It will not only help you achieve success but, will also cater to your current and future objectives.
Thinking of building your own restaurant app? Creating a food ordering mobile app can be very easy if you get proper guidance and assistance from experts and professionals like the ones at RestroApp. We can help you have a well-built food ordering mobile app instantly. For any queries, feel free to contact us at info@restroapp.com. We are just a message away.