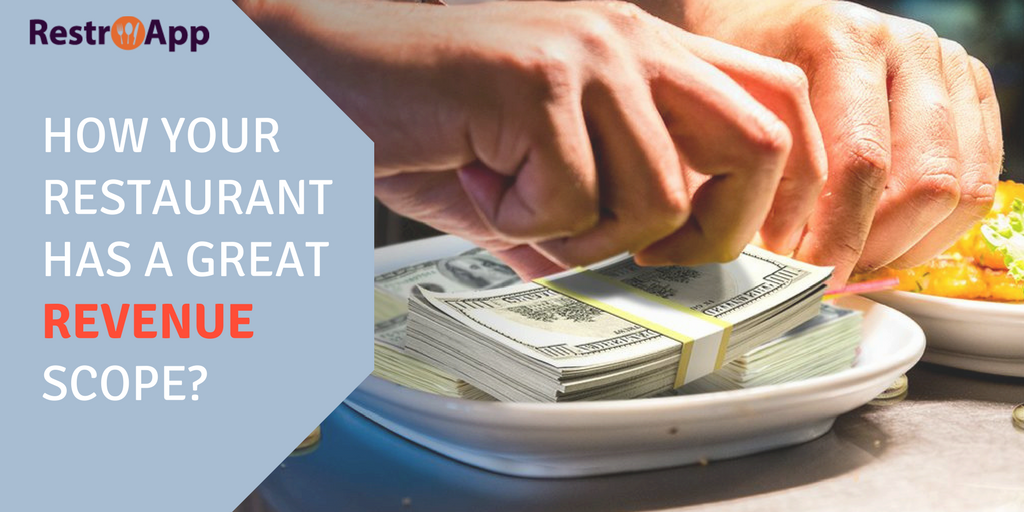 With the annual sales in restaurant industry escalating to a whopping $799 billion, the unprecedented growth of this sector is quite evident, thereby inducing restaurants all over the world to stay ahead in the competition and increase their scope of revenue generation. However, the unparalleled emergence of technology has critically changed the way the restaurant industry works.
With online ordering capturing 30% of the total takeaway orders, food ordering mobile apps have undoubtedly become an impeccable way of revenue generation.
The world has become digital and so has the restaurant industry. So, wouldn't you want to come to the forefront and embrace technology through a food order mobile app? After all, having an edge over competition always helps.
A food order mobile app can definitely enhance your restaurant's revenue generation scope.
Want to know how? Take a look:
1. A significant increase in orders
The fact that people tend to order more through a mobile food ordering app can be proven by the statistics which say that an approx of 74% of customers ranging between the ages of 18-35 prefer to take out orders or online food delivery.
In fact, the convenience of browsing the whole menu in the comforts of home and ordering just through a click has made food ordering mobile apps a favorite amidst customers and works as a critical factor in triggering revenue generation of a restaurant.
Online food ordering is now very explored after by diners and becoming more of a standard requirement for most customers than ever before. It's all about having options. Let's assume, sometimes customers want to go out to a restaurant and have a couple of hours to relax, but sometimes they don't, or cannot. Having a restaurant online ordering option is a major priority when looking to increase sales.
2. Eliminates every chance of miscommunication
A lot of miscommunication and misunderstanding crop up whilst placing a food order physically. Either the customer is unable to convey their preferences properly or the restaurant staff perceives it wrongly, thereby triggering the dissatisfaction of customers. You might even lose your customer base.
This is where a food order mobile app is of great help. Right from the orders, preferences and any added personalized demands, everything is done by the customers digitally, leaving no chances of any loopholes or issues.
3. Enhances the customer reach
With 44% of the global population having a smartphone by the end of 2017, would"t a food order mobile app work wonders in boosting your online presence and enhancing your customer reach? It certainly would. You can incorporate your social media channels within your food order mobile app and include features of sharing, feedback, and reviews too. Imagine the word of mouth promotion your restaurant would get! Not only it will help you retain your existing customers but, will also transform the prospective customers into loyal ones.

4. Facilitates seamless management
Since there are no chances of any miscommunication, you can manage the food orders seamlessly. Also, updating and managing a digital menu is way easier than a physical menu. You can scale it up and down as and when required. The data analytics feature of a food order mobile app also lets you get a deep insight into your customer's tastes and preferences, thereby helping you modify your menu accordingly while enhancing customer satisfaction and sales.
5. Triggers popularity
A well-built, intuitive food ordering mobile app for your restaurant business that lets you send smart and tactical push notifications to your customers, provide them great location-based deals and enhances their loyalty through a plethora of loyalty programs. Is there any way better than this to boost your popularity and instantly reach the top of the game? Definitely not.
6. Round the clock availability
While your physical restaurant is open for limited hours, a food order mobile app or app for restaurant ordering is in the hands of your customers round the clock through their smartphone. So, whilst you are sleeping, your customers might be busy browsing through your app's enticing menu and scheduling their order for the next day. How amazing is that! Well, an extra dose of revenue always feels great, doesn't it?
So, you see, how a food order mobile app can help you pace up with competition and reach new heights of success in no time.
Want to level up your restaurant's revenue game through a high-end food order mobile app? Wish to take that plunge? Look nowhere when Restroapp is here. Our dedicated team of developers work efficiently in giving you the best of an app experience by building a top-notch, custom food order mobile app meant exclusively for you. Just drop us a line at info@restroapp.com and we will reach out to you instantly.