Technology announced the birth of e-commerce and over the years, e-commerce has revolutionized our lifestyle. Be it clothing, electronics, food or anything else, technology has taken over every single sphere of human existence. With tech encroaching every single space in our lives, it wouldn't be surprising to state that about 71 percent of customers order their meals online with the help of their mobile devices.
Mobile apps have brought about an evolution to the conventional food ordering process. From the comforts of your home or while at work to placing orders while traveling back home, you now enjoy the facility of placing orders from anywhere, anytime.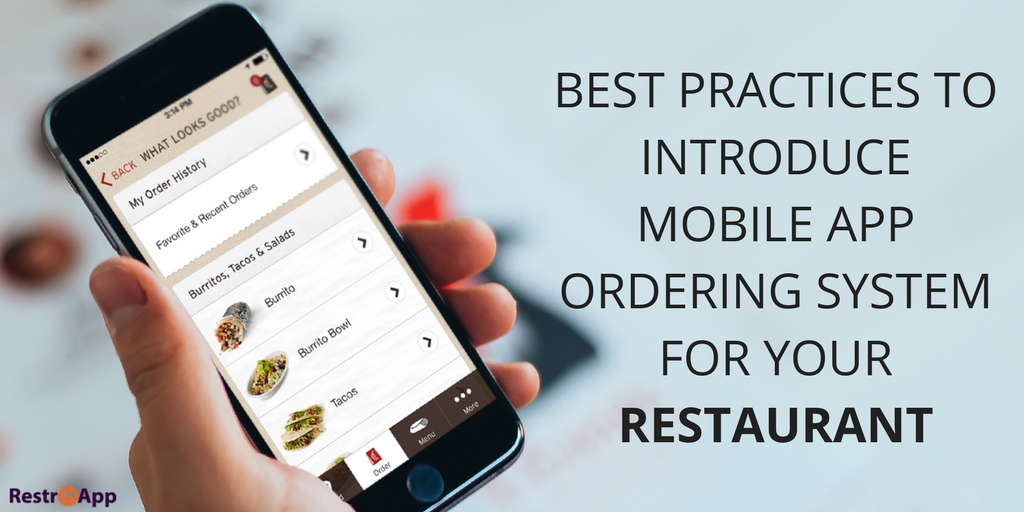 Restaurant app ordering system is the next big thing and is here to stay. Almost every restaurant owner has witnessed, felt and understood the need for mobile ordering option. Mobile app ordering has become so popular. Helping customers by extending the comfort of placing customized orders from wherever they intend to.
The restaurant app ordering system has helped restaurants to leverage the potential of technology to gain better visibility & brand value. Restaurant online food ordering system is indeed a boon for restaurant chains wherein they have helped at improving operational and functional efficiency.
A study conducted by a local research group in Mumbai found that over 60 to 65 percent men & women in the city were dependent on major online food ordering chains like Zomato & Food Panda.
So many have joined this fleet that managing lives without such services have become impossible for many in the metro and why not? With technology making the banalest task simplified to the core, it isn't surprising to find many dependents one side and individual restaurants trying to make it huge in here.
It is a smart choice to go independent and develop an online food ordering app for your individual restaurant. You can create a customized food ordering app for your restaurant without really having to stick to a common blanket format under app practices like at Zomato. Yet, just buying a duplicate version of the major food apps won't really help you make it big here.
Here are some of the best methods that will help you introduce your restaurant app ordering system successfully:
1. Build a customer-centric app:
Now that's the best possible thing to work on. Invest your time and efforts at developing an app an online food ordering system for the restaurant that majorly pays focus at providing the best possible services to the customer. If you feel that a duplicate script is enough to make it big, let me get it clear that it isn't enough to succeed though it may help you kick start your mobile app journey.
Create a unique personality for your app. Let me remind you, your app is your virtual self. Don't follow the bandwagon concept only to lose your individuality. Your food enterprise deserves so much more than a clone and so opt for a custom design, rich features and a lot more so that your targets pay focus on your brand as a whole.
2. Socialize:
Nothing is private in today's world. Everything is up there on the social media and to make it big here, there's just one mantra "Social to Connect. Connect to Win." It is necessary for your app to venture into the world of social media in order to make itself feel like an easy to use, friendly app endowed with features that can help its users.
Social sharing buttons are in fact clicks to popularity. The structure should be built in such a way that the architectural design must be easy for the search engines to pick and strong enough to make it SEO friendly.
Both the social media and the search engine optimization factors will help your mobile app in receiving the kind of web traffic and attention it must receive.
A quality product conceptualized by your and professional designers and programmers along with an experienced SEO team can help your business accelerate in the right direction.
3. Start with the basics:
Target your current customer base. They are the ones who need to know about the latest development you have made for them. Talk to them, explain the features of the app, the new digital menu, the easy delivery option, an online tracking system, the option to customize the order, etc.
This indirectly works as a medium of human advertising because if you are able to cater to the needs of your current customers, they will, in turn, help you receive the interest of a few more customers by word of mouth.
4. Target small and then go big:
Focus on a limited space. That works like a charm for restaurant online food ordering apps. While working on an app, make sure you create it perfectly to cater to a niche. This will help you focus on a particular market and build a stable brand name and customer base. Once your services touch the niche or rather if they feel sheer customer delight with your services, your app is on the right track on its way to success.
5. Make the order process simple:
Though tech-savvy, most of the smartphone users are till date worried about the payment process and a complicated order placement will surely instigate the app user to quickly uninstall your app. Avoid such issues with an easy place order process and a number of payment options.
Make the customer feel comfortable about making online payments and help them instill an un-compromised belief in you. A safe and secure payment gateway is indeed a motivating factor. E-wallets also work well in case of restaurant apps.
6. Offer Customization:
Help your customer pass special instructions via the app. This will further lure them into placing orders via mobile apps. Customization is, in fact, a tool that bridges the customer and the restaurant, helping the customer-restaurant relationship better.
You may also provide options based on the past order history of the customer. Everybody loves a bit of personalization and with a user-friendly app, you can touch the sweet spot!
7. Introduce via offers:
When discussing best practices, it is important to highlight the importance of discount offers and promo codes at the introductory stage of a mobile app.
A discount offer provokes the potential app user to download the app and also manages to keep the interest of the customer intact with many such offers, some customized based on the customer's previous order history. Referrals are also an incredible feature to add while introducing the mobile app.
Remember, an online ordering app is a revolution on the foodie's palm and it takes just a few taps to decide whether your app has hit the bull's eye or not. Introducing your app in the right manner is crucial. So, make sure that you practice the best methods to a successful launch and maintain the quality of the app all the while.
Time to go the app way? Sure! Your restaurant deserves a perfect digital space. Drop us a line at info@restroapp.com. At RestroApp, connect with an incredible team (we aren't boasting, our success stories say it all) of web and mobile app developers who just know what your restaurant needs to make it big in the app world!