With so many mobile food ordering apps like Swiggy, Zomato and the likes taking the entire food ordering experience to another level; covering a great deal from providing options to its customers to helping established restaurants and hotels to expand while letting food start-ups grow from beneath its subsoil, it would be farcical to say that it would have been possible for restaurant businesses to grow with a similar acceleration without such external support.
These websites have been great and have managed to strike a chord with the users thus helping a lot many hoteliers and restaurateurs witness their dreams convert into reality.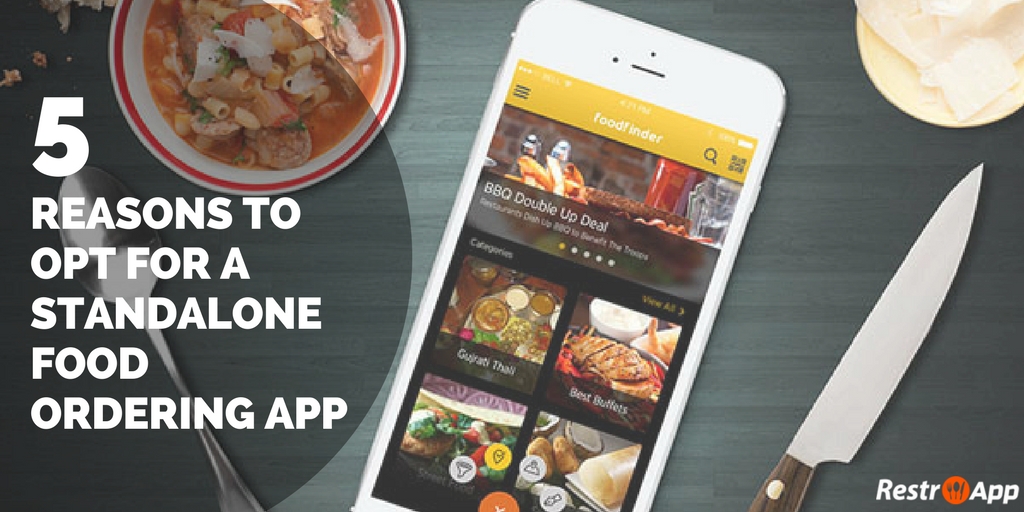 No matter how far things have progressed, there is always room for something better and bigger. Especially in the case of the restaurant business, this stands true. Apart from being listed on such host websites, ever planned or even thought about having a standalone food ordering app for your restaurant? No, I presume. Well, it's time you think about one for your restaurant business.
Having an affiliate relationship with websites like Zomato may be a great thing yet, we have to pay focus on the lot many opportunities that you may lose out in order to become a part of the large canopy. Under a dependent structure, you may have to face the following issues:
5 Reasons to Opt for a Standalone Mobile Food Ordering App:
1. You are always going to be the dependent:
Let's face the fact. You are a part of the big picture and there is absolutely no scope of going beyond what is predetermined.
No matter which class of hotel you belong to, you are dependent on a third-party front. Their terms and conditions bind you and you have to mold yourself in those limits. There is a limit with regard to your personal growth here. With a standalone app, you can seize every opportunity and get that edge in the market.
2. You cannot work according to an individualized strategy:
When associated with websites like Swiggy and Zomato, there isn't an individual strategy in place for your brand. All the brands listed will follow a single plan and there is no scope for diversification.
Your ideas may not be able to strategize itself towards achieving the larger goal. From customizing the cuisine and promoting your food to different targets, this may not be possible when under an umbrella cover.
3. You will have to face unwanted competition:
Well, when you list yourself under one among the many such websites, you are actually inviting a whole lot of competition for your business. A healthy feat. is acceptable yet, many times, you are getting involved in a comparison which may prove detrimental.
From the choice of food to the price listed, you are under the threat of constant comparison. Though one may call it a better practice, it may not be found to be an advantageous one. It is easy for customers to get lured by a competitor thus causing your business to suffer the loss of a potential customer.
Having a standalone app attracts the focus on your app and business alone. This will help you channelize your effort towards enhancing your restaurant business and offers.
4. Faster and efficient delivery isn't really feasible:
When you have an independent mobile food ordering app, you will be able to attract a lot many more customers. This is because you will then be able to hire a team of the efficient delivery personnel. This will help you deliver orders based on the customer's preferences and follow instructions well.
Many times, the customer's instructions never reach the restaurant and cause disappointment to the customer thus garnering negative reviews. You can conveniently avoid such circumstances by deploying an independent app. Also, it's easier to keep a track of the delivery staff and avoid delay in service. When under a food canopy, you will not be able to handle the delivery issues the way you want to and are dependent on the host's delivery staff.
5. You may not be able to entertain the customer's payment option:
In most cases, the payment is done by the customer via the host site. Many times, it has been observed that such food sites haven't been able to let their customer choose an option that may be feasible for them. At times, majorly due to technical issues, an online transaction may be declined. This may lead a customer dropping the idea of ordering food via the host site thus causing your restaurant to lose a customer and sale.
With an independent Mobile Food Ordering App in place, you may offer a number of payment options to your customers. This works as an incentive for the customer to make use of your app.
Implementing a standalone Mobile Food Ordering App isn't an easy job. It requires a lot of development expertise and efficiency. It also includes a lot of implementation cost but can definitely bring about an accurate, fast and efficient food delivery process. Having an independent app can help a great deal to garner a positive review as well as help in expanding the brand as a whole.
Thinking of a Mobile Food Ordering App for your restaurant? It's a great idea. Now, all that you need is a team of expert web developers who can help you convert your ideas into a fruitful reality. The investment is large, the brainpower to is vital yet, it's worth every bit. At RestroApp, try to discover your dream team from among our experts with more than 200 restaurant apps to boast about.
We're sure about solving your app woes. Just drop us a line at info@restroapp.com, click here or simply drop into our site to live chat with us.