Want to develop the next Swiggy, Zomato, UberEats, Dooradash, East24 food ordering app for your consumers? Do you want to take a plunge in the $5000 billion industry? If so, this is the best time to outshine your restaurant.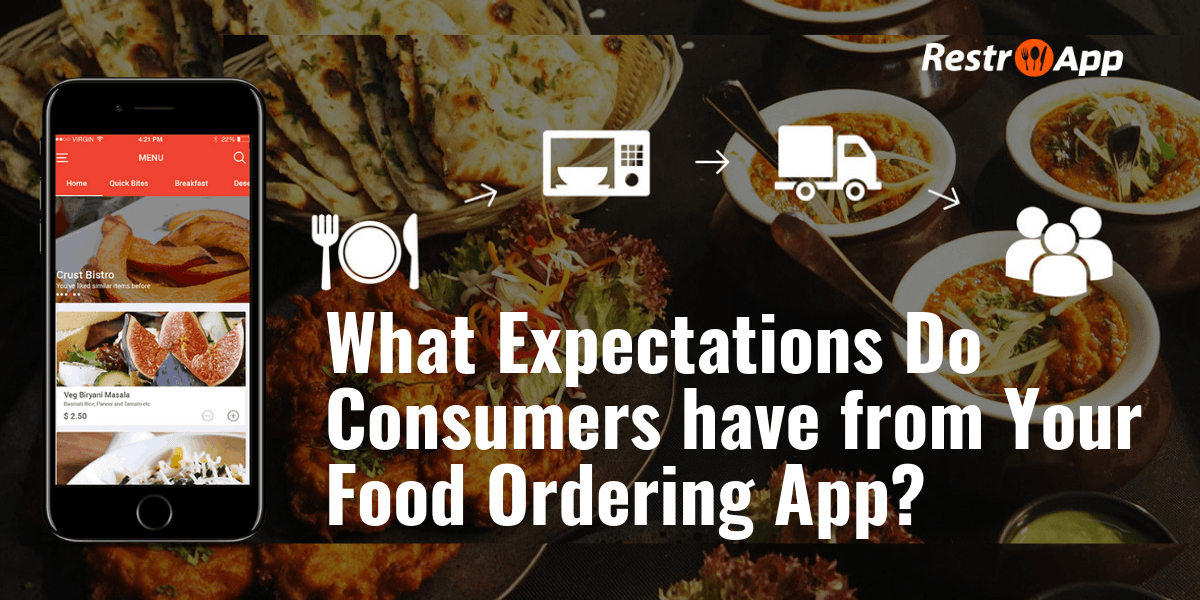 Where the whole world is getting on smartphones so that they get to every nook and cranny of the world, why are you waiting to grab the opportunity to get bigger?
The food industry is one of the world's largest industries in terms of revenue, employment, and consumer base. To make a good place in the heart of the consumers, you should have the right online food ordering app so that they can get connected with you seamlessly.
You have to get the orders processed, delivered the way they want, when and where. Are you aware of most of their expectations?
Here are a few expectations that Customers have regarding your Food Ordering App:
1. They Want to do Everything with Ease
There is no alternative to simplicity. Make it easy for the customer to browse through what menu items you have in your restaurant app, place order that drives the appetite and payments that delivered at the right time. 
Mobile app developers have a good deal of APIs and features that amplify the accessibility of an app. The developer takes help of Siri to allow customers to control the online restaurant app with their voice.
Het, if you manage to become honest with their expectations. The word of mouth can do wonders.  Customers can then share the goodness of food, not in text and images but in a classy way so that it appeals. 
2. Make Processing Faster
Nothing can beat the pleasure of having your favorite cuisine as it tickles your taste buds. When you are hungry, the level of satisfaction has no bounds. 
An online food ordering app that loads at a fast pace connects at the backend system and offers information that the user wants is preferred. The kitchen staff and the delivery boy has to do a lot of work and that too at a good speed only then you will gain more potential customers. Identify the obstacles you are facing, combat them, and they stay future ready. 
3. Tracking the Delivery Status
You should realize that customers are hungry. So make sure you look for food ordering mobile app development company that facilitates you will a delivery tracker. The app should be bug-free and should never make mistakes or delay in giving real-time information. Tell them the exact time, how long will it take to deliver food. 
4. Do Things that Interest Customers
Do you give a customized experience to your consumers? Personalized is not confined to any sector, and it has become a way to get differentiated.
Take note of how your users are accessing your app, what is costing them? What order are they placing, what is their preferred mode of payment and delivery location? Explore the complete scenario with the help of analytics tool and make changes in the restaurant mobile app accordingly to up your brand. 
5. Listen to Customers
Unsatisfied customers can be a great source of learning for you. Don't ignore the reviews and feedback they give on the portal. Take criticism sportingly. If they are technical, you can bring them in the notice of your mobile app developer. From others take learns to improve food quality and delivery time so that. This will enhance the customer user experience to a huge extent.  
Online food ordering app has no match as it offers a lot of conveniences. Go for a reliable online food ordering system build to gratify customers while taking your business growth to another level.
Although, if you still have questions in your mind like why your restaurant needs a mobile app? What is the future of online food ordering, subscribe RestroApp blog to stay up to date with restaurant app trends.