The statistics of RetailMeNot shows that 1 out of every 4 customer shave a restaurant app in their smartphone. After all the ease of ordering food through a single click remains unmatched. Therefore, every restaurant business out there is trying to leverage the benefits of a mobile food ordering app. Moreover, with the Indian food tech industry believed to reach a whopping $78 million by 2018, wouldn't a mobile food ordering app be the best way to extract revenues and sales from such a vast food industry? However, a mere development of a food app can't be your sure shot at success. What if you fail to engage your customers?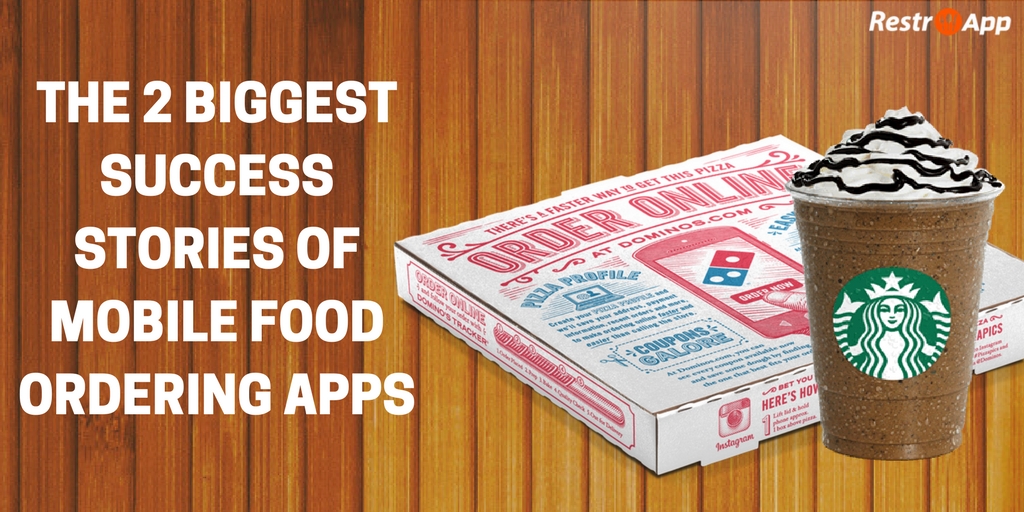 Localytics, a mobile analytics firm says that 26% of apps are abandoned after its first usage. So, how can you develop a mobile food ordering app that is an instant hit amongst customers and drives ample sales and revenues? Well, why not take some inspiration from the success stories of food giants like Starbucks and Dominos? Want to know how they revolutionized the world of mobile food ordering apps? Have a look.
DOMINO'S: Domino's has reinvented itself with its intuitive and well-built app. In fact, it won't be wrong to say that Domino's has mastered the strategy of combining business, brand and customer experience thereby getting a significant advantage over its competitors. Its app is counted amidst the top 15 apps on iPhone store and Google play. And, did you know its Android app witnessed whopping 14,000+ downloads after its initial launch itself? Doesn't it speak volumes about its success? Here's an insight on its unique features.
Pizza Profiles: It lets you order your pizza just by launching the app. It is done through a pizza profile which contains all your information such as your favorite pizzas, phone number, delivery address and card details and makes the whole ordering process seamless with least number of clicks or taps.
Ordering through cars multiple channels: You can order your pizza by sending a pizza emoji to the official twitter account of Dominos or through your car by simply pairing the Domino's app with the car's sync applink system.
Multiple payment options: With multiple options of paying through Apple Watch, Amazon Echo and Samsung TV etc, it has made the whole payment process flawless.
Incorporation of pizza slot machine: If you can't decide what to eat, just shake your iPhone and see, the app choosing the food for you through its pizza slot machine feature.
Going the Gamification way: Domino's makes sure to engage its customers through fun games too. It has a Pizza Hero app and game for iPad which entertains the customers and entices them to spend more time on the app.
STARBUCKS: Did you know Starbucks makes 16% of its transaction through its mobile food ordering app? In fact, it is the number one downloaded app with a user base of 17 million. With its app debut in 2011, Starbucks has seen an unprecedented growth because of its creative features which keep the customers engaged and escalates sales. Here's a look at it.
My Starbucks Barista: It is a conversation based ordering system made through artificial intelligence that lets the customer order through voice commands and texts.
Starbucks rewards: The Starbucks reward system triggers the customer loyalty through a plethora of rewards and offers in the firm of its premium membership programs, green and gold card, free drinks etc.
Mobile order and pay: Its payment process is just on point and seamless. It doesn't only reduce the order hassles but also gives its customers a high-end experience.
Personalized content: The app provides customers with customized contents on its home page which include tailor made offers based on the customer's food choices and preferences.
These unique features and marketing strategies have contributed significantly in paving new avenues of success for Dominos and Starbucks.
Want to recreate the success of these food giants through your own restaurant mobile app? We at RestroApp have the experience of developing more than 365+ high-end apps. Our dedicated team of developers can give you the best app experience through a tailor-made app. Feel free to reach us at info@restroapp.com. We will revert instantly.