It's almost a month past the New Year but trust me, there's a lot that has to be discussed and brainstormed upon at this point in time. With the amount of competition in the industry, increasing at an accelerated pace and the need to stay adept with the latest trends taking a toll over your strategy, you need an in-depth analytical help with regard to the change in the restaurant industry wavelengths. Be it a small, medium or a large scale setup, you have to know what's brewing fresh in your battlefield. After all, it's all about becoming an indispensable part of the industry, or even better, the best among the teeming masses. With the New Year comes new techniques and trends and we, at RestroApp get you the top 7 trendsetters of 2018!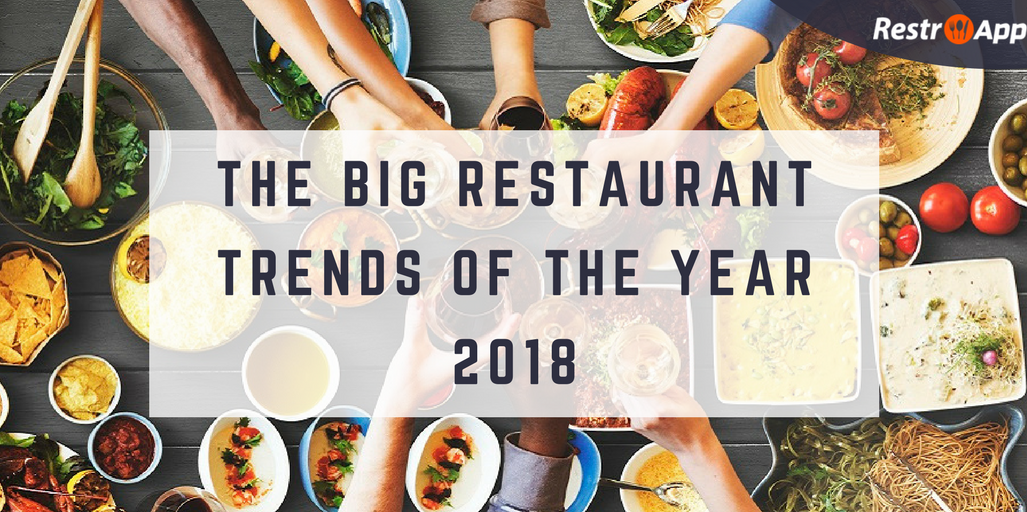 Here you go:
1. Home Cooks: The latest and the most loved offering of the restaurant industry to the customers this season is the home cook option. Chefs who have a traditional approach towards food and its conventional cooking offer the customers something beyond the casual dining opportunity. They let you experience food and the culinary process in the traditional manner. Cooked in a typical manner, these options are what food enthusiasts across the world look forward to. It goes beyond the usual to create something simple while creating it in a pure and interesting manner. The typical example being the south Indian coastal food. Customers enjoy the food by deciding the seafood they would like to enjoy, choose the fish they would like to eat and get it customized. Both native and foreign customers have appreciated this style.
2. The Highway Experience: These days eating out is more than just a mere dine out time. It is more of an experience. Highway restaurants and their experiential dining are winning the storm. From offering a typical outdoor set up to serving typical local flavors, these restaurants and their marketing strategies are definitely creating ripples in the hotel industry. Though predominantly a local concept, many high-end restaurants are making use of this technique to win over the increasing sea of customers and why not? The move has been welcomed by experiment eaters and local rangers.
3. Quick Service: This is yet another factor that is imperative to a successful business. Quicker and efficient services are so in. emphasis was always on these factors but off late, it has become an indispensable part of the operational structure. Customers don't have the patience to wait for their turn to be served. Swiffer service options are the most awaited features of 2018. Make sure that you exploit this feature to the maximum; an option beyond the conventional for your loyal base. No matter what, quicker services often earn an extra point!
4. Healthier options: Call it a fad or a way of life; healthy eating habits are now seeping through and believe it or not, almost 50 to 60 percent of the diners prefer eating a healthy and scrumptious meal. This does not mean that they prefer the not so interesting platter. They want a filling and an absolutely fulfilling meal that satiates both hunger and fills up the senses. Offering your customers with a low-calorie version may help you gain that edge over the rest. They may be quoted slightly beyond the usual rates but it definitely helps make your customer aware of how well you know about their choices and that you can go that extra mile for them. A vegan diet is ayet another factor that about 60 percent of the health-conscious ones search for. Extending this facility also adds up to the customer care and satiation factor. These factors are appreciated and talked about incessantly which amounts to publicity that is in great regard.
5. Return to the basics: Most of the millennial look forward to enjoying a meal that connects them with the authentic flavors of a culture. Be it Indian regional cuisine from the south or the western parts or be it an international cuisine, getting the true flavor and experiencing it the traditional way has now gained accelerated importance. Providing the customers with it is of paramount importance this year with various restaurant brands promoting their roots. Make sure you tap on the authenticity of the culture you intend to express via the food you share. After all, every cuisine has a story to share!
6. Chatbots: Chatbots are here folks and it's time to make friends with the latest tech inventions. There has been much hype about chatbots entering the mainstream arena but not many have understood the importance of including them in the operational aspects. Gone are the days when customers would ring in and inquire about reservations, ala-carte preferences, etc. they would rather chat with the restaurant's tech face and get the best out of them! With so many competitors on the go, it is important to get the most out of technology's gift to the hotel industry.
7. Restaurateur Apps: These are going to become an unparalleled move in the hotel industry. No matter how hard one tries to stay away from it, restaurant mobile apps are going to take up a lot of your time and financial investment. Since these apps become your digital face and that it will determine your future in this technology empowered industry, you have to put in the requisite efforts here. A high on feature and comfort restaurant app is what the fast and young millennial demands. Make sure you have just the right thing to offer them!
Now that you know the next big things of the hotel industry this year, all it needs is a bit on the strategizing part. You may employ your in-house team for the purpose or opt for a consultant's professional view. No matter how you decide to take this ahead, you just have to make the right move based on your requirement and your resources and future plans.
The success lies in planning the minute components. Need some help with strategizing? Connect with us at info@restroapp.com. At RestroApp, we have an amazing team that simply knows what it takes to perfect the potion for your restaurant business!
Let's begin a great story.