Running a restaurant business successfully is a demanding task and it requires coordination at all levels. Challenges can pop up anytime, and you have to be ready to face them. Things start to get more complicated if not taken care of well in time. The restaurant industry has changed along with customers' demands. Automating restaurant operations is the need of the hour. With technology advancements in customer requirements, restaurant owners are using tools for restaurant operations.
Many restaurants have adopted automated tools to reduce human errors and this saves a lot of time. 
With better technology, you can automate restaurants operations that can increase productivity and satisfy customers.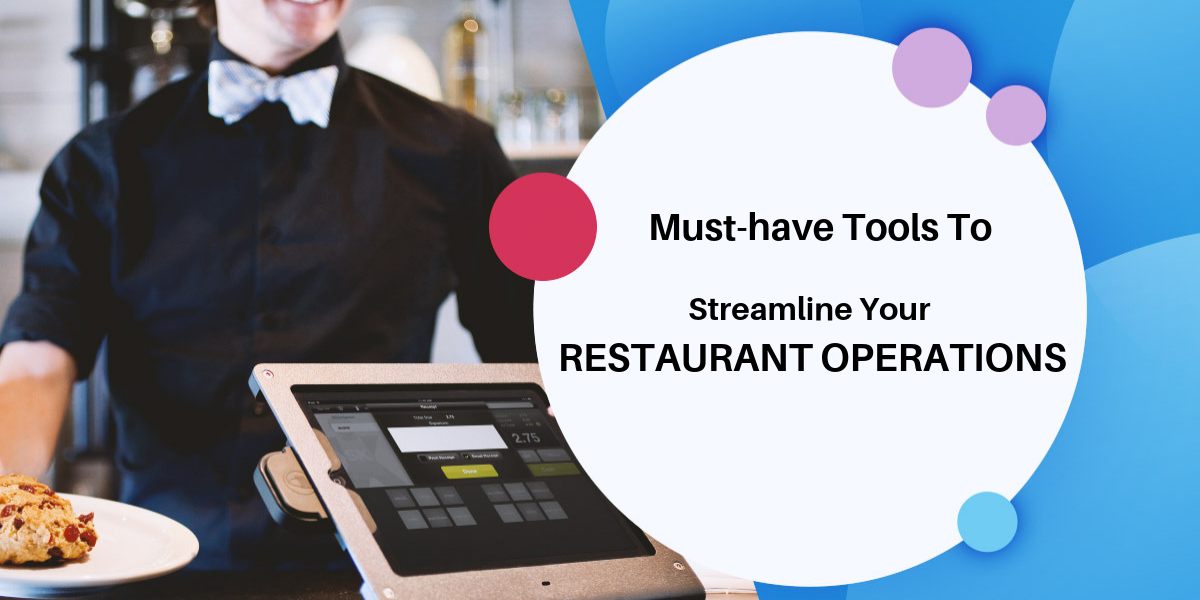 Here are some of the automated tools for restaurant operations:
1. Restaurant POS system:
What is a POS System?
A POS system is a computerized system that allows restaurant owners to track sales, food inventory, generate real-time reports and more. For the better functioning of the restaurant, one needs to invest in POS System, otherwise, a busy restaurant will appear like an open market where nothing seems to be working in order.
A good restaurant POS system can turn a busy restaurant in a cozy environment where everyone seemed relaxed and enjoying their meal. POS ensures food reaches the table on time despite any number of food orders.
If you want to streamline your restaurant operations, you need to invest in a robust cloud-based POS system ( point-of-sale system). All your data is stored in the cloud, and you can access it from anywhere.
Apart from this, cloud POS is more scalable than a traditional POS and offers new features like:
a. Real-time reports: You can view your sales figures, whenever you want with a cloud-based POS system. Moreover, you can generate reports from your remotely from your device and counter fewer sales during lunch hours through running ads.
b. Update menu: With POS systems, you can turn your restaurant tabletop tablets into a digital menu. You can save a lot on paper and no need to reprint if you make any changes to the menu. All you need to edit menu items on one of your restaurant tabletop tablets.
c. Payment processing: With cloud-based POS system payments can be made right at the table using mobile devices. Your POS should offer a split bill option, take care of the needs of the people who want to tip differently and payment information should be private and secure. This saves a lot of time and offers convenience to both servers and guests.
d. Quick orders and payments:  Customers don't have to wait for waiters to take their orders. Guests can order and pay on restaurant tabletop tablets. The orders go straight to the kitchen and processed timely. Not only this, but guests can also make quick payments via a secure payment system.
e. Floor mapping: You can easily adjust your floor plan from the POS. Restaurant staff can easily see which section of your floor is the busiest and needs more attention. 
2. Inventory Management System:
Running out of food items or a particular ingredient can cost your business. However, maintaining your inventory beforehand can help you resolve these issues. Having an inventory management system can help you to track your inventory metrics in the best way and smoothly run your restaurant operations. This allows you to update your inventory in real-time. An inventory management system will provide information regarding available stock at the start of the day and at the end of the day.
For instance, you can link inventory to your restaurant ordering system software. Track the ingredients that you are running low so that you can alert customers about the depletion of a particular ingredient. Track and stock up your most popular item so that you don't run out of it when your customer asks for it. Not only this, you will be able to cut down wastage of food.
3. Online Reservation Feature:
Your restaurant needs to provide an online reservation option so that people can their table beforehand. Online reservation option helps you to manage your restaurant seating and avoid last-minute chaos. This system notifies your customers and your staff about the upcoming reservations. You can also track your regular customers and provide a more personalized experience.
It would be better if you integrate analytics into your reservation and online ordering system. You can get information like revenue incurred, average basket size and ROI through analytical tools for restaurant operations. Analytics can help you understand your customers in a better way.
4. Restaurant Online Ordering System:
With online food ordering options, customers can order from anywhere and whenever they like. They can choose their preferred delivery time, place and track their orders in real-time. With a good Restaurant Online Ordering System, miscommunication between the table and the kitchen can be avoided.
Let customers place orders online via their account so that you can get their details. With Restaurant Online Ordering System, you will be able to update your menu in real-time.
5. Integration with Other Software:
Streamline your restaurant operations by integrating your restaurant management system with POS system, accounting software , kitchen management, and online ordering platforms etc..
6. Run Loyalty Programs:
Replace your plastic loyalty cards with a mobile loyalty app. Sync your mobile loyalty app with your POS system and get insight into customer behavior. A survey by VISA on over 27,000 guests, 57% said they prefer using a restaurant mobile app.
Apart from the POS system, Inventory Management System, Restaurant Ordering System, Online Reservation Feature here are 3 checklists actually work and many restaurants use to increase efficiency. With these, you can traditionally streamline your restaurant operations.
Restaurant  Operation Checklists:
1. Kitchen Preparation Checklist:
A good preparation list makes meals go faster to the tables. This list includes a list of food items and the needed quantities. It lets you save on food and labor. It will make sure your kitchen doesn't run out of menu items. Many of today's POS systems offer a pre-made prep list for restaurant managers.
2. Kitchen Inspection Checklist:
This list ensures your staff follows key health and safety protocols. You can use resources like the FDA, US Health department and local state health department to make a checklist. This lets your staff abide by the checklist all year round and when the inspection takes place.
3. Managers Checklist:
It is a document that includes the list of all the essential tasks that need to be completed on shift. Managers use it to keep a  check on daily restaurant operations. This list ensures that essential management tasks are completed from start to close. You need a manager checklist for 3 periods: opening, shift change and closing.
A key to success in the restaurant industry is to manage and streamline operations. With many apps and automated tools for restaurant operations, streamlining restaurant has become a lot easier. They will not only help you to establish your business but will help you increase the efficiency and quality of your services. Don't jump into every tool instead focus on one and then steadily move to others.