Twitter is a huge platform, with 3.42 million active registered users and 1.95 million unique users checking out this micro-blogging site every month. The number speaks volumes about the massiveness of the platform. And it makes sense, as a restaurateur to bank on this platform to connect with your customers and also to reach out the new prospects. Market your restaurant like a pro in twitter If you do not wish to lag behind, check out these marketing tips to use Twitter as a pro for your promotional activities.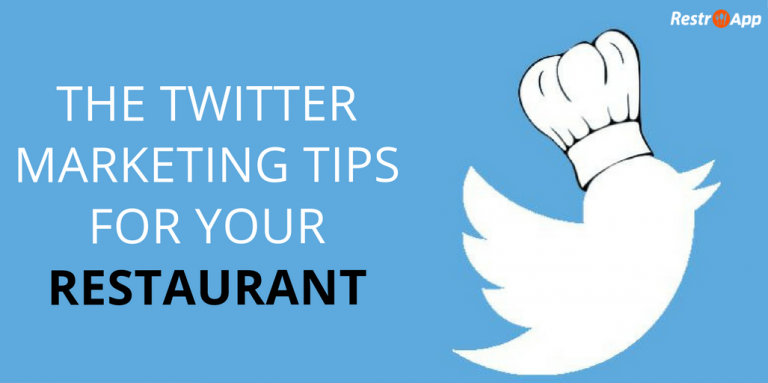 . Begin with the basics: Tweet at least 2 to 3 times a day. Keep posting about latest happenings at your restaurant like today's special, chef's specialty, happy hour announcement, any offer, musical night or any other activity that is happening at your place. Keep your customers informed. Make your post frequent and relevant. Showcase your creativity in a hashtag, use trending hashtag to your advantage or create fun and catchy hashtags for your restaurant. Remember, visuals are a powerful medium of communication especially in restaurant or service industry. So, use relevant and mouthwatering pictures of cuisines, or the fun that is happening at your place or any promotional images. Just make sure you brand the pictures or gif well with proper logo and contact details. Use appropriate photos in tweets, whenever possible.
2. Engage and encourage: Follow Twitter etiquette when someone mentions your business. Always acknowledge and carefully read the message. If it is positive, then like, favorite and retweet their tweets and also send out a thank you message, however, if you encounter negative message or complaint, be accountable and reach out to the customers with an apology. Provide them a free coupon and invite them again for a meal, chances are you can easily win their trust back and if they have any other concern, make sure once you fix it, you reach out to them again and inform that the issue has been resolved. This way you build a bond with the customers. Additionally, when customers come to your place and have a good time, encourage them to post their experience on Twitter by tagging you and also on another social media platform. The positive word-of-mouth will do wonders for your business. Don't forget to reward the angel customers with coupons, discounts or loyalty points.
3. Track the conversation to pitch your business: In Twitter, you can read the tweets of other people and when you find a conversation that is happening around your business, you can pitch your business. For instance, if someone in your nearby area tweets their craving for spicy food or dessert, you can promptly share your best cuisines and invite them to your restaurant. However, to make this tracking simpler, you can use the numerous Twitter conversation tracking tools that are readily available to track the suitable conversation. Personal communication like this will help you connect with your customers on an emotional level. Hence, better client retention and profitability.
Related Post: 5 Decision-making Reports that your Restaurant Mobile App should fetch
4. Customize your tweets: As per the study conducted, people who visited restaurant by getting influenced by the restaurant on Twitter, suggested following as a driving factor: 52% said they visited due to promotional offers and attractive discounts, while 43% said they were drawn due to pictures of the food and 39% said, they decided to try it out because of excellent customer service or review they came across. So, you can use this study to your advantage, and do the following:
Visuals: Post appealing visuals for your customers to entice them. It isn't a bad idea to invest in a professional photographer to do a video shoot and pictures of your cuisines, menu, facilities, kitchen, behind the scene, and soon. Edit the visuals as per the Twitter standards and add your branding elements like logo and contact information.
Create and promote special events: Keep posting about 'Today's special' the menu, deal of the day, happy hours, lady's kitty party, birthday and anniversary discounts, corporate lunch and so on
Connect with your customers: You can take permission and click the 'happy moments' of your customers in your restaurant and post in on Twitter by thanking them. However, if you do not get permission for the picture, you can still post a thank you message on Twitter and invite them to share their feedback.
Share insights: You can share interesting information from your restaurant that will add to your credibility and will highlight your expertise. For instance, you can showcase your kitchen hygiene or how you procure fresh meat and clean meat or vegetables for cooking. Additionally, you can leverage on your chef too. You can directly ask your chef to share their expert tips and cooking guidelines with your customers.
5. Hail your community: Self-praising gets annoying after a while. So, you will have to strategize every now and then. You just can't keep talking about your own accomplishments, rather you can talk about the latest developments in the restaurant industry and can also compliment your competition for their achievements and expertise. The good you do for others will certainly come back to you.
6. Reward loyalty: Once you have a fanbase, you can start initiatives like people who retweet your 'special discounts' will get additional 5% off or a free appetizer or if people can refer a friend through Twitter and they actually visit the restaurant, the customer will be eligible for 10% discount or other benefits. Twitter can certainly be a game changer if used wisely.
So, if you want to level up your restaurant's revenue game through Twitter and a high-end food order mobile app? Then, trust Restroapp. Our dedicated team of developers works efficiently in giving your customers the best mobile experience of your restaurant. Just drop us a line at info@restroapp.com and we will reach out to you instantly.