Indian food retail market is all set to hit $894.98 billion marks by the end of 2020 as per the study conducted by Indian Brand Equity Foundation (IBEF). Also, the organized food retail business is valued at $48 billion and out of which food delivery business is estimated to be at a value of $15 billion, the data paints a clear picture of the importance of food ordering apps and the benefits that it brings to the restaurant owners and the customers alike has been recognized well.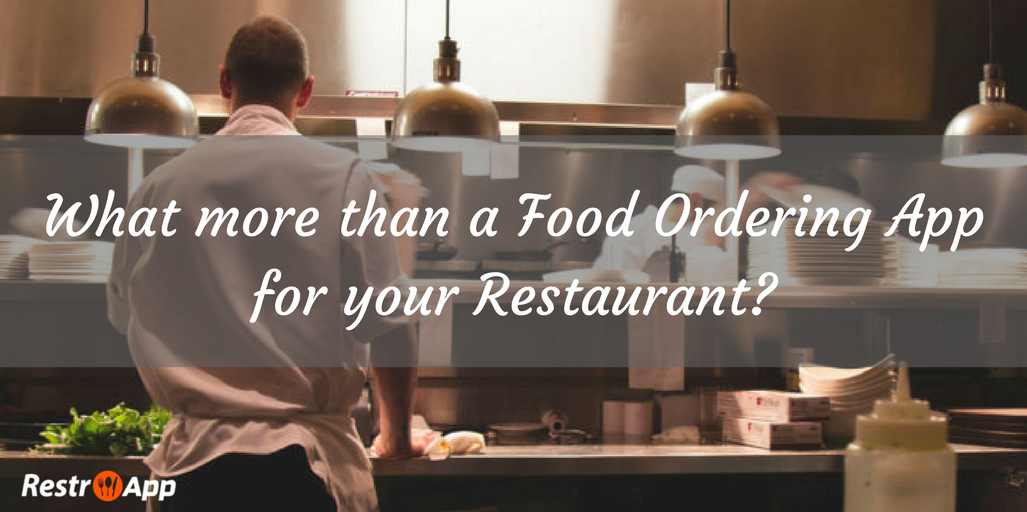 Today, these restaurants online ordering app is more than just an app it has become a business process in itself. It has changed the way a business operates, performs and runs. It has given a new dimension to the marketing efforts and also has proven to provide higher customer satisfaction rate as they no longer have to endure long waiting in queues and have the ability to pay from the table and get benefitted from various promotional activities and loyalty programs. Thus, the mobile app is more than just an app for your business, it is a necessity.
However, if you have any apprehensions about it, check out the list below to know what more than a mobile food ordering app for your restaurant.
Delightful customer experience: Who doesn't love the restaurant that values their time and serves fast and delicious food? The traditional approach, where a customer had to wait at queues of their favorite restaurant and also if they considered pre-booking seats, their calls were put on long hold or were unattended has taken a back seat for good while giving the mobile apps an opportunity what they failed to do for customers. Now, with mobile ordering apps, the customer experience hassle-free booking and dining experience. By simply login through mobile apps, they can browse through the entire menu, can check out any offers or discounts, can even customize their order and pre-book their seats and connect to social media and share and invite their friends. There are a lot more features that brands offer to entice their customers and the result is definitely in their favor with enhanced customer retention.
Enhanced marketing strategies: With your restaurant online ordering app, you can formulate better marketing strategies that cater to the specific audience and thus drives better results. With features like push notifications, you can instantly communicate your offers, menu, chef's special, location-based deals, discountsand so on with your customers.You can even win customer loyalty by keeping them engaged with relevant marketing offers and can do promotional activities at a fraction of the cost.
Customer retention through loyalty programs: You can leverage your existing customer base by winning their loyalty through various loyalty programs and thus generating a steady flow of revenue through existing customers. You can connect with your customers and offer personalized messages and offers to influence your customers to visit and recommend your restaurant more often. You can launch a point-system where the customer accumulates certain points on every bill amount that can be redeemed in future in the form of discounts. Additionally, you can offer them special coupons, discount codes, referral codes to boost your sales and their visits.
Higher brand equity: Customers check their mobile phones in every 5 -10 minutes and even more, so if your customer has downloaded your mobile app chances are it will remain in front of their eyes for a longer period of time which translates into higher brand retention. So, make sure you make your application visually appealing with interesting icons, templates, and high-quality images and is also user-friendly to entice your customers. The longer your app is exposed to your customer, the higher the chances for enhanced brand image and loyalty.
Smart, error-free operations and process: You can use the mobile app to automate and monitor any of your front-end or back-end processes. For instance, during rush hours with piles of orders, it often gets tricky to manage the situation. Thus, with a mobile app in place, you can easily manage and execute those orders without any errors leading to better customer satisfaction. Similarly, you can use the app to reserve a table, customize the menu, or manage staff payments, training needs, and so on.
Multiple payment options: With the right mobile app in place, not just your dining experience, your payment experience also gets enhanced. For instance, waiting in a long queue to pay bills or waiting at your table for waiter to get you the bills during rush hours is annoying but with in-app payment option, you can easily pay through debit card, credit card or internet banking, customer's payment details remain safe in their hands and thus works in your favor to provide better customer experience.
Thus, a restaurant mobile app is all that you need now to streamline your functions and operations and also to minimize cost and increase profit margins. That's the reason why all your competition today is investing in the mobile app. However, if you want to have a competitive edge over them then the trick lies in the details. There are loads of features available that can fill your gaps to increase your productivity, the only challenge is to find the right vendor. Luckily for you, the help is closer than you think.
Drop in a line at info@restroapp.com. We, at RestroApp, know exactly what it is that you are seeking and can take your restaurant business online and optimize your online space for better visibility and higher revenue with our Restaurant Special Technology Force, which helps restaurant businesses like yours to stay ahead in the game.