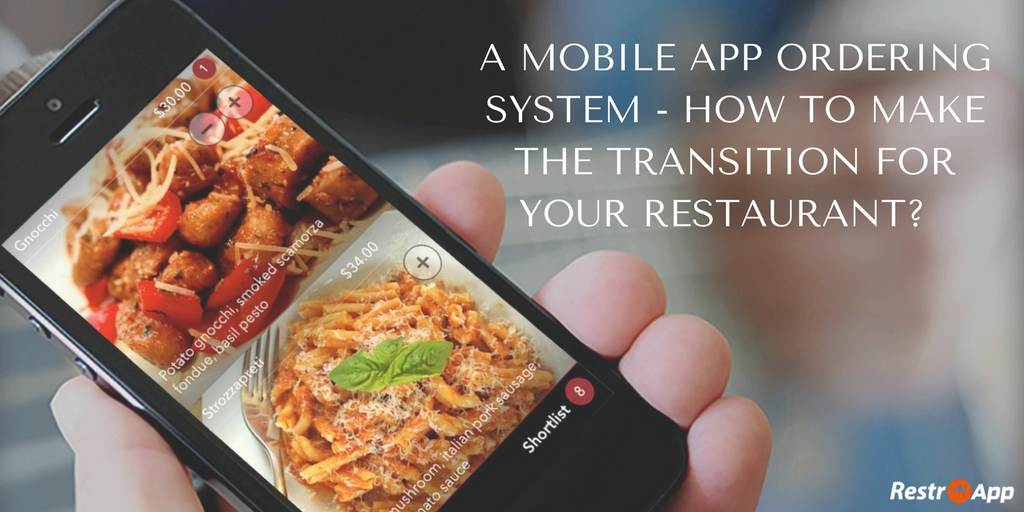 With a human being's basic necessity graduating from air, water, and food to smartphones, the internet, and instant information, it shows how important it is for the industry to develop further and perform. They have to access a variety of restaurants and other services such as locating a restaurant while traveling or even ordering food via the app.
A research conducted by Nielsen found that about 95% of smartphone users in India use their device to conduct restaurant searches and almost 76% of them convert within the next sixty minutes.
Why do you need a mobile restaurant ordering system?
Right from the very idea of eating at or ordering from a restaurant to the completion of your meal or the delivery of food, an app can handle a whole lot that happens in between this time period.
The restaurant online food ordering system is now the most sought after service and why not, restaurant owners ought to do a great deal for their customers to beat the cut-throat competition.  There are a lot many options for restaurant orders to create an app strategy. From a value-based mobile app to a custom made app service, restaurateurs may opt for a suitable option based on the niche they intend to serve, the financial ability of the business, the kind of services they intend to extend and a lot more.
74% of consumers between the age group of 18 to 35 say that they would rather order take-out or delivery rather than going to a restaurant and spending about 60 minutes of their productive time in the confines of the restaurant space.
What is the future of online ordering?
The transition from a no-app place to a complete app empowered system is a time consuming one. It is a step by step process that has to be undertaken with a plan, created with precision and incredible decision-making skills.
What must become a part of your app functionalities? The answer to this question is solely dependent on the business owner's vision of his or her business in an app mode.
How A mobile restaurant ordering system is benefitting food businesses?
Mobile restaurant ordering systems are affecting the restaurant industry in many possible ways. With a mobile restaurant ordering system, a restaurateur is able to manage all processes form a single device.
Furthermore, with a mobile food ordering system, you can automate all your restaurant's manual ordering process into a digital process.
Wondering, how? Let's discuss this in detail!
1. Digital restaurant menu cards
It starts with creating the perfect digital restaurant menu card. Creativity at its peak, this is our first step towards creating an impression. You can design your restaurant's digital menu app that will be nothing short of visual delight. You may also add details about the ingredients that are added to this dish, adding a few of some interesting facts about the dish from the chef's point of view.
2. Customers now easily place food orders
Instead of spending time asking for the details of a dish over the phone, the customer will be able to place the order faster and with a better understanding. Some restaurants offer an option to customize the dish.
Customers may ask the chef to create something different or make some modifications to the current dish as per their taste. For this, you will need a good designer to create the perfect app design for your menu.
3. Digital payment methods
Restaurateurs may also convert their manual payment format into an electronic one via the online food order apps. And, offer multiple payment options to your customers and assure them of the security features in the app that will safeguard all their financial details. Customers may choose the net banking facility, credit or debit card payment or a COD; it's their choice!
4. Manage inventory by a digital method
Restaurant owners can also opt for an automated store keeping the feature, yes we are talking about inventory management. Adding this functionality for an in-house app can help the restaurant personnel keep a track of their kitchen stock and a total of the dishes made and use the information gathered to better the working of the restaurant.
5. Tracking employee activity is easy
While employing a restaurant mobile ordering app, restaurant owners also keep a track of all the employees engaged in delivering food and may also track them easily. You may currently not be able to keep a track of such delivery personnel but via a restaurant app, it becomes much easier to manage the workload.
6. Create & send deals/discounts to your customers
Discounts and offers are every customer's all-time favorite. Without an app, your customers cannot avail of a discount or an offer while visiting your restaurant but via a mobile app, you will be able to customize offers based on their past order history. All the data may be retrieved via the restaurant mobile ordering system and hence you may be able to mechanize the process.
7. Analyzing the process of data is easy & quick
The monetary aspects too are interesting. With an automated structure, you may not need too many employees at work. Better efficiency coupled with less wastage of resources is also a commendable factor. Automation also makes it easier to keep a tab on the overall functioning.
In short, an online app ordering system can help you shift your focus from little things to matters that deserve your attention.
Bottom Line
The ordering system is huge and deserves a detailed planning session. The mobile restaurant ordering system is something that is here to stay and prove its untapped potential.
The decision is massive. Streamlining operations via a mobile app is quite easy and it is worth every bit with the kind of results most restaurants are sure to get from such apps. To plan this transition, a business owner must have a clear vision about the changes that he or she intends to see with an app in place. This vision can become a reality only if the right ideas meet the right tech team.
Looking to build your own feature-rich mobile restaurant ordering system for your Business? Our team of experts at RestroApp are exactly what you and your business need to launch an online ordering app par excellence! Just drop us a line at info@restroapp.com or click here to get in touch.