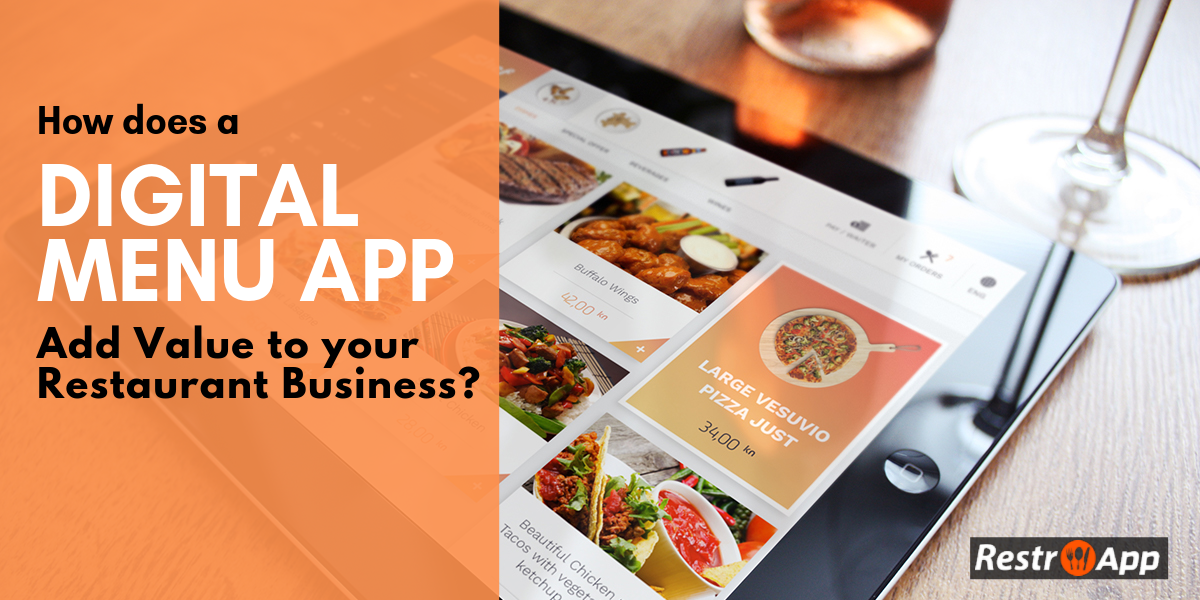 Technology has transformed the working of today's restaurants. Digitalization is what has taken over. Restaurants have adapted new methods of technology, whether we talk about the kitchen or the front counter, everything is transformed. What customers look for is good food, a nice place and high-tech methods.73% of diners agreed that tech improves their restaurant experience.
The ultimate promise of technology is to make us master of a world that we command by a push of a button.                                                                                                    Volker Grassmuck
What is a Digital Menu App?
A hard copy of the menu is being replaced by digital menus and kiosk systems. The digital menu is easy to access and can be customized, hence giving a better experience to the customers. Many businesses have incorporated the digital menu feature within their restaurant mobile apps.
Many restaurant owners believe that digital solutions like the food ordering system, and mobile app for food ordering increases sales and provide them an upper edge over their competitors.
Furthermore, a Digital Menu App offers robust features that not only help your restaurant to update the menu anytime but also improve the customer's overall dining experience. The Digital Menu App provides a user-friendly interface offering easy navigation and browsing.
Benefits of a Digital Menu App:
The digital menu app has many benefits over the traditional menu. The digital signage is eye-catching and proved to be beneficial for increasing ROI. Read along to know how they can be beneficial to your restaurant.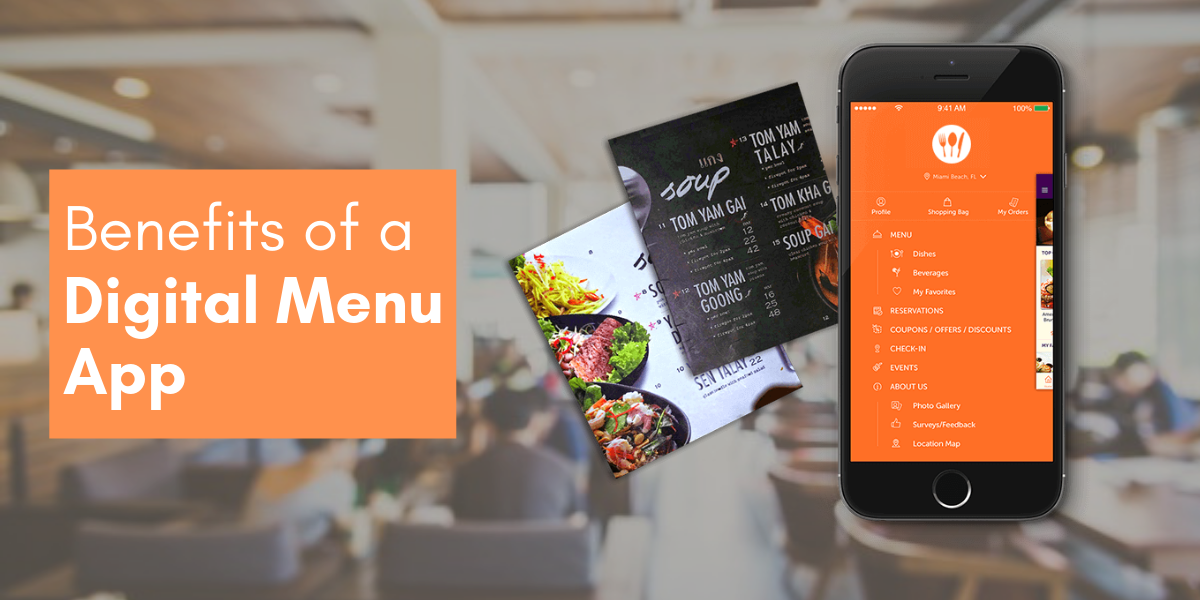 1. Detailed menu:
With the digital menu app, you can present your dish in a detailed manner. Details include ingredients, nutritional information along with the preparation time. This gives a clear picture to your guests about your food items, nutritional value, ingredients, and preparation time. Furthermore, they can customize their dishes as per their taste and can opt for special favors.
The digital restaurant app menu is easy to navigate. Customer doesn't have to browse through the entire menu, instead can select their desired category and choose the food they want. This gives a better customer experience and saves time.
2. Easy Ordering:
Ordering food online from the restaurant food ordering app is a single-click affair. Customers don't have to wait in lines to place their orders, instead can order directly from the digital menu app.
3. Sending notifications:
You can notify your guests about upcoming events, discounts, and newly added items to your menu through a digital restaurant menu app. You can utilize this platform and send notifications to your guests about happy hours and other special discounts.
Not only this, you can display your Facebook page and encourage your customers to like you. Moreover, you can set up schedules to display the right content at the right time 

4. Reduction in manpower: 
With a digital restaurant menu, people get the liberty to choose their favorites and place their orders. As people will be ordering on your restaurant app, you can reduce your overhead costs by freeing your staff to entertain your guests. Not only this, but your customers can also pay digitally via your restaurant app.
5. Customize menu:
You can bring your menu to life by giving more options to your customers. They can easily add extras and create their perfect dish. According to reports, 54% of millennials are more loyal to a business that lets them create something unique.
Many restaurants have reported an increase in sales after introducing the digital menu. All the orders are placed digitally, so your staff get free time to bond with guests and deliver the best.
6. Cost-effective:
You don't need to design and print the digital menu whenever changes are made. You can easily edit and update the restaurant menu anytime. It helps you to save money and paper. You don't need a new menu every time whenever you make changes. All you need to just update your menu and serve your customers better.
7. Reduces Manual Errors:
As customers place their orders themselves, so the chances of manual errors become negligible. This makes the process fast and avoids any miscommunication between the staff. Customers can place orders directly, so the possibility of sending the wrong orders to the customers reduces.
Placing a digital menu at your restaurant table let your customer order and reorder at their convenience.
8. Help in upselling:
Adding high-quality food pictures to the digital menu and a restaurant ordering app can allure customers to buy that food item. It provides an interactive experience to the customers. You can display your promotional deals and combos to increase sales.
For instance, display a picture of a burger with fries this will entice the customers to buy the same. Installing an intelligent menu at your restaurant will help you boost your sales.
9. Rotate Menu:
If you serve the time-specific menu, then the digital menu is apt for you. It is time-consuming to change the paper menu on every table. But with the digital menu, you can easily change the menu with a single swipe.
You can automatically change from the breakfast menu to lunch and on to dinner. This can be your restaurant's USP that can make you attract a huge crowd and keep them coming back to try different items throughout the day. Updating the menu regularly with available food items will avoid confusion. This way, you can easily meet the demands of your customers.
10. Manage Content From Anywhere:
It gives the liberty to configure and monitor a network of the digital menu from anywhere as long as you have an internet connection. Through drag and drop interface your content manager can access the digital menu and make the necessary changes.
And if you hook your digital menu with POS, then you can generate a sales report in real-time, and get a clear picture of how each store is performing.
11. Share attractive content:
Share and post attractive content online, but remember to share the menu at the right time. For instance, display the evening menu online to attract people who are looking for a night-out place. Put up a video of happy customers and post pictures of your specials, so that people love to visit you.
12. Manage Perceived Wait Times:
It is tough to entertain customers on a busy day. But, with digital menus and restaurant ordering apps, customers can easily abandon huge lines and wait for their food to arrive at their table. As a restaurant owner, you can lessen the perceived time and improve the overall dining process.
Showcase your video content on your restaurant app like a chef providing a recipe, interesting facts, or information about upcoming events. This way, people won't feel they are waiting for long as they will be occupied viewing your content.
If you want to know more about mobile food ordering apps check out this video!
The digital menu app is the future of the restaurant industry, and you can't surpass it at any cost. Stop losing your customers over competitors get started and unlock great features of the digital menu. There are a lot of things a digital menu can do for your restaurant. Invest in one and streamline your restaurant management system.
If you need a helping hand, RestroApp is here to help you! Drop us a line at info@restroapp.com and we'll get back to you with some amazing strategies for your food ordering mobile app!