Now that you know what forms the basis of an online mobile ordering app as you read the first part of this post (if not, check it out here), let's decode the rest of the must haves of a perfect online ordering app: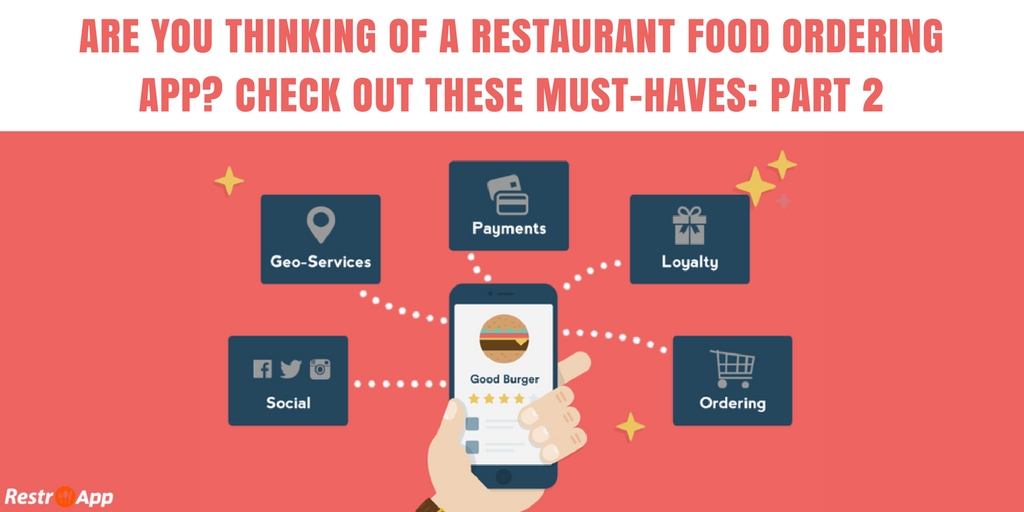 1. Customize your app as per the local taste and demand: The app is definitely there to give your business an uplift. It aims at improving your sales, profit and brand image but your success depends on how satiated your customers are.
The success stories of many such brands may be considered as a stepping stone here. Factors like a unique app design, SEO practices, business practices that suit well with the environment and mobile apps that work while in an offline mode. It must be done as per the preferences of the local tastes and needs.
2. Innovate some incredible features: Develop functionalities that can set your business a class apart from the rest of the contenders. Start something like a midnight delivery option that caters to customers whom hunger pangs hit late into the night. These features are sure to make you a quick favorite among people who work late. Think of how automated processes can inform customers about a new dish or a facility that you may have introduced. Providing online order assistance and offering suggestions on a meal may also be appreciated. Tracking of order deliveries is yet another fascinating feature most restaurants have adopted.
3. Keep it simple: This will prove to become the most striking feature if developed well. Make sure that your mobile food ordering app has a simple order placement process in place. It must be quick, a route simple to maneuver for those who don't really consider themselves tech savvy. In short, it must be created keeping usability in mind. People prefer the convenience and providing the user with what they need the most is important. Saving their past order history, addresses, payment methods, etc. is also essential.
4. The Payment Factor: This is exactly where most businesses go wrong. The payment process must be made easy to and users should feel secure while making payments online. This trust will boost their trust in your food ordering mobile app and you. Offer every possible payment option and assure complete security to their delicate information. At a later stage, you may also opt for an e-wallet option. Payment details may also be saved for easier and faster completion of the transaction.
As development partners, we'd recommend opting for a proper, in-depth analysis of situation before taking a leap. An online ordering app is a huge responsibility and adding your customized features to it will only enhance app's digital persona. To make your online ordering app a success, you need a unique design, customized features, and a sharp marketing strategy.
And who better than a company that has created 400 plus apps successfully to help you at it! Join the league of incredible app stories. Write to us at info@restroappz.com because it's here at RestroApp where high expectations meet the best expertise.