You may be an age-old name in the business or a fresher in the literal sense when it comes to marking a 'since…" but you cannot deny the need of the era to go digital when it comes to expanding the reach of your restaurant business. From fast-food joints to the five stars, they are all going the Digi way. If you haven't joined the big players nor have you created plans to compete with your counterparts, this a must-read for you.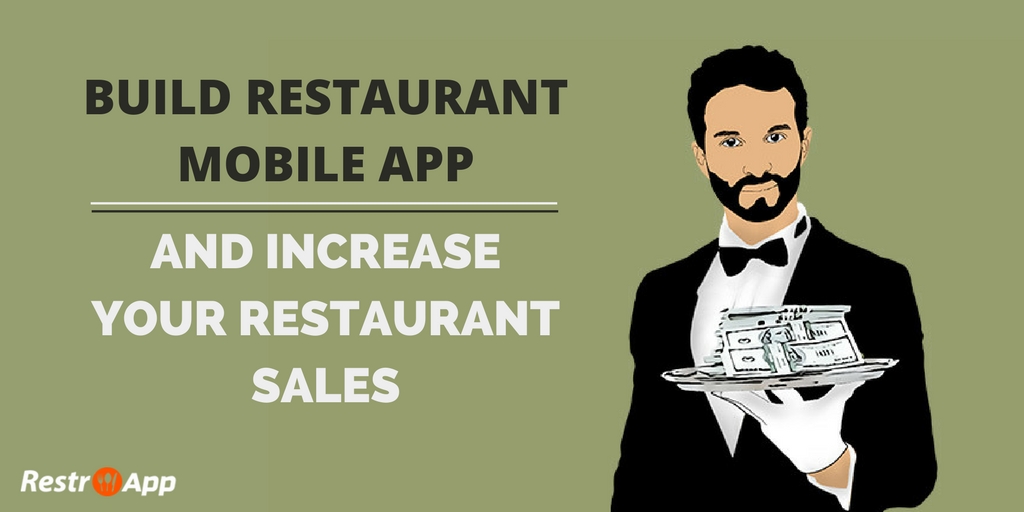 Restaurants have evolved their digital marketing plans. From routine advertising to websites, they have traveled a long way. Restaurant mobile apps have been around for some while though the milieu hasn't been great. Yet, marketers from across the country have vouched for its innate potential.
With potential brimming on the corners, let's talk about restaurant apps and the wonders there m-apps can multiply the ripple of benefit to increase your sale and better your food delivery system.
Let's talk about the situation in the restaurant:
1. Digital Menu and order system:
So you've been trying hard to find a kitchen that can satiate your culinary instinct with some great Thai food. You're happy with the choice of hotel, thanks to the fact that they have a digital menu card to showcase the food you'd like to experiment with.
Along with it, they also have an app-based ordering system wherein the customer's requirements are sent to the chef who perfects the dish for you. Sounds amazing, doesn't it? Most of the customers these days want to experience a treat visually before really savoring the delicacy and an app can convert itself into a curator or a server. Mobile apps can help you perfect your order thus making the restaurant experience something beyond expectations.
2. Reservation:
A restaurant mobile app can help your user reserve tables for themselves and if possible, you may add features that can help them specify their requirements while dining at your restaurant. Customers like it when restaurants take interests in customizing the experience for them.
The app can help them choose a spot to reserve the table via photographs or a video tour. This can actually take the experience to a greater level.
3. Push Notifications:
This is an unbeatable feature that can make your restaurant app popular among regular customers. A new dish, a happy hour option, a discount or food fest, a push notification can do a great deal for your business.
For example, 60 percent of the office going folks prefer to try something new each day and many search for discounts and offers before choosing the restaurant for the day. Your mobile app can send in notifications to many such customers thus adding a great deal to your sales figure.
4. Loyalty Program:
Let's face it. There's cut-throat competition and if you plan to stick with the basics, it wouldn't be long before you may feel completely left out in the race.
Becoming a part of this strife is the deal and to take it ahead, it's necessary you build a loyal customer base. A loyalty program that rewards users greatly can never go wrong. From common programs to customized plans, there's a lot that you can accomplish here.
5. Branding:
An app adds to your profile. Yes, it does a great deal here. An app adds to your profile and this can help you spread your wings.
If you are a small restaurant business or an enterprise that aims at expanding its reaching, with your mobile app, you can simply create a brand of your seemingly small business too. No matter what your ROI expectations are, an app can do a lot more than what can be quantified in numbers.
Now, the food delivery track
People love to try new cuisines and explore fine tastes yet the one reason they abstain from hitting the restaurant is the time factor. It's here when your restaurant mobile app comes into the picture. With an efficient mobile food delivery app, let's bridge the gap between great food and your customer.
1. Options:
If you are a mid-sized restaurant chain with a few branches, your app can help the customer to order their food from the nearest restaurant. It saves their time spent in waiting for food from different places. Location-based tracking also helps here. If you plan to give the users a real-time delivery touch, you may implement a live tracking system too on the app.
2. The Customization:
The restaurant app menu again works to your benefit here. The user can simply examine the visual proof of the food before placing an order. Digital menu cards along with options to customize have never failed.
This is a common practice in the United States and soon, India too will be following the suit very well.3. Reviews: A mobile app is a great way to gather direct and indirect information and reviews from the customer. Touchpoint tracking can help you understand the places that the user visits the most while on the app. For example, are the majority of the
3. Reviews:
A mobile app is a great way to gather direct and indirect information and reviews from the customer. Touchpoint tracking can help you understand the places that the user visits the most while on the app. For example, are the majority of the customer's cost-oriented or are they in for what they see.
You may gather reviews from your customers by enabling a star-based rating system as well. In these ways, you can scan your restaurant and use these reviews constructively.
A restaurant app so far seems to be a section that hasn't been exploited to the fullest. There's a lot more than what meets the tech eyes here. With a small section already opting for this app wonder, it would be a food revolution on your mobile screens and this is inevitably on the cards for the Indian restaurant system.
Inspired? Think you can add a restaurant app to your kit? Want to discuss a restaurant mobile app? Come, connect with us! At RestroApp, with our expert app developers and about 300 plus mobile app success stories to boast about, we are sure to create a food revolution of your brand name. Simply drop us a line at info@restroapp.com or click here to get in touch.