Virginia Woolf rightly says that "one cannot think, love, sleep well if one has not dined well." There is no doubt that good food can set up anyone's mood and what could be better than having the convenience of ordering food with just a mobile click? A mobile food ordering app can work wonders for both the food business and the consumers. While it helps the food business to accelerate their sale, stay connected with consumers, loyalize, retain existing consumers and find new ones, it also provides consumers with an easy food delivery at their doorstep, gives them access to the entire menu card on their mobile, allows them to explore a whole new range of food items and saves them from the hassle of waiting in queues or obtaining reservations. So creating a food ordering app is worth the investment you put in your food business. Your consumers are going to love you for this – after all who doesn't like to get a ready-to-eat meal at their doorsteps?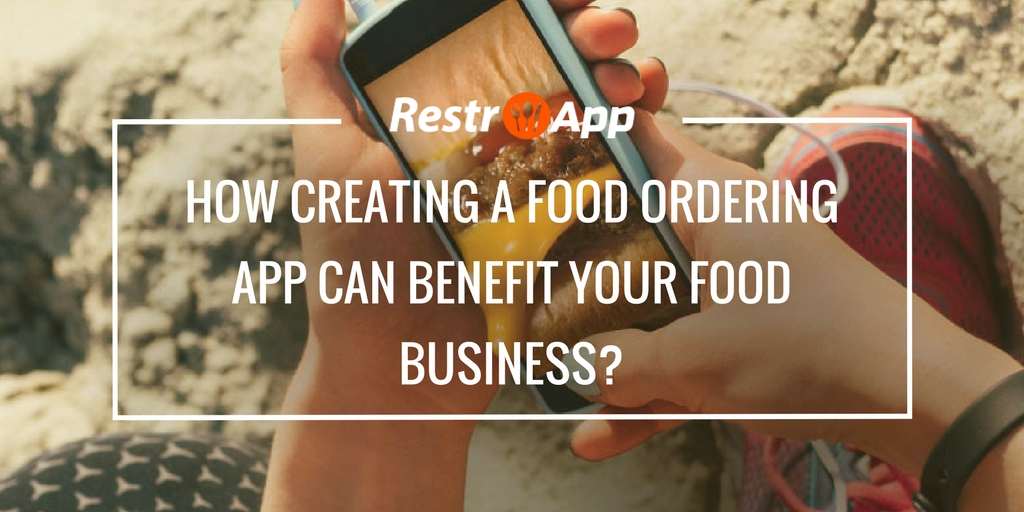 Here are a few benefits that will give you a clear picture of the revenues you are going to generate through your food ordering app.
1. Deals based on locations:
Consumers in your location proximity can be sent push notifications to attract them towards your restaurant. There are times when consumers are looking for something to eat and are unsure where to go. The push notifications can influence their decision-making process and they might just land up in your restaurant, boosting your business.
2. Referral programs and loyalty:
According to research, offering referral programs and loyalty through your mobile food ordering app can lead to 65% of the consumers downloading it and a whopping 80% of those people would return proactively to reap those benefits. The app also allows you to incentivize your customers by offering them credits or points to refer their friends and family to your restaurant. It is a successful and low-cost strategy to employ and considerably helps in enhancing ROI. Consumers redeem deals, loyalty points and exclusive offers from time to time which results in increased sales.
3. Easy order fulfillment:
Food ordering apps hardly take 45 seconds to fulfill an order ensuring a streamlined pickup experience. It allows customers to customize their order directly through the phone without having to brief the restaurant on phone about their preferences, confirm their saved address directly within the app itself and instantly do the payment through the in-app payment. It saves a lot of time from both the ends.
4. Enhanced brand value:
A food ordering app lets you integrate your restaurant's other online profiles in it and helps in collecting more instant reviews with every satisfied customer. Plugins allow you to ask for app based reviews when a consumer ends a session.
Getting your customers share constructive experiences on social media can be a great way for word of mouth promotion. It won't be wrong to say that customers act as brand ambassadors of your restaurant by sharing their experiences, tagging the restaurant in posts, clicking pictures there and uploading it on Instagram resulting in free branding.
These positive reviews help in improving online ranking, building your brand image, boosting your reputation leading to increased business over the time.
5. Cost-effectiveness:
Food ordering apps make everything automated allowing your staff to solely concentrate on food because all other functions will be carried seamlessly through the app resulting in increased productivity and decreased costs. The unnecessary expenses on printing invoices and vouchers will be cut short.
Also, the error free, smooth, automated services will not only boost your team's productivity but will also help you in saving a lot of costs.
6. A clear view of the business:
Apps integrate the entire business allowing you to track your performance related to expenditures and sales closely. Right from keeping an eye on the dishes that are selling like hot cakes and the dishes that are not doing great to analyzing the positive and negative reviews you are receiving, the food app gives you all the error free insights instantly.
So, if you wish to connect with your customers straight away, create a food ordering app, however; make sure to look after basic design elements like product mix, loyalty, location, payment and updates for a smooth experience. It should be user-friendly accompanied with rich features of a menu page with enticing food photos, food constructor icon, hot order, and healthy menu page along with additional services of click to call, live order, push notifications, multiple payment methods and feedback testimonials.
Confused about where to get your app built? Don't be because we would be happy to help you. RestroApp provides end to end solutions, makes every effort to give you a powerful food ordering app and helps you pave new avenues of your digital journey with its dedicated restaurant automation solution. Drop us a mail at info@restroapp.com and we would answer all your queries.