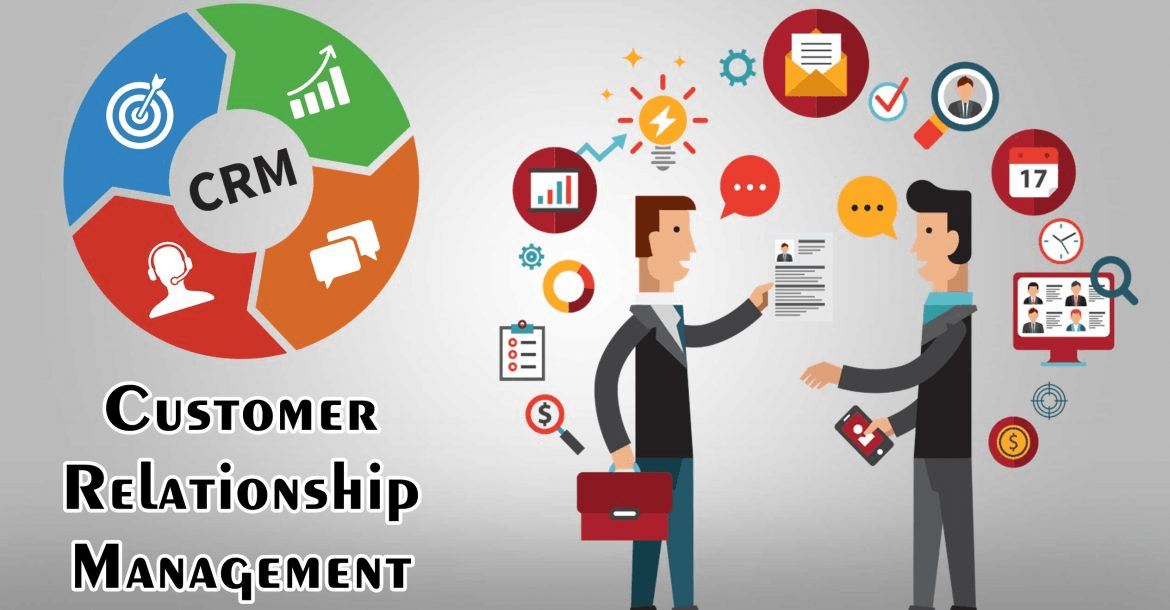 The market is becoming saturated, and it's not easy to retain the customers due to the massive competition. The best way you can retain them is to provide them, what they want and in a personalized way so that the impression remains at the back of their mind. Moreover, when they think of buying or trying out some service, your name should strike them instantly. This can be achieved through CRM ( Customer Relationship Management ). 
What is a Customer Relationship Management System?
One of the most popular terms used in today's biz world. It is technology through which you get to know more about your customer's needs, preferences, buying patterns. The data that is collected through multiple channels like the company's website, social media, customer feedback reviews. This data gets stored in a central database.
Moreover, the company can analyze and use this data to provide better services to their customers and address their concerns. This in the future will drive their sales.
Why your restaurant needs a CRM System?

It is important to know the psychology of the customers along with their likes and dislikes to deliver them the best service. CRM is equally beneficial for every company which is customer-driven, but it is vital for small businesses too, as they are in their early phase of growth. They have to know their customers on a broader level and know what their customers think about their services so that they can retain them and sustain their business further.
With CRM for Restaurant, you can do many tasks such as:
It let you track customers' history with your company and find ways to build a strong relationship with your customers so that you can retain them for a longer duration.

You can collect and store information of your customers like buying decisions, dietary restrictions, birthdays, and even contact numbers from Restaurant Management Analytics System.

Update your guests about events, etc.

You can also send special discounts, rewards as per preferences and the buying behavior of your customers.
The key point behind CRM growth is accessibility. Companies can access customer data in, with mobile and cloud technologies.  It has become the biggest software market in the world and will keep expanding. It is expected to reach more than $80 billion in terms of revenue by 2025.
47% of users said that their CRM had a great impact on customer retention and customer satisfaction. 74% of businesses improved customer relationships with CRM.
Moreover, a restaurant businesses that integrates CRM system is said to take better marketing decisions and retain customers and get better ROI ( return on investment).
Here are some of the best Customer Relationship Management System tools that you can use for your restaurant.
Best Customer Relationship Management Systems of 2019:
Agile CRM
Zoho CRM
Hubspot
Streak CRM
Pipedrive
Insightly
Salesforce
How to implement a Patron Relationship Management System in your restaurant?
It is not so easy to set up a CRM, but with right CRM implementation best practices, you will be able to integrate a successful CRM. So, if you have decided that you need to integrate the CRM system in your restaurant, you need to follow these steps.
Below are the CRM implementation steps:
 1. Involve your top management:
CRM is a project where all the organization gets involved. First of all, you need to choose your team wisely, setting goals, determine what existing data you need to migrate into the new system and create a baseline. Involve your staff and managers and discuss your plan to get better ideas. Involve your top management in the system as they will inspire others. 
 2. Define the goal:
As per your restaurant business, set your business goals. Moreover, assign certain measurable targets and objectives. If you know from the start what you want to achieve it becoming easy to attain your target.
 3. Plan for CRM:
Draft a plan for CRM implementation strategies, which includes a detailed description of all the data and procedures. Every business need is different. You can ask your CRM provider to make some changes as per your requirement.
 4. Find out the weak points:
You need to find out the weak points of your CRM. For this, you need to hire a CRM expert who can conduct analysis. But it can be done by your staff member who is versed with the CRM tool. They can be the best people to test CRM because they are aware of the current problems. Moreover, the person appointed for CRM analysis needs to find the loopholes. Also, you need to involve everyone in the CRM system. 
  5. Set internal guidelines for your staff:
Correct data should be entered into the CRM system, otherwise, it becomes difficult to track sales progress, send emails to customers, offer discounts, and design a marketing campaign.
You need to brief your staff to use certain guidelines so that everything falls in place in CRM. Moreover, you need to implement uniform practices across all departments, to get the real benefit of CRM. More your staff will adapt to the change more fruitful results be.
 6. Migrate the existing data:
It is the most crucial step and should be done with precision. You need to have clear communication about data migration as they might have to face some downtime at this phase. This step needs to be carried with accuracy and any error may lead to severe outcomes for your restaurant. Consult your staff and carry on the process smoothly and well in time.
 7. Offer sufficient training:
You have to make people aware of the new way of working and encourage them to follow the same. Moreover, train your staff on how to use CRM effectively. You can assign a CRM expert personnel to conduct the training of the CRM system so that they get comfortable with the new way of working. Make them aware of the benefits of CRM and how it can help them in their job, ease their work pressure and increase productivity.
 8. Test it before launching:
It is crucial to test the CRM system before implementing the same. Your CRM expert or the person you have appointed can do the same. In this phase, you can check the errors and do rectifications that are needed before being on board.
 9. Get Customer Relationship Management System Live:
Once you test your CRM  and after getting a green flag from the team, it's time to launch it. Involve your management and staff in the process. Motivate your team to be part of this process and ask them for feedback about the CRM tool. Let them share ways to improve the usage of CRM.
CRM will boost the sales and profits of your restaurant. Not only this, it is the best tool to know your customers' behavior. It is important to implement it in the right way with the correct strategies to get all the benefits. Moreover, you need to introduce a new feature in your CRM system as per your business needs.
If you haven't invested in this CRM technology, then it is the right time to be on board. Launch CRM in your restaurant successfully by keeping in mind these steps and establish a personal bond with your customers.
For any further queries about restaurant management systems, mobile app technology, integration, custom on-demand app solutions or anything else, just drop us a line at info@restroapp.com or visit RestroApp, we'd be happy to help!