All you need to know about Restaurant Management System Analytics Integration is here!
Managing restaurant operations, marketing, and handling finances manually can be daunting. With the coming of the restaurant management system, restaurant operations have been automated, which in turn mitigated human errors.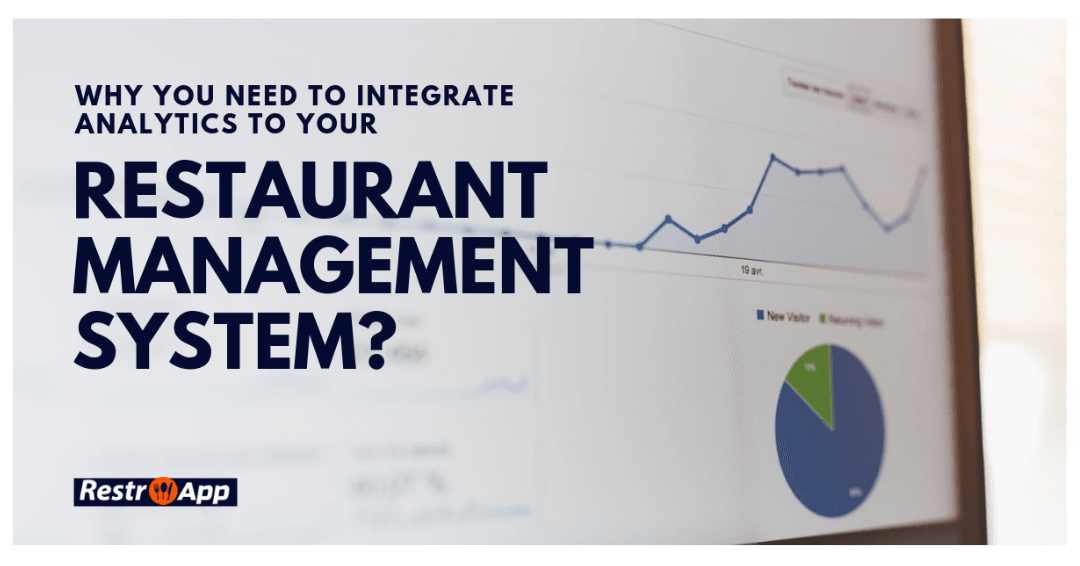 These days, the restaurant industry is facing cut-throat competition due to the online food delivery system. One has to thrive or survive in the business world. However, mere survival cannot fetch you good returns.
Brad Gills, CEO from Homegrown said that restaurant staff needs to develop new skills and understand how analytics works and impacts their businesses.
You might have seen that out of two restaurants having a similar menu, location, price, timings, one does better. Ever wondered why? This is because one of them understands and keeps an eye on its restaurant analytics.
What is Restaurant Analytics?
Restaurant analytics is different from reporting. Reporting provides information about sales and profits. On the other hand, restaurant analytics goes a bit deeper and gives you insights about your restaurant performance at a comprehensive level.
For instance, you can identify what your customers like the most, which day of the week or hour you drive more profit and what needs attention.
Why Your Restaurant Management System Needs Analytics?
Data comes from multiple channels, but it needs to be analyzed in a correct way. Moreover, in order to generate sales and keep the crowd flowing, one needs to understand its customers deeply and establish a strong bond with them.
With analytics, you can analyze all the data related to the restaurant business and turn it into actionable insights by targeting and engaging the right people. This way you can become your guests favorite.
With the analytical system,  restaurants can avoid making blind decisions instead, can take thoughtful decisions. The major role of analytics is to understand the inner working of your business and see what is working and what needs to be changed. It gives you full insight into how your restaurant's food delivery is performing on a larger level?
You can create effective marketing campaigns if you know your customers likes and dislikes.
Benefits of Restaurant Management System Analytics Integration
What all you can do with Restaurant Analytics?
1.Know which menu item is popular: 
With restaurant analytics, you can determine which sales categories are most popular, whether it is pizza or combo meals. You can also know the profit margins and gross revenue. This data will help to build your food ordering menu & food ordering app data, adjust the price and serve your guests food they love.
This will let you identify which items in your menus are real heroes and which are big flops. After predicting these items you can categorize your menu into:
# Your all-time favorites: These include items that are ordered the most. People also tend to reorder them. Include these items in your advertisement or feature them in some other way. If these items tend to be barbeque chicken, then there is less possibility that the new vegetarian item will work for you.
# One-time wonder: These are the items that people order the most, but they don't reorder them. You need to know why people are not ordering them. Is it because they didn't like the dish or they want to try something different. Either you need to work on that dish or get rid of it.
# Not in demand: Your customers don't order these dishes. When they order them, they don't want to reorder. You should get them out of your menu. It's better to few quality items than stuffing the whole menu.
Lastly, whenever a customer asks for some recommendation your staff should name your "All Time Favorites" and "Hidden Gems" category. These items will create a good impression on your customers, and they will come back to you.
2. Anticipate the trend:
After using the restaurant management system software analytics part for a while, you will be able to know:
   What time you are the busiest?
   Which day is the busiest day?
   How business is on holiday?
With these insights, you can plan your resources so that you will be able to handle any shifts without any hassle.
3. Social Engagement
Customers are very active on social media, so, you cannot ignore these platforms. With the correct analyzing software, try to understand how people look at your brand. Moreover, customer engagement can be measured through likes, comments, and shares.
4. Scheduling the Staff:
You will be able to know your restaurant's busiest days over a period of time. After this, you can use this data to schedule your staff to increase efficiency and serve your customers better.
Related Read: Top 8 Features Your Restaurant Management System Should Have
5. Which Restaurant's Location is Most Profitable?
If you are running your business in multiple locations, then you will able to figure out through a multi-location summary which of your location is getting you more profit.
Moreover, you can compare one location to another and analyze which location may need more staff on busy hours to increase their productivity.
6. Which Employee is Driving More Revenue?
You rely on your manager while hiring and firing employees. But, your manager could be biased. The restaurant management system gives you a clear idea of who is performing great and driving more sales.
7. Improve Finances
If you need to run a successful restaurant, you need to manage your finances. With financial analytical software, you get a comprehensive insight into the deals and offers. With this, you can make out which offer fetched you good results and which didn't.
The offer that was fruitful for you, for that you can create promotional strategies to reach more people. Also, if a particular deal is costing you a lot, then you can remove it or make necessary changes. These insights will guarantee you good financial flow.
Conclusion:
You might not be able to predict the success of your restaurant, but with the right analytical tools and restaurant management system you can take care of your finances and serve your customers, what they want? So, start analyzing the raw data you have with restaurant analytics in a more refined way.
---

For any further queries about restaurant management systems, mobile app technology, integration, custom on-demand app solutions or anything else, just drop us a line at info@restroapp.com or visit RestroApp, we'd be happy to help!