Instagram being a visual platform has become the main channel for influencer marketing. Tempting food pics are enough to draw customers to the restaurant doorsteps. A new trend has emerged in restaurant marketing which is influencer marketing.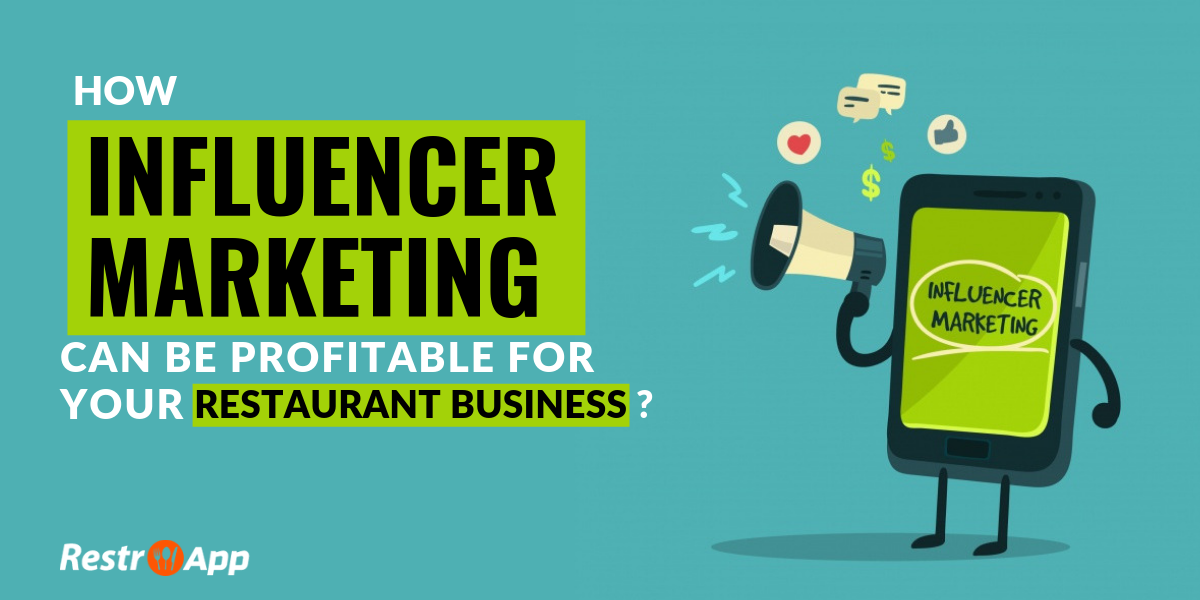 What is Influencer Marketing?
Influencer marketing is a part of social media marketing involving endorsements from influencers, people and organizations who hold an expert level of knowledge and social influence in the respective field.
How is Influencer Marketing benefitting the restaurant industry?
Influencer marketing is a new form of restaurant marketing. It involves micro-influencers, people having numerous followers on social media. They have a huge impact on their followers as they interact with them at a personal level.
With the right influencer, you can promote your restaurant and fetch a good amount of sales. They can create outstanding content that can attract many potential customers.
There are myriads of social platforms, but you need to choose the one which will convey your brand in the best way. However, you can't ignore the most popular social marketing channels like Instagram and Youtube in the food industry.
If your restaurant is all about mesmerizing food pics, then Instagram influencers will be suitable for you. On the other hand, if you are a food company and require a demonstration then go for Youtube. 
Restaurants that are winning the game of influencer marketing are: 
Burgers N' Fries Forever and Cluck Clucks Chicken & Waffles. Cluck Clucks Chicken partnered with food bloggers and influencers to create awareness about their brand. They have been working with social media influencer @brazailianfoodie for a giveaway. This giveaway fetched both the influencer and the brand more followers and likes. And by tagging friends they were able to get exposure too.
If you haven't implemented influencer marketing for your restaurant, then you should not wait further.
Related Read: 10 Proven Hacks for Restaurant Instagram Marketing
Here we have listed a few benefits of influencer marketing:
1. Cost-effective mode of advertisement:
Creating a media ad will be high on your pocket. On the other hand, influencer marketing will cost you less and will deliver good engagement and conversions. If you are tight on budget, then instead of looking for a big influencer you can collaborate with influencer having fewer followers.
2. Enhances Online Presence:
In today's world, the online presence of brand matters. People first look at your social media and then decide whether they want to dine or not. Micro-influencers or food bloggers can boost your social credibility by posting outstanding content on their social media.
3. Build Buzz:
If you are about to host live events, then influencers are the right people. They can bring visibility to your live event, create more buzz, and build more excitement than a regular celebrity. It is because they build a direct and personal bond with their audience. As a brand, you do not need to send emails to your customers as influencers will simply recommend your brand to their audience.
If you have a small restaurant or a bar then micro-influencers can connect you to the local audience. So, All you need to locate the right influencer. However, bigger social media influencers may have a large following, but they won't be fruitful for your local restaurant or bar. Although, they can be good for reaching a huge audience and promoting the restaurant chain.
 4. Track the analytics
After you start working with an influencer and your campaign is live, you can see how it's doing. Are people commenting positively about your restaurant? getting new followers? or customers visiting your restaurant?
Make sure to track the link that you have shared with an influencer. This will help you figure out the response of the campaign.
Explore social media and test new channels and get in contact with right influencers those can propel your restaurant business. Influencer marketing is a great way to kick start your social media profiles. So, be the part of it and see the difference.