As we all know, the restaurant business is a crowded market. And, all of the players in the food business are competing. Furthermore, every restaurant is always trying every restaurant marketing idea to get ahead in the race. One of the ways restaurants and other businesses are currently gaining a competitive edge is via technology and data-driven methods like location intelligence & geofencing.
What is geofencing? How does it work? How could it benefit your restaurant business? Etc. If you want to know all about these points, read along!
Let's start!
What is location intelligence & geofencing?
Geofencing is a location-based service that businesses are currently using to engage the customers. In this, they send messages to their smartphones when customers enter a defined location or geographic area. It can not only signal when a user comes to a defined location but also how long they remained there and when they left.
It is essential to retain existing customers, and this can be challenging at times. But, with location intelligence & geofencing, you can interact with them at a personalized level. 
"A research report by Experian shows that personalized emails have more impact on customers. They tend to have more open rates, promotional click rates, and triggered click rates." Companies also send product offers and promos when the customer tries to initiate a search or enter in a specific geographical area.
How does geofencing for restaurant works?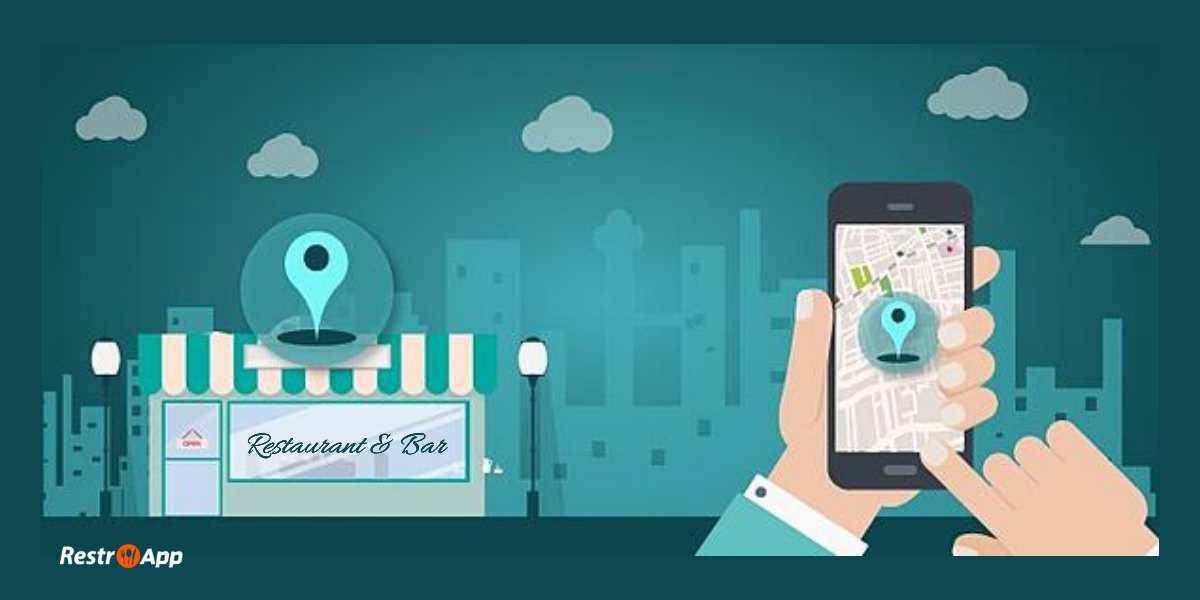 It is a location-based technology, which comprises of GPS, RFID, Bluetooth, Wi-Fi, or cellular data. GPS tracks people within a specific area and connects with them. It is quite useful for restaurant business owners, as they can create coupons and send them to everyone who enters the specified geographical area on their restaurant ordering apps, via restaurant website's push notification options, etc.
As a restaurateur, you can send reminders about special events, happy hours, or exclusive promotions. To do all these activities, you need a digital restaurant management system that will help you to create offers, coupons, discounts, and send to every customer available in your database. Moreover, these notifications can be sent when customers are passing your competitor. There are numerous benefits of integrating real-time geofencing in your restaurant.
Being a restaurant owner, you must be wondered how real-time geofencing and location intelligence works for the restaurant and food industry? Right? Let's start with the basics!
When a business decides to use real-time geofencing technology, it means they're looking to target an audience within a certain boundary specifically.
That boundary is entirely invisible and is created using GPS technology. It's easiest to image when thought of as a fence because on a GPS map, that's what it looks like!
Knowing what the customers searching for and being able to deliver precisely the same is what every business owner wants of being able to do. This is how real-time geofencing for restaurant works!
Let's take some examples of  location intelligence & geofencing:
Example No. 1:
You are in North Carolina and exploring nearby restaurants on Google search. The search result will show nearby places to eat within the range of 5-10km. 
Example No. 2:
A person has visited North Carolina for the first time and he started getting notifications and the local ads of nearby businesses, places, etc in apps and browser results. It is all because of geofencing technology. Nowadays, competitor geofencing is a marketing strategy that has taken businesses by storm.
How can you use geofencing to increase your restaurant's revenue?
As we know, geofencing technology allows businesses to target their most qualified audience by merely providing virtual boundaries. When the target customers step into that boundary, they activate ads or push notifications for a specific business via restaurant apps, food ordering apps, websites — enticing potential customers within that boundary to visit a storefront.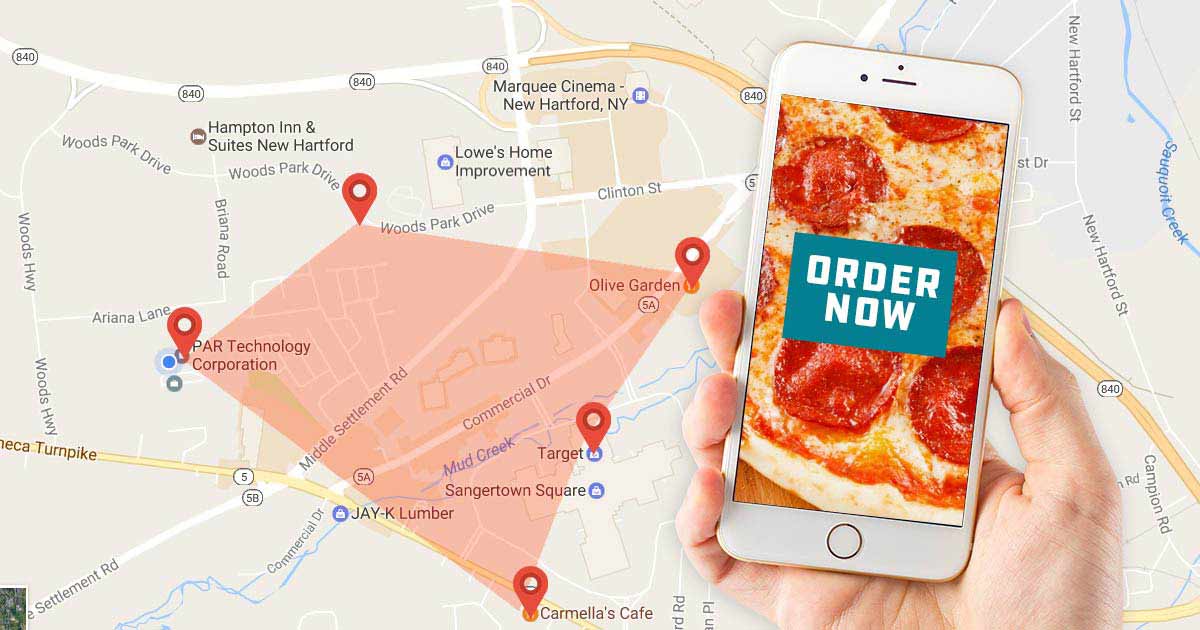 Here are some of the ways that restaurants can optimize online presence using geofencing:
1. The correct use of restaurant management system:
Using the restaurant management system in the right way benefits your business in the long run. A digital restaurant management system can help you to manage the customer database easily. You can monitor your customer's previous orders and send them notifications regarding discounts on a particular item. 
2. Improving competitive analysis and targeting
The location data provides restaurants the ability to not just monitor their locations, but also the locations of their competitors as well. By following traffic patterns to individual areas, restaurants can get a relative sense of consumer foot traffic patterns between their stores and their competitors. Interesting, right?
Location data can also help to identify new customers and win back ones a brand might have lost over time. It also provides the ability to measure particular offers, or advertising campaigns are having a meaningful impact on swaying customer loyalty and engagement. 
Based on aggregated loyalty ratings, restaurants can then optimize their cross-channel user engagement to increase awareness and win customers over more efficiently and effectively.
3. Increase local sales:
To get noticed by the local crowd, you need to rank high in the local searches. To make this happen, you need to work on SEO (Search Engine Optimization). If you are struggling in increasing your local customer base, then local intelligence and geofencing are for you. Through this, you can target local customers in a defined geographic area. 
The best way is to send promotions via push notifications to the customers who have entered your territory. Moreover, you can create personalized advertisements, limited time offers, and more to increase your sales.
You can also integrate the geofencing option in your mobile advertisement. It can help you to reach the most local customers at a given time, especially during slow times.
4. Geofence-Enabled Advertising:
You can show your ads to the customer on-the-go when they are passing nearby. It doesn't matter whether they live or not near you.

It helps you attract new customers.

Drift customers away from the local competitor.

Get new business from the customers' visiting a related business.
Example of some leading restaurant brands using location intelligence & geofencing:
1. Burger King vs. McDonald's
Both of these QSR's came up with compelling location-based marketing. Burger King gave away burgers for 1 cent to users who used their mobile app, but to unlock the offer; they had to go to a McDonald's restaurant ( or within 600ft. of an outlet).
2. Dunkin Donuts: Snapchat Geo-filter
Dunkin Donuts released a geo-filter on Sanpchat on the World Donut Day. It turned people head into a giant donut. This filter could be only unlocked at a Dunkin Donuts store, and the people who use this filter got a free Donut with every coffee purchased. 
Benefits of using location intelligence & geofencing for your restaurant business:
Easy way to reach customers
People are always on-the-go, and the best way to get connected to them is through smartphones. Through geofencing, you can notify your customers about your product or services when they are close to your business location.
You can instantly grab the attention of your customers without much effort — all you need to send instant messages that entice customers to check the deals and offers. Also, 90% of SMS are read within 3 mins, so geofencing campaigns can help customers make instant decisions if they like the deal.
Enhances brand awareness:
It gives the best chance to communicate with potential customers who are passing by and ready to purchase through mobile phones. The notifications help them to choose you over thousands of similar businesses around a particular location.
Location intelligence & geofencing is a low-cost marketing strategy that you can use to reach local people around your location. It produces excellent results as it solely focuses on local consumers who are likely to pay a visit to you.
No-use of third-party apps:
Customers prefer to order from a restaurant app rather than ordering from a third-party platform. If customers are using your restaurant food ordering app, that means no commissions no taxes to third-party platforms.
"Location intelligence & geofencing marketing has given new opportunities for many online entrepreneurs. Now, they can locate their potential customers on-the-go and serve them better. Many brands have gained a success rate with geofencing. Now, it's your turn to witness the difference."
Now, we understand that location-based advertisements can promise good returns to your restaurant. Moreover, if you want to acquire new customers and convert them into your regular customers, then you have to try geofencing. It is the best way to cut through the noise and interact with the local audience.
To know more about Online Food Ordering Systems and how it works, contact our experts at +1-619-309-4653, or you can drop us your queries info@restroapp.com