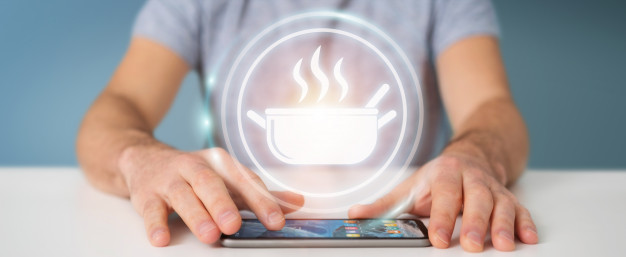 Keeping your customers happy is the success mantra that every restaurant swear by. If you are not able to keep your customers happy, they will leave you for your competitors.  
According to Ruby Newell-Legner, "Understanding Customers" it takes 12 positive experiences to make for one negative one.
Statistics that show how important it is to keep customers happy:
It costs five times more to attract a new customer than to keep the existing one.

 68% leave brands when they are upset with their services.
48% who had a negative experience told ten or more about it.
As per the Corporate Executive Board, 64% of customers cited shared values as the primary reason for a strong brand relationship.
As per American Express, 3 in 5 Americans (59%) would try a new brand for better service experience.
Customers who engage with companies over social media spend 20 -40% more money with those companies than other customers.
89% of consumers chose a competitor following a poor customer experience.
A 5% increase in customer retention can lead to a 25% to 100% profits for your business.
So, retaining and satisfying your customers is of the utmost importance. Moreover, you need to provide them better services and the latest technology such as an online food ordering platform.
People, these days don't have ample time to cook. The online food ordering platform has become the need of the hour. Ordering food online saves time, and provides comfort. By offering a restaurant food online ordering system, you can get an advantage over your competitors.
With the help of restaurant ordering platforms, you will be able to increase your revenue, productivity, reach more audiences. Not only this, but you can improve your customer service and retain your customers.
As a restaurant, you can take leverage of the online food ordering platforms and deliver the best to your customers and mitigate errors. 
Why do you need to invest in an online food ordering platform?
It is expected that revenue in the online food delivery segment could reach 7.12 billion USD in 2022. Also, restaurants had noticed an increase in average basket size per consumer when orders were placed online.
How can an online food ordering platform make your customers happy?
Let's have a look at the advantages of an online ordering system and how it can be used to make your customers happy.
1. Simplifies the ordering process: 
Placing orders on the phones can lead to some mistakes, and this traditional way of ordering doesn't suit busy people. Now, customers don't have to call the restaurant to place their order or drive for collecting their orders. All they have to place their orders online on the restaurant website or mobile restaurant app.
This simplifies the delivery process and streamlines restaurant operations. Customers browse the online menu at their own pace and look for add-on deals and offers. This makes them order more, and this increases the total value of the order.
2. Easy Mobile ordering
Sometimes, people are not able to make calls to order food. Through an online food ordering platform, customers can order their favorite food online via a mobile, tablet or other devices. A mobile app allows customers to place their orders without any hassle. You need to create a website or app to attract more customers.
3.  24/7 Availablity
Busy people often order at night, and if you can provide your services 24/7, then you can make good money. They will be choosing their preferred delivery time, and this way you will be able to scale your order size.
4. Let them share their experiences
Allow your customers to talk to you through reviews or directly interact with them through messages. This will make them feel valued and they will support you in the long run. Using your restaurant online ordering app, they can voice their opinion about your services.
5. Reduces errors
Your restaurant can provide exactly the same food that customers demanded through an online ordering system. This will reduce some workload of your servers and overall simplify the ordering process. The online food ordering platform will build your reputation in the market. and customers will keep coming back to you.
6. Helps your restaurant Serve Everyone Better
It will not only delight your online customers but will also satisfy your diners. As order processing will be done online, so your staff will get enough time to provide high-end experience to your walk-in guests. To improve your online ordering, you can hire more chefs to fulfill more orders. This way, you will never disappoint your customers when it comes to quick and timely delivery.
7. Make order placing journey convenient
It is important to provide the best experience for your customers. Hence, your app should offer an interactive menu with easy navigation so that customers can place their orders quickly. This will make the order processing process fast and more convenient.
8. Multiple payment options
Your restaurant app should support multiple payment modes so that your customers can opt for any digital mode. It should include debit/credit, cash on delivery, online wallets, and more.
9. Loyalty programs for customer retention
Repeat business is the key to success for any restaurant business. It accounts for a large amount of revenue and can't be ignored. A mobile app for a restaurant should have a well-designed customer loyalty program through which your regular customers can gain incentives and rewards. It's a great way to bring customers to order again from your app. 
You can update your customers about their loyalty points through push notifications. Existing visitors are important for your business as they spread the words online and offline. Make your customers aware of the latest offers so that they can avail of them.
10. Social media integration
Take complete advantage of social media promotions for your restaurant business. Link your restaurant app to social media. This can facilitate easy interaction between you and your customers. Your customers can share their experience with their social media, and you can give them discounts or goodies in return. Getting rewards and goodies in return for a post makes them happy. You can also start restaurant social media paid promotions.
11. Pre-order feature
Give your customers an option to pre-order or schedule their meals so that they can place their orders whenever they want.
12. Push Notifications
Customers like to know about the whereabouts of their orders. This feature helps both customers and the restaurant to track orders. Real-time updates can notify customers status of their order at each step of the delivery process.
Also, you keep your subscribers in a loop by notifying them about the new things and offer. This plays an essential part in customer engagement and retention.

Online food ordering apps improves the overall functioning of your restaurant. It provides a better way of ordering your customers and delights them. If you are a restaurant owner and still haven't got your hands on an online food ordering app, then you are missing out on some great opportunity to propel your business. With the right technology, you can reach the right places at the right time.
If you are thinking about how to get started, then we are here for you. You can get in contact with RestroApp. We have created magnificent mobile online ordering apps for many businesses. RestroApp harbors the best developers who can create a restaurant online ordering system for you at a genuine cost. To know more about our services, please feel free to contact us.