With the rapid penetration of technology, the use of smartphones has increased significantly. The statistics revealed by SmartInsight says that around 80% of internet users have a smartphone. Isn't this is a great news for businesses opting for a mobile marketing strategy through mobile apps? Moreover, with 60% of local searches on smartphones transforming into buying process in an hour, why wouldn't businesses reap out the benefits of a mobile app? In this context, the technological innovations are having its impact on the restaurant industry too.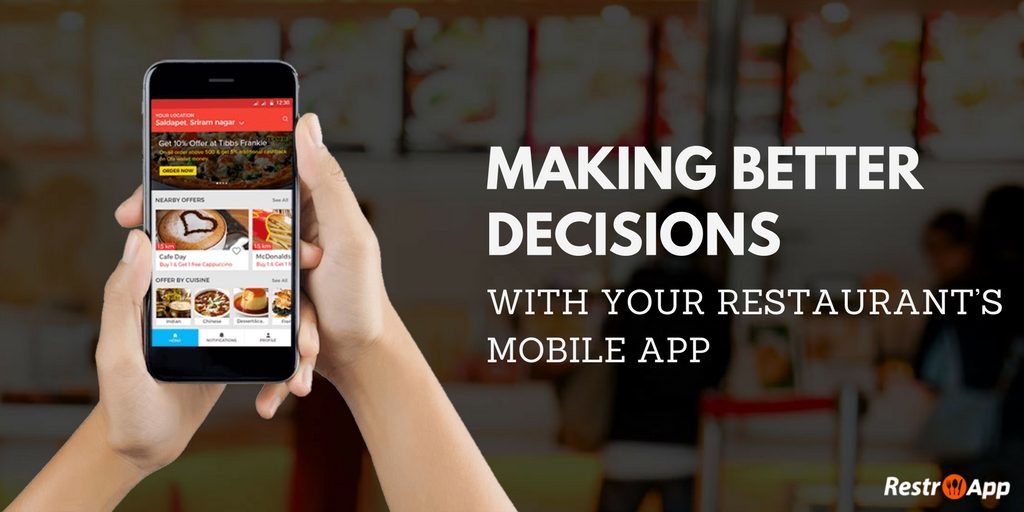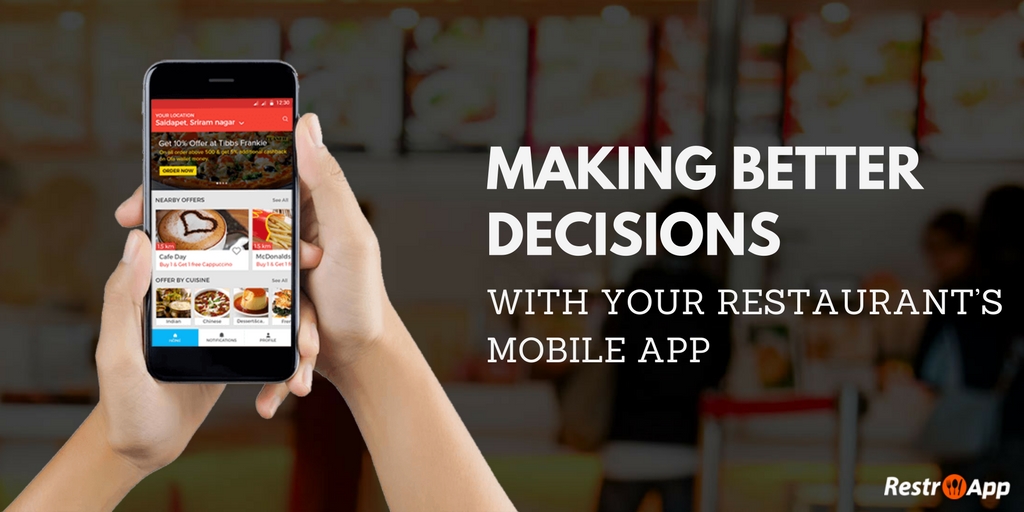 Did you know the restaurant mobile app development has a growth rate of a whopping $160 million? After all, a well built and intuitive restaurant app doesn't only enhance the efficiency, performance and customer satisfaction but, also helps in branding your restaurant. Furthermore, when you make better decisions and give your customers a seamless restaurant experience right in their pocket, you are ought to have a vast base of loyal customers along with ample sales and revenues. Still wondering how can you make better decisions with your restaurant's mobile app? We have you covered. Here you go.
Identify and target your customers better: Identifying the right audience and sending them relevant deals can enhance your customer retention by 92%. In this context, an intuitive restaurant app can help you identify your customers through beacons and geo location features. It lets you segment and target the customers in your close proximity and influence their decision-making process by sending them smart push notifications and enticing them to visit your restaurant.
Improve your customer's experience by keeping a track of their demand: According to Pymnts.com, around 80% of consumers say that technology plays a vital role in giving them seamless customer experience. Therefore, with a high-end restaurant mobile app, the in-app reviews can help you get an insight on the customer's needs, demands and preferences. It doesn't only help you understand your strength and weakness but also, facilitate improvement in the areas needed, thereby improving the overall customer experience.
Closely monitor your margin, market and expand accordingly: Your app doesn't only help you drive sales but, also significantly contributes in monitoring your market share and ROI. The incorporation of loyalty programs, referrals, discounts, and coupons gives you an insight of your loyal customer base and also helps you plan your expansion strategy accordingly.
Get hold of your popular dishes and improve your digital menu card: The app analytics helps you identify your popular dishes, order patterns of customers in different demography, gender specific tastes etc. This analysis can be used to improve and customize your interactive and visually appealing digital menu card while refining it in a way that best suits your customers.
Leverage your staff's performance and reward them: Apart from keeping a check on customer satisfaction, your restaurant app can be vital in leveraging your staff's performance. Since an app eliminates the unnecessary hassle of manual orders, your staff can utilize their time on more important aspects of the restaurant such as new recipes, easy order fulfillment, smart take-out orders etc. Moreover, you can reward your staff for their seamless use of technology and trigger employee loyalty. Thus, an intuitive restaurant app doesn't only satisfy your customer and reduce your organization cost but, also helps in employee satisfaction and retention.
Hence, it is quite evident that a world class restaurant mobile app can give you an edge over the competition and help you stand out amidst your counterparts. Not only it will escalate your sales and profits, but also help revolutionize your brand through a vast customer base and impeccable brand value.
Inspired to take your restaurant a notch higher? Want to include a high-end restaurant app with rich features in your food business? RestroApp can be your one-stop destination then. With our highly skilled and dedicated team of developers, we have carved a name for ourselves in the field of restaurant app development. We work extensively to develop a tailor-made, personalized app for your restaurant that best suits your need and helps you pave new avenues of success. For any queries or discussions, feel free to reach us at info@restroapp.com. We will be happy to help you out.