Mobile Food Ordering is a concept that has arrived and has arrived like a boss in the Online Food Ordering world. Most of the Restaurateurs are finding this addition immensely lucrative these days. The kind of popularity these Mobile Food Ordering Systems have gained, it would not be wrong to say that it will become impossible for a Restaurant Owner to do his business without having one.
Restaurant Owners are very quickly including Mobile Food Ordering Apps in their businesses seeing the requirement. However, neither the developers nor the restaurant owners are paying attention to a few things that are impacting the Mobile Food Ordering Business. We are going to discuss these massively important points which must be avoided while developing and post-development.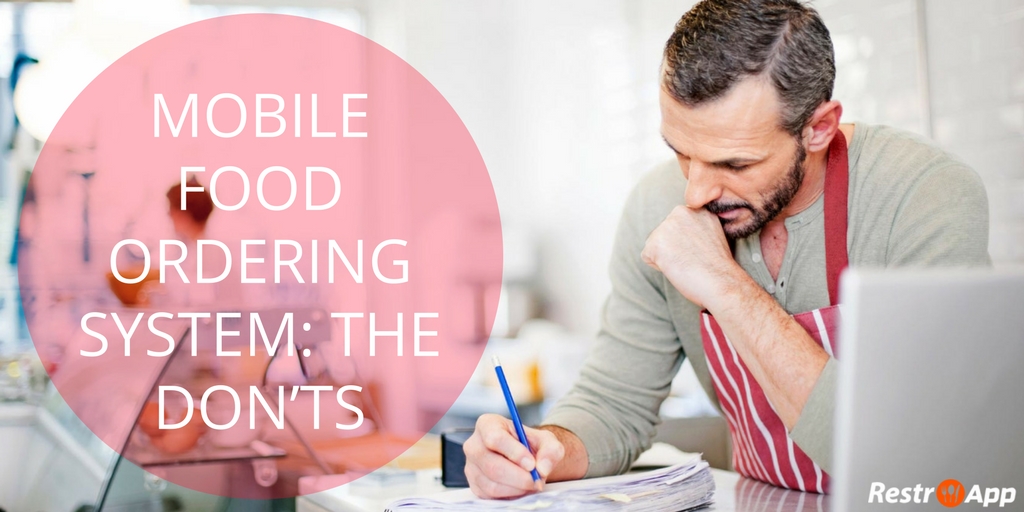 The Don'ts
Below are a few key points that must be taken care of while developing any Mobile Food Ordering System.
1. Slow Internet Pairing
No matter how responsive the Mobile App or Website might be. No matter how attractive it looks. It's all a waste if it doesn't work properly once connected to the internet. When we talk about the internet speed, we can never be assured about its fluctuations.
The developers usually don't think about this aspect and eventually the Mobile Food Ordering System collapse when it doesn't find High Internet Speed. Going forward, the developers must start putting efforts on a System, that doesn't disappoint on Low Internet Regions.
2. Reviews Handling
Most of the Mobile Food Ordering Systems these days are designed to extract user's feedback based on his experience. A Restaurant Owner must not expect only positive reviews from its customers. There will always be a few disappointed customers and there must be a trained Review Handler who knows how to deal with Negative Reviews.
Restaurant Owners should be more welcoming to the negative reviews and must show the user that his feedback has been registered and it will be addressed in future. Negative reviews should be considered as an eye-opener rather than a burden.
3. While Software Upgrade
A Software is bound to change as per the user experience and business requirements. However, whenever a new Software Upgrade is circulated, it should keep an eye on being generic irrespective of Software Version. There should not be a case where your software stops running on certain Operating System Versions.
When you set bars or rules, you lose customers. Your software should be very flexible and robust so that it gets adapted by every single user without any hitches.
4. Online Delivery
Most of the modern Mobile Food Ordering Systems are equipped with Order Tracking features. However, most of the Mobile Food Ordering Systems disappoint their customers with untimely delivery. Proper Syncing of Delivery Tracker and the Delivery Team must be implemented so that Timely Delivery can happen.
5. Social Media Connectivity
Social Media has established itself as a commendable advertising medium for any business. Any progressive business that doesn't make use of Social Media sites like Facebook, Twitter has a higher chance of being left behind from the modern trends. It not just helps you advertise a business but it also helps in collecting reviews and complaints.
6. Confusing Website with Mobile App
Most of the Startups think that having a Website alone or a Mobile App alone is more than sufficient for their business. It might look that but the reality is something else. Consumers primarily focus on their own experience rather than your development process.
Modern Mobile Apps and Websites, both have different kinds of User Experiences. It's advisable to not confuse the user by keeping just a website and selling it as a Mobile App as well.
Conclusion
Do you find yourself a culprit here who forgot to consider these avoidable mistakes? Don't worry! Your Mobile Food Ordering System is almost perfect but there are always some areas that can be improved. Those areas can only be discovered with experience. Those areas have been exploited above and for staying fresh and glorifying your business, Online Portals like "RestroApp" is always there.