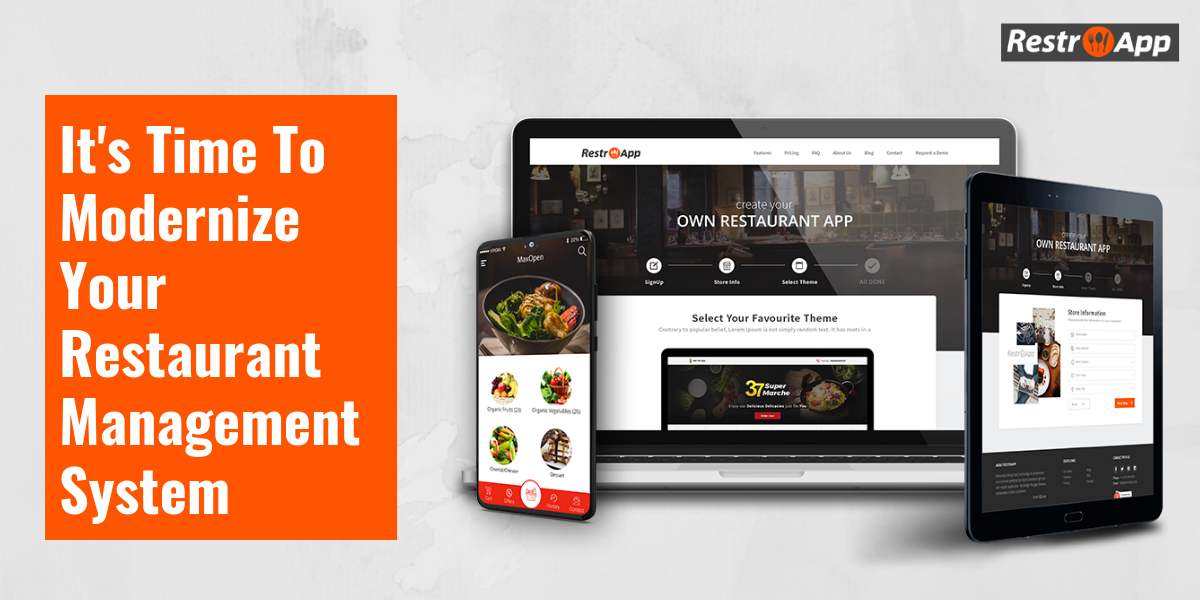 The ambiance and quality of food are not enough to run a successful restaurant, you need great services too. You cannot ignore the latest technologies that are used in restaurants. They not only streamline your restaurant operations but delight your guests too. By choosing the right restaurant management system, you can provide an impeccable guest experience. But, first, let's know what it is.
What is a restaurant management system?
A restaurant management system is a POS software designed for the restaurant industry.  It increases the accuracy and efficiency of the everyday restaurant processes. With a restaurant management system, a restaurant owner can easily streamline basic restaurant operations like managing inventory, tracking transactions, and others. The modern restaurant management software is an omnichannel system and can be used across multiple channels.
What are the features of the modern restaurant management system?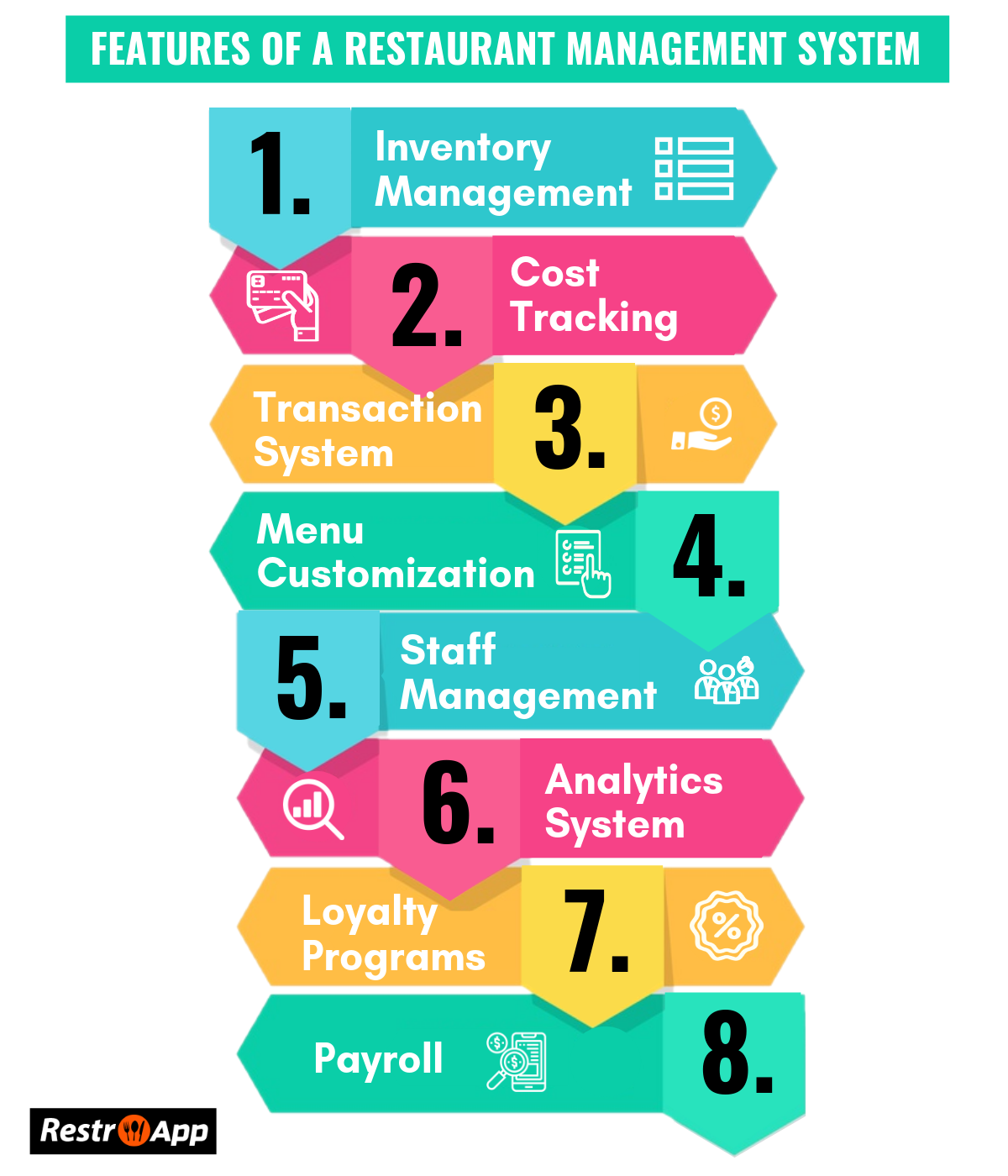 1. Inventory Management:
As a restaurateur, you can easily manage purchase orders and vendor relations. Not only this, will be able to track ingredients and get notifications for ingredients that are about to exhaust.
2. Cost Tracking:
You will be easy to track labor and food costs.
3. Transaction System:
It includes a transaction system which is capable of accepting payments across various channels. Also, works with integrated credit card processors and provides receipts.
4. Menu Customization:
It helps in creating a customized menu with ease. It helps you to keep everything organized and you can divide the menu into sections like mains, salads, drinks. Also, it helps in adding notes for customer's preference, allergies or a special request and then send them to the kitchen or bar.
5. Employee Management:
With POS software, you can manage employee time and attendance. Not only this, but your manager can also track the performance of employees and accordingly manage their payrolls.
6. Reporting and Analytics
:
You can get real-time updates on what's happening at your restaurant. It will help you keep track of various activities.
7. Central Data Management and Analytics
:
Through the transactions, you can figure out the preferences of your customers, offers that are working and food items that are popular and so much more.
8. Loyalty Programs:
With a restaurant management system, you can run loyalty programs and reward your regular customers.
9. Cross -Communication:
Cross-communication can be established through the front of house and back of house and vice versa.
10. User-friendly order management:
order management should be easy for your staff and management to use. Your staff should be able to split checks, change tables, transfer tickets, change items prices and quantities, repeat drinks, keep track of reservations and many more.
11. Payroll:
Your business runs because of your staff, so your staff must be paid on time. With a restaurant management system, your manager can manage the payroll and ensure timely payment and incentives to the staff.
Why you need a restaurant management system?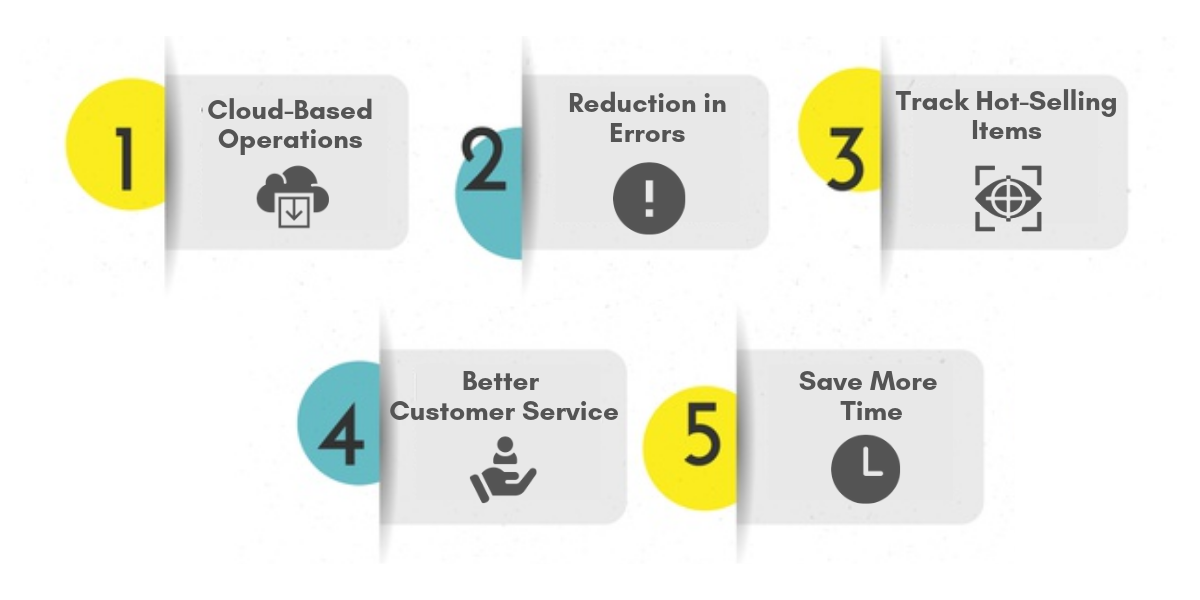 1. Cloud-Based Operations
:
With the cloud-based system, you can check your store virtually from anywhere. All you need is an internet connection. A powerful cloud-based POS makes it easy to update product lists, change prices, set system security and more from just a few clicks. As per the Nucleus Research, cloud-based solutions deliver 2.1 times the return on investment of traditional on-site solutions. 
2. Reduction in Errors:
As everything is recording ranging from every sale, refund and merchandise information, so there is no chance of errors. Your inventory becomes more accurate and you don't have to fix human errors. You can monitor everything, every transaction, and refund. Even know when and how much discounts are given. This is the best theft-proof method to keep track of your employees, so that they are not able to change the figures and steal anything.
3. Track hot-selling items:
You can easily come to know your most popular merchandise or menu item. This way, you can place an order beforehand, so that you don't run out of those items. It helps you to stock up goods that are on the verge of getting exhausted.
4. Better Customer Service:
If you want to be successful in the restaurant industry, you need to serve your customers in the best possible way. A well-designed modern restaurant management system saves your staff time and you can easily focus on your customers. It lets your staff to quickly and simplifies the food ordering system. It is easy to take an order via iPad than writing it down on paper and then adding it into the cash register.  In the busy hours, you can print the ticket directly and send them to the kitchen. This speeds up the order delivery.
5. Save More Time
:
As many restaurant operations will be automated so you will get enough time to brainstorm and come up with new ideas for your restaurant. You will get everything from employee management to real-time updates with you which will catapult your business in the forward direction.
What are the things that you need to consider before upgrading your POS System?
1. First of all, look for the features that you want in your restaurant POS system. Determine the ones that you cannot live without and pay extra for it.
2. Ask the vendor what all you will get in the POS system like basic features and other add ons. Also, know how this POS will be able to track your staff performance, menu items. You should be clear about the installation cost of POS system hardware and software. Make sure your POS work on the cloud, so that you can use virtually from anywhere.
3. It should be able to meet the demands of your staff. Let your staff evaluate the new POS. Allow your staff to put the POS system on test, get to know its working and how long it takes to perform routine tasks. Also, you need to figure out does the new POS system worked for you during the training phase or not.
4. You should be able to import and update your menu with ease.
5. Before investing in a POS system, see how the product evolved over the last six months to a year. Get a clear picture of how often the company innovates and responds to its customers.
How to make a smooth transition?
Data Backup 
You need to backup your data. Ask your service provider how you can safely backup your data, and then sync it into your new system.
Installation
The installation process will take some, so choose the time when your restaurant is not that busy. Today' s modern-day POS system requires less time for installation so talk to your service provider.
Training
Train your staff about the new POS and ask the vendor for training support and modules. As they are the ones who are going to use the system, so it becomes necessary they get comfortable with the new system.
If you already have a POS system in place at your restaurant, then you need to see if it's working fine. Look for these points to know if your restaurant POS is working fine.
Are you able to handle the billing process with ease?

Does your POS system provide you with important customer data?

Are you keeping your customers waiting longer?

You are not facing payment authorization issues or any system glitches.
If not, then it's time to upgrade the existing one. A modern restaurant management system is not just a transaction system, it is more than that.
It is a wise choice to automate your restaurant operations with a new food ordering app. This increases the efficiency and functionality of your restaurant. By choosing the right POS for your company, you will be able to know where your business is standing and what needs to be changed. This way, you will get more control over your restaurant.
To know more about Online Food Ordering Systems and how it works, contact our experts at +1-619-309-4653, or you can drop us your queries @inforestroapp.