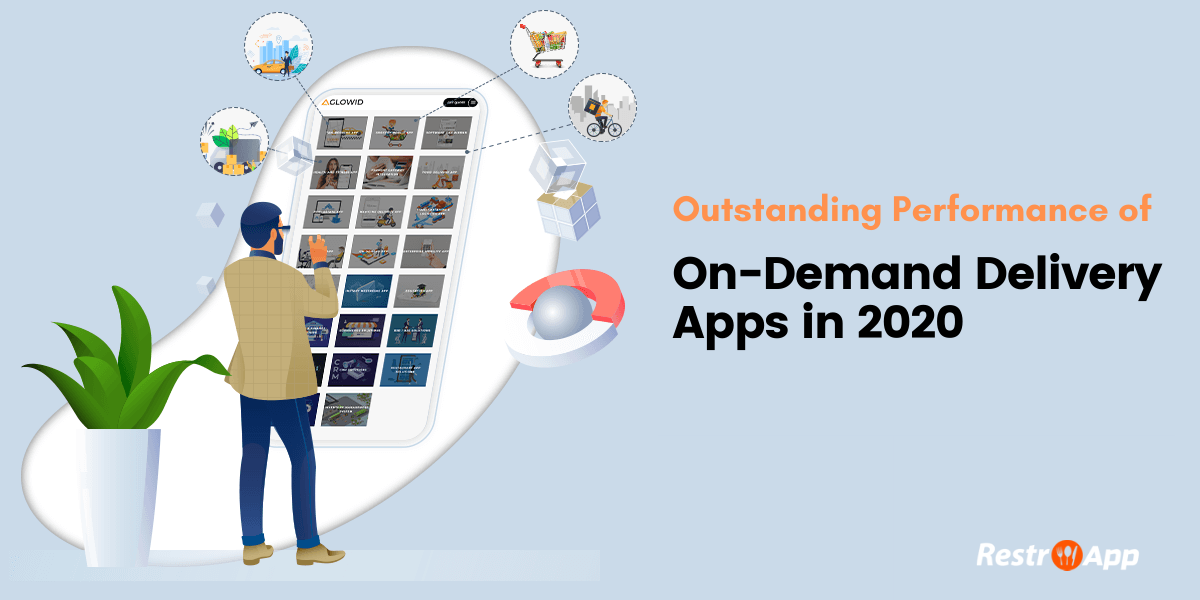 On-demand delivery apps have exceeded in performance in 2020. The financial statements and the figures say that the delivery business has attained new heights of success this year. The delivery business is at the peak, it seems.
Just place your finger on any industry and you will see how they have magnified their business using the delivery services this year. Be it grocery, food, medicine, essentials, or anything else, the demand for everything has pretty much increased in 2020.
The scope for these niches is believed to be unbelievably strong this year, and ahead.
Delivery businesses are a gigantic sector, which has immensely gained popularity after the Covid-19 has hit the world. Let's see how on-demand delivery apps are performing outstandingly in 2020, and ahead.
Outstanding Performance of On-Demand Delivery Apps in 2020
How are these businesses pioneering in 2020? What's the scope of the on-demand delivery apps later in the year or after there is no panic of coronavirus pandemic? Let's figure that out.
How would you behave or shop, in case of the non-existence of these on-demand delivery apps? Would you survive comfortably or just panic, especially in this severe phase of the pandemic? We believe there would have been discomfort in getting seamless services, as we are getting now in the presence of these on-demand delivery apps.
Besides, every individual has one or the other app on their phone. Be it that online shopping app for ordering your favorite clothing and footwear or that must-have grocery delivery app, which has been the constant support during these pandemic times. Would you have enjoyed such a seamless supply of all the groceries, including milk, bread, butter, and all your favorite stuff, if these delivery apps were not there? We believe not.
Speaking of how severe the pandemic situation is, how would we have survived if medicine delivery apps haven't existed?
Life would have been pretty tedious without all these on-demand delivery apps.
Hence, as per the reports and figures along with the experience of the customers, it can be concluded that on-demand delivery apps have performed exceedingly well.
On-Demand Delivery Apps Exists with Us Now
That's the truth we will have to exist with now! On-demand delivery apps exist with us and have comfortably become a part of our lifestyle. Most of the ordering is done online, and even customers enjoy the customized shopping experience now.
Different companies are coming up with different approaches to making customer's experience more customized and comfortable. That, in fact, has accelerated the sales of almost every product online, especially groceries. The grocery business is perhaps the most successful in 2020, and it is believed it will stay in limelight even after that too.
On-demand delivery apps are a boon to the modern world, though.
Definition of an On-Demand Delivery App
So, what is an on-demand delivery app? An on-demand delivery app is an application designed especially for customers, who wish to order different products and services online, including grocery, medicine, flowers, liquor, bakery items, clothing, footwear, or anything else from the websites online.
The on-demand delivery stores or outlets, uses these on-demand delivery apps, for delivering products and services to the customers.
So, such stores or businesses manage smooth deliveries via different versions of apps, including the admin app, customer app, admin panel, and delivery agent app. That's how they keep separate apps for maintaining their delivery businesses online.
Besides, since everything can be tracked right from delivery time, order status, business reports, and analytics to delivery agent's route and orders accepted and canceled, it is easy for these businesses to stay connected with the customers and the delivery agents all the time.
All these separate apps are well synchronized with each other – In case you were wondering how these separate apps actually work, without relying on each other, there is a firm connection between all these apps, including the admin panel, admin app, driver's app, and customer's app. Hence, there is no hindrance in delivering the products and services to the customers right on time.
Process of an On-Demand Delivery App
The process of an on-demand delivery app is pretty simple, though. The first step is the customer placing an order via the customer app. For that, they first need to register on the app, create an account, and log in. Once that is done, the order reaches the store. They, then decide the status of the order placed, whether that will be accepted or rejected. In most cases, the order is accepted.
After the order is accepted, the driver is assigned to deliver that order. The admin panel is used to assign the driver for delivering the order to the customers. Once that is done, the order is sent to the driver for delivering it to the customer. Utilizing the driver's app, the order is then finally delivered to the customer.
So, that's how the on-demand delivery app actually works.
On-Demand Delivery Apps Creating New Milestones in 2020 (With These Exclusive Features)
Going by the industry experts, 2020, and many more years to come, the on-demand delivery apps will be in existence, successfully. The following trends have been inherited in the on-demand delivery apps to make it a more successful deal for you.
Push Notifications
Integrating push notifications is a must for every delivery business. In 2020, and even after, the need for push notifications will barely fade. The customers wish to know where their orders have reached. Besides, for businesses, it is mandatory to know how the delivery services are going on. it is, therefore, important to maintain a connection between the business and the customers. Push notifications do the needful.
Multiple Payment Options
With the availability of different payment options, it becomes easy for the customers to pay for what's ordered. Sticking them to just one payment option won't be a good decision. Just give them different options to make a payment, including the debit card, credit card, net banking, COD, and other options. That's how on-demand delivery businesses can maintain a larger audience while accelerating their business instantly.
Exclusive Offers & Discounts
The trends that these on-demand delivery apps need to follow are allowing their customers to enjoy discounts and exclusive loyalty programs. It is important to keep the customers so that they don't shift to your competitors. Keep them engaged via these exclusive offers and discounts. Your patrons love saving money, and with these offers and discounts, they can do that pretty well.
Safe Deliveries Work
COVID-19 pandemic has changed most of the things around the world. That includes delivery businesses too. The on-demand delivery app has to be safer now. By that we mean, the deliveries have to be super safe. The driver must be following all the safety measures to keep the customers content in terms of safety. Besides, in 2020, another thing called 'contactless deliveries' are also trending. The driver just leaves the order at the customer's doorstep, and that's how they do maintain social distancing.
Seamless Searching Option
No matter what product you are selling online, there has to be a seamless searching option available in the app. Yes, having an 'on-demand delivery app' is a must for every business and store, who are relying on a delivery app for their business. There should be enough categories, products, and options to choose from, that's basic. Besides, the on-demand delivery app requires an easy and seamless searching option. Also, offer them to search the products based on their location, time, and distance. That will make it an easy searching and ordering experience for your customers.
Real-Time Tracking
Every customer wishes to know how their orders are progressing. So, allow them the option to track where their order is, and they will probably stick to your business for a longer time. On top of that, if your agents are delivering the orders on time, it will be easier for you to maintain loyal customers for the long-term. Since customers are loving it and even the on-demand delivery apps should have this feature, it is important to get it in the app for smooth deliveries and happy customers.
Loyalty Program
Boost loyalty amongst your customers, and what's trending in 2020, and even after that. When you offer a loyalty program to your customers in the shape of discounts, referrals, membership, and other such exclusive programs, it becomes easy to keep the customers. So, this is yet another feature of how these on-demand delivery apps are sustaining in 2020, amplifying their businesses, and making profits. Even free deliveries can be a part of your loyalty program, which will surely be appreciated by the customers.
So, when all these features come together makes an effective on-demand delivery app, which is loved and appreciated by the customers. Hence, in 2020, if you are looking forward to making your delivery app a success, it is essential to incorporate all these features to deliver products and services seamlessly to the customers. 
Cost to Develop On-Demand Delivery App
Thinking of developing an on-demand delivery app? Well, if you are thinking about stepping into the delivery business, it is obvious that you would be curious to know the price of the development process.
The answer to the question, "what is the cost of an on-demand delivery app" is that depends on various factors, including the complexity of the project, the time required to develop the app, features incorporated in the project, the advancement of the features incorporated, and the experience of the hired development team.
Besides, if you are stepping into this development business for the first time, there is a possibility of getting overcharged. So, make sure to research the market before finalizing your development team.
Also, hiring a development team for building a delivery app is crucial. But, what's more, important is to know how to hire the best out of all available.
Finding the best development team is not tough, just follow these steps to ensure that you are doing it right.
Steps Required to Hire the Best App Development Team:
Plan about how and where you will be searching for the right development team.

Look for long-term and reliable partnership.

Research the market – what's trending in the market.

Schedule the interviews with these researched app developers.

Communicate, and do it well to see how they actually present themselves.

Scrutinize their work done in the past, and how effectively and quickly did they deliver the results.

Figure out if they have successfully deployed apps in the past to the clients too. connect with these clients, if possible, for getting a genuine review of their services.

Discuss the price in advance and be clear about your expectations from them too.

Privacy and security of your data should be the priority. Make sure to share set rules and privacy policies to maintain the utmost security of your data.

Make sure the app design is the best and incorporates all the features that you wished for.

You can always ask for a trial assignment to test their skills, dedication, and performance.

Once satisfied with their performance and outcomes, finalize the team, and don't forget to sign NDA for maintaining the utmost security of your app, idea, and business.
The Takeaway Message
On-demand delivery apps have raised the standards in 2020. And, hopefully, it will continue to maintain that in the coming years as well. These delivery apps have already set a new milestone this year, some credit goes to the COVID-19 too. Besides, those who are planning to step into the delivery business, keep in mind that building separate apps for your business is a must.
Also, don't forget to pick your development teams wisely to ensure that the website and on-demand delivery app that you build is on point. Finally, it is just the right time to step into the delivery industry, so don't delay, act now.