Restaurants have to keep up with the fast-paced environment to serve the customers in a better way. This helps the business to earn higher profits.
Nowadays, there has been a drastic technological change from manual to an automated process, & restaurant owners are getting inclined towards next-gen technologies and apps. A sound restaurant app ordering system offers a setup to improve management while streamlining various operations.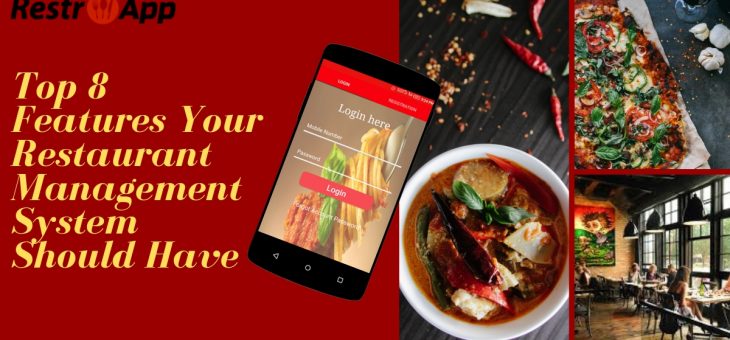 The primary objective is to consider a system that is easy to use having a user interface so that anyone can handle it. A lot of owners use a restaurant POS system that regulates the workflow while managing daily operations. A POS (Point of Sale) system has many features that help in efficiently running the business, making it more profitable.
Having an ideal restaurant management system to power the business is a daunting task. Well, not anymore. When it comes to choosing the best restaurant management app, features like ordering, inventory control, quality measure, marketing initiatives are few aspects to be considered.
To help you make an informed decision, we have listed the capabilities of the restaurant management system you are evaluating.
Must-Have 8 Features in your Restaurant Management System
1. Tracking Sales
Every restaurant deals with a credit card and cash transactions. So, it is imperative that the software tracks all the business sales data, making it easy for the owner.
When the sales data is intact, you have the power to make the right decisions and smart choices. For example, you can make changes in your menu when you know which has been the best and worst selling item. Most importantly, you have an overview of the sales data that further determines the profit.
2. Inventory control
This one is a must-have feature for any business. Some food ordering systems have the option of deducting items from the inventory when the product is sold. For instance, if a steak dinner is sold, the app should subtract the steak from inventory.
This way, you know what amount of food you have and how much is required. Inventory is essential as you wish to understand your profit margins by knowing the consumption of food. All the systems should have inventory control or may require third-party integration. So, you should know what all you need for inventory management.
3. Easy Menu Setup
What will you do when you wish to make changes in the pricing? So, the third consideration is 'easy menu setup.' Menu configuration in a restaurant has to be simple and easy. No one wants the terminal or server to reboot when you want to make minor changes.
Before you pick a POS system, make sure it helps you to make adjustments in the menu quickly. If it takes a lot of time, you might have to consider looking for more options.
This goes a long way in ensuring profitability and long term success.
4. Business reporting ability
As a business owner, you don't have time to evaluate in detail how your business is performing in a particular area. The business reporting system of the management app should be flexible so that it works automatically and send alerts based on predetermined, user-defined performance indicators.
This, not also saves a lot of time but also gives access to all the operations. You can then proactively address the issues that are becoming obstacles in the path of your business growth.
5. User-Friendly System
Restaurant staffs are not only busy ones, but your customers are too. This is why your food ordering app should be easy for customers to manage.
Before relying on the online food ordering app, ask for the live demo. You will get an idea of how the interface will look like. Make sure it is straightforward and intuitive.
Related Post – How to Build a Food Ordering App?
6. Speed
Speed is an important factor to consider. A slow system can be chaotic for everyone. The notion of speed also extends to the ease of use that has to be intuitive. No one wants that their customers have a bad impact on their business or service because it all comes down to the profitability of the enterprise.
7. Loyalty and Reward Points
When the customer orders food from the restaurant, make them feel happy and valued. Getting along with the customer is important nowadays. A clear picture of their needs, food habits, trends they are attracted to help in reaching a potential customer.
With 40% restaurant already offering some loyalty program, 57% want to love a place that offers one. You are certainly missing out a lot if your restaurant doesn't have a loyalty program in place.
Having a loyalty program means turning regular customers into loyal customers. Many restaurants don't have enough time to think about the type of loyalty program strategically.
You can rely on the food ordering apps for the same. This can be done by offering them reward points for the repeated business they have given to the restaurant. Such programs focus on strengthening the bond with the customers to improve revenue and restaurant reputation. No matter what restaurant app you end up getting, ensure that it works well together.
Related Post – Customer Loyalty: Tips to say Thank you to your Loyal Customers
8. Technical Support
You may have experienced a significant setback when your system is down, and the staff is unable to take orders on the phone and manage anything efficiently.
The importance of excellent support from restaurant POS can never be overstated. Protect your investment and sanity with a 24*7 support with the best food ordering app.
Initial setup, credit card help, software upgrades are just a few of the things that should be helping the restaurant with. Before you go for any POS, do ask for the technical support queries.
Any software is there to make life easier. You can consider the aforementioned points before relying on the restaurant management system. As a quick recap, you should look for tracking sales, inventory control, easy menu setup, business reporting ability, user-friendly system, speed, loyalty & reward points, and technical support.
Want to create your own food ordering app? Drop us your requirements at info@restroapp.com and our team will get in touch with you shortly!