Snapchat is an immensely popular platform which you can add to your restaurant marketing strategy. In fact, saying it won`t be wrong that Snapchat as a marketing tool has become an inextricable part of the restaurant business. This social media mobile app, Snapchat, is hugely popular among the young generation, and old too use it reverentially. You can share pictures and videos on Snapchat, both of which will vanish altogether after a person seeing them for a while. The millennial-generation especially has struck a deep chord with Snapchat and for other myriads of people, it has become a top trend that makes it a marketing gem for restaurants to explore.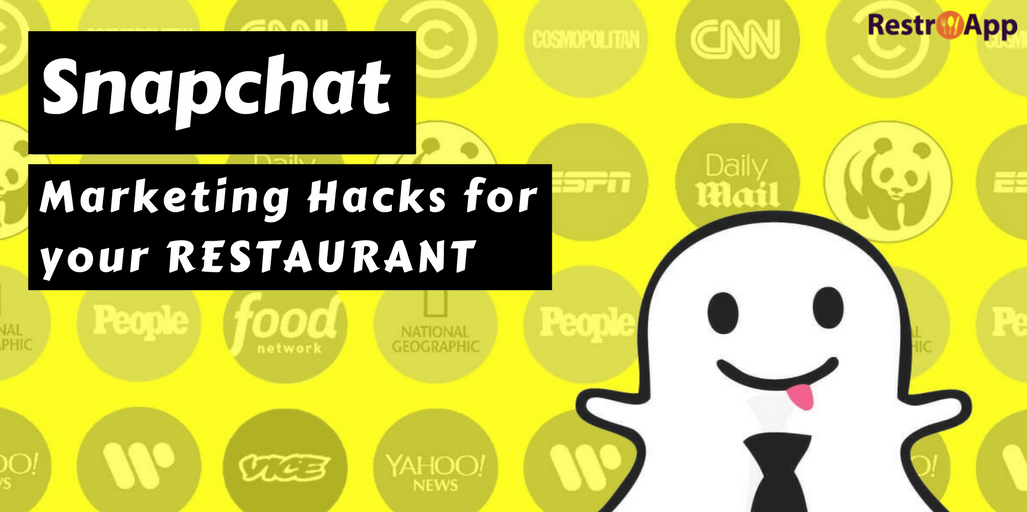 The leading restaurants have already taken the lead to reaping the marketing advantages of this youth-driven platform. It not only offers them a platform to get the attention of a horde of young people, who are not only technology-savvy but restaurant-savvy as well, which has significantly contributed to the growing customers of these restaurants. Snapchat, at the same time, helps them broadcast awareness about their restaurants virtually to millions of people. With a sort of nexus between Snapchat marketing and your restaurant, your customers no longer get in your restaurant for food only. For them, it becomes a moment worth sharing and they get engaged with your restaurant and food, of course, on personal levels.
Why is Snapchat Marketing Must For Your Restaurant?
If you are a restaurant owner, you have every right to ask these kinds of questions and get clarifications. So the basic point is, if a social media platform enjoys wide reach popularity, then it definitely is a must-have marketing tool for your restaurant. Why else would restaurant companies like McDonalds and Starbucks opt for Snapchat marketing? Here is an astonishing data for you. The first snap Taco Bell uploaded on Snapchat was of Beefy Crunch Burrito. After that, they launched a Snapchat filter campaign through Snapchat Lens, which received 224 million views and it happened within a day of its launch. From this data, you can imagine the kind of potential Snapchat marketing has. Think of it this way also.
A report on the marketing potential of Snapchat has revealed an astonishing data that by 2020, Snapchat is expected to garner 26.9 million more users. And this figure is double the number of users Twitter and Pinterest are expected to have at the same time. The study released also showed that 76% of users of Snapchat are avid online shoppers too. The average time every Snapchat user spends on this social media platform is hefty 30-minute a day. According to company (Snapchat) website, on daily basis, Snapchat attracts 41% of 18 to 34-year-olds in the US only. And this is enough of an attraction for restaurant owners to go for Snapchat marketing to spread awareness about their restaurants and to increase their online reach, and without Snapchat marketing, you are surely missing a great deal of opportunity to attract new customers to your restaurant.
Snapchat Filters for Restaurants:
Not a long time ago, Snapchat added an innovative feature to its platform that could be a marketing game-changer for your restaurant. This special custom Geo filter overlays feature, which Snapchat has come up with only recently, helps users create very creative and location-specific overlay filters. All those photos and videos that have the same location as yours, these filters of yours will show up on top of them.
The users on Snapchat would don your filters for fun, but you also get your restaurant promoted at the same time. It can prove a great tool for the promotional purpose of your restaurant. You just have to choose a design, choose the area within which you want the visibility of your filter and pay $5.99 for a few hours run within an area of 20,000 square feet. This is all it demands from you. Rest you can witness the magic happen. You are now also allowed to embed in your stories external links. This is a nice feature by which you can direct your followers through these external links towards your menu, or to your site.
All said and done, here is our Snapchat marketing guide, to help you strategize better marketing for your restaurant.
10 Snapchat Marketing Hacks for your Restaurant to Attract the Millenial Customers to your Restaurants:
1. Discount Snaps – You can ask for pictures of your customers at your restaurants and encourage them to share it on Snapchat and in return you can offer them a discount coupon, which they can redeem on next visit to your restaurant. By doing so, you get the two-way benefit, one is your customers keep coming back to your restaurant and second, you get them spread the word about your restaurant as well.
2. Snap-Game – snap-game is the best way to catch the attention of the millennial audience. All you do is, you hide a promo code in snaps you upload and seek answers from the audience in exchange for exclusive deals on the offering. By offering rewards, you get more people involved in your snap-game.
3. Preview Snaps – Snapchat deletes automatically your snaps after some time, you can utilize this feature to excite the interest of your customers. You can do so by releasing the enticing preview snaps and videos of your festive-special items.
4. Behind the Scene Sneak Peek – Give your audience a sneak peek view of what is happening in the kitchen. Let them see the magic taking place behind the closed door to arouse their curiosity.
5. Ask for Restaurant Feedback – Inspire your customers to leave beneath your Snapchat Stories their valuable feedback. This way you get to know what they think and feel about your food and services you offer. It would prepare other people, who see the feedback, to visit your restaurant.
6. Share Foods and Drinks worth a Snap – A study has revealed that more than 93% of users of Snapchat have shared snaps of food to their friends and connections. So this has a great marketing potential if you can get them into sharing what they eat at your restaurant.
7. Introduce New Dishes Via Snapchat – Before you serve new dishes directly to your customers, introduce it on Snapchat by sharing a snap of it. By doing so, you spread the word about it to the larger online audience.
8. Introduce your Chefs – Food lovers always love to see the face of the maker of the food of their choice. You can show them the snaps and videos of chef while he is preparing his most popular dish. It would add to their taste for food, certainly!
9. Offer Discounts – Promotional discounts are key to garnering online exposure. You can offer a discount to Snapchat users upon sharing and adding to their stories the pictures and videos you have added to your Snapchat story.
10. Upload your Snapcode to other Social Media Platforms – It is always better to increase your following and letting your followers on other social media platforms know that you are on Snapchat too. You can post your Snapcode, scanning which the users will be able to add you to their friend list quickly. To stand out from the masses, you can embellish your Snapcode by adding to it your restaurant logo.
One thing that you need to take care of while zeroing in Snapchat marketing strategy for your restaurant is, it takes patience to see your audience really grow. Rest you can remain certain, if you are looking for the millennial audience, Snapchat is the right place where you can find a whole lot of them.
Looking to give your restaurant a mobile and digital makeover? Just drop us a line at info@restroapp.com and we will get right back to you.