Making a plan of your restaurant promotion ideas may take some time, but trust me the work will undoubtedly pay off. There are a lot of offline & online methods of restaurant marketing.
In this blog, we will discuss some tried and tested, practical restaurant promotion ideas that will surely help you to gain profits. Most of these restaurant promotions ideas are affordable and easy to implement.
The restaurant business landscape has been drastically changed due to digital technology trends. If your restaurant has the best location, mouth-watering delicacies, excellent staff, welcoming ambiance and lucrative offers, but you are not providing something exceptional, you can't fascinate your customers.
Earlier, restaurant owners depended on a traditional word to mouth market, but today most of them seem to be taking advantage of the digital media and online technology platforms like restaurant ordering systems, food ordering apps, websites, social media, etc.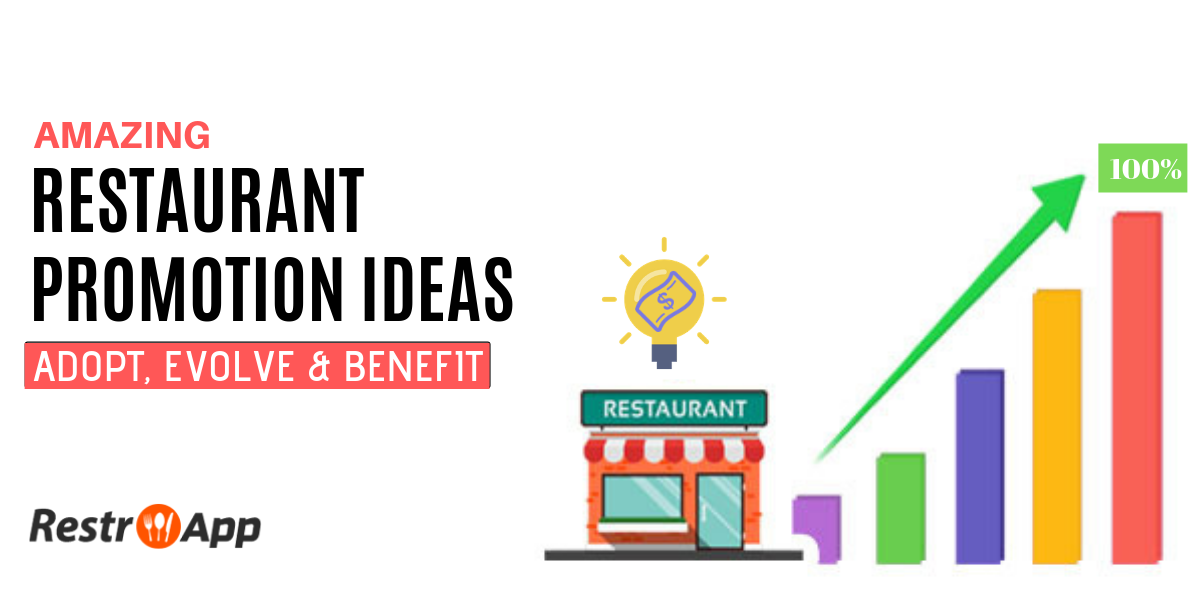 While some have already got their restaurant management system right, the majority are still striving hard to get their sales strategy on track.
You have to consider the fierce competition to not just get the marketing strategy right but also top-notch. If any small change improves the business, there is no harm trying it out.
Embedding restaurant promotion ideas is a great way to retain present customers, grab new ones, and bring back the old ones. Customers' needs a hook to visit your restaurants. With fairly delicious meals served at many restaurants today, promotion helps you give an edge.
There is a promotion that creates a buzz which then brings more customers in. Now, this is the chain reaction that you are expecting.
Let's explore some of the best restaurant promotion ideas:
1. Food Ordering System
We are digital nomads, living in a technology world. Whatever we want, should be obtained within a few clicks. The growing demand for eating in the comfort of the place has led to the adoption of an efficient mobile food ordering system.
It helps to satiate the customer's cravings. By developing a manageable restaurant app, you cannot just simplify the lives of your customers but also ensure that your business will stand tall in the market.
Restaurant online food ordering system offers a plethora of benefits, here are a few of them:
Convenience and accessibility

Manages menu and delivery zones

Connects with customers in real-time

Books orders seamlessly

Reduces operating cost

Cost-effective marketing

Discounts and combos

The robust database is created

Hassle-free management
Implement a food ordering system with effective restaurant promotions and marketing strategies to meet your customers where they are. A responsive and customizable app can change the complete scenario.
2. Discounts & Combos
For every restaurant, discounts and combos work really well. Millennials between the ages group of 18-25 are not willing to spend a lot of money and are looking for quick meals at a good price. This is where you can create high value at a low price.
The idea of clubbing cuisines together and slashing the price in the restaurant app works incredibly well. Customers see value in paying less for 2-3 items on the menu when sold as combos rather than giving full for the same dishes. 
3. Happy Hours
This one is no brainer. 'Happy Hours' is the best thing that is bound to bring in customers. The offer you will be giving them should be well-thought.
For example, the restaurant has a deal in 'Happy Hours' where customers will get a discount after a fixed amount is ordered. So the additional dishes bought will come at a discount of 25% (may vary) or so. This way, the restaurateurs don't require additional resources to pull it off.
4. Occasional Events
Every restaurant should have something special that attracts customers. Besides all the ideas mentioned above, you can go for:
Contests

Quizzes

Theme Meals

Food tasting

Wine tasting
This list can be as long as you want. Keep things interactive with your customers so that it will make your restaurant lively. Food festivals are a great way to bring in more customers, and moreover, the possibilities are endless.
5. Restaurant Specials
If you are unsure of starting something new of a routine, you can test the waters by starting off with special days. This is a simple way to let your customers try something new and they will be looking forward to ordering more for such specialties.
You can chalk out a small special menu only for a few occasions. Also, you can fix one day for one meal. Like: Wednesday is Pizza day. Order any pizza and get another free. Your customers are going to love this idea and it will, in turn, improve your sales.
6. Social Media
Social media marketing is an undeniable force nowadays. Almost every restaurant, whether big or small are using social media to attract potential customers. It is one of the best restaurant promotion ideas and promises great results.
According to Statista, 70% of U.S. people have at least one social media. The number of social media users is expected to reach about 3.1 billion worldwide by 2021. So, if run your paid ads on social media, there are more chances that people will notice you.
Here is a list of social media channels, that will help you to boost your restaurant's online presence:
Facebook
Instagram
Twitter
Pinterest
Reddit communities
You can target these social media platforms for organic (free) promotions as well as for paid promotions.
Related Read: Why Do You Need to Run Restaurant Ads on Social Media Platforms?
7. Pop-Up Somewhere Unexpected
Craft festivals, local food markets, concerts, or events are all great places to have a small pop-up restaurant.
It's a tremendous restaurant promotion idea, as it's only a short term investment, and you get a brand new audience to try your restaurant's delicacies.
8. Google My Business Listing
Le's assume, your potential customer is feeling hungry and started searching your restaurant on Google, but they can't see your restaurant's opening hours right away.
And, just like that, you've lost your customers.
Head over to Google My Business and set up your restaurant's profile for free, and make sure your customers have everything they need to find you.
There are a lot of innovative restaurant promotion ideas to boost sales with the restaurant POS system at a place and make your customers delighted. You only have to think out of the box and let your imagination do wonders for you.
The trick is to incorporate a reliable restaurant food ordering system so that visitors want to eat more from your restaurant. Make sure the ball is in your court. Play well!