Social media marketing is one of the cost-effective restaurant promotion ideas which can fetch you good leads and a huge amount of traffic. Through social media marketing campaigns, you can reach your potential customers. A social media marketing campaign is a marketing effort that is designed to fortify information or sentiments about a product or brand through the social media platform. They are targeted to influence social media users to feel a certain way.
What is the importance of social media for restaurants?
Why restaurants need social media? Well, Social Media Marketing has become the talk of the town, and its users are increasing day by day. It has become so influential that about 78% of businesses have their own social media team. Steadily, organizations are recognizing it as a prime source for engagement and reaching their targeted audience. Nowadays, if you want to sustain in the market, you need to head towards social media.
If you want to know more about running restaurant ads on social media platforms in detail, visit here.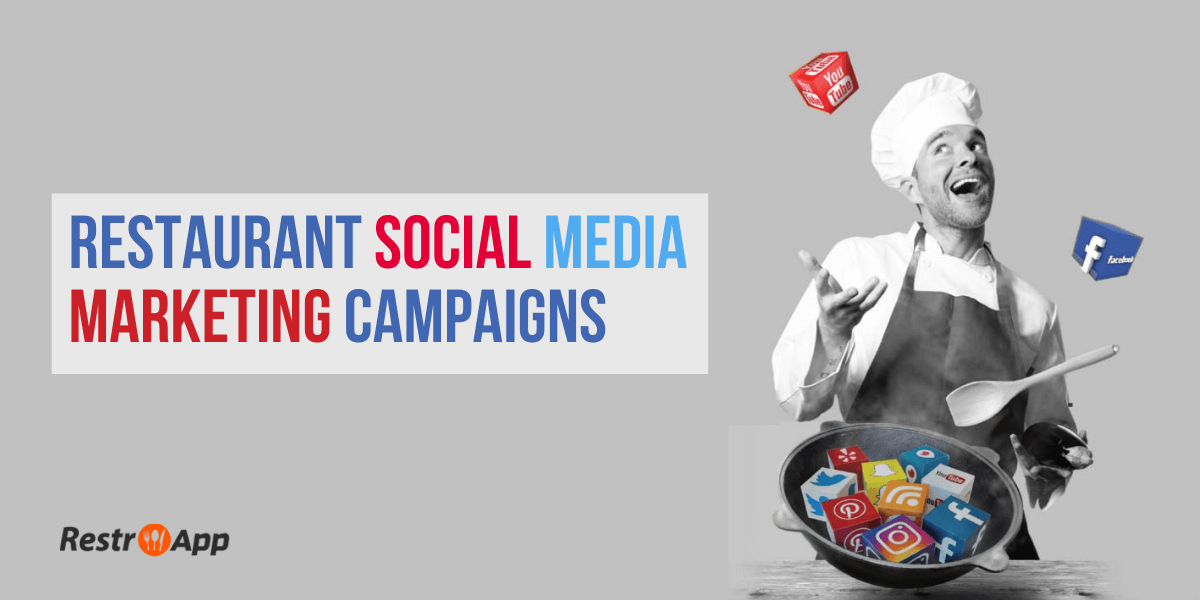 The Best Restaurant Social Media Campaigns:
Every business is not able to take full advantage of social media marketing campaigns as they are clear of the strategies and how to implement them. But, don't worry, here we have highlighted 10 successful social media campaigns. These can inspire you to create your next social media marketing campaign, or if you are new to social media marketing, then these campaigns can surely help you.
Taco Bell's debuted its Snapchat filter in 2017 for Cinco de Mayo 2017. This filter lets people turn their face into a taco, complete with Diablo sauce. Users enjoyed this fun way to share Cinco e Mayo with their friends.
According to social media company TINT, it became very successful and Taco Bell shattered a Snapchat record with its filter. It was viewed more than 224 million times in just 24 hours.
Coca-cola, the big beverage brand wanted to appeal to the younger generation and came out with a campaign "Share a Coke". You might have seen in the past that Coke cans and bottles were labeled with various names with a #Shareacoke hashtag. And if you have a common name, then you might find a bottle bearing your name.
The campaign took place in 2011, but it is still going strong. It first started in Australia and targeted about 23 million people. In the first year, this campaign led to Australians buying 250 million cans and bottles with names. Later on, the rest of the world got inspired by this campaign.

Nando's has become one of the most popular restaurants in the UK. It has 1.5m followers on Twitter and 4.2m fans on Facebook. The brand's social media strategy has fetched great engagement and loyalty.
They adopt one of the unique restaurant promotion ideas and encouraged their customers to participate in their "finger selfies campaign". In this customers had to tweet a picture of their best finger selfie made from a Nando's napkin and they will get a £20 as a gift.
By creating such campaigns, Nando's enhances the fun and casual experience among its customers. Nando's has also become a pop culture phenomenon as it was used by the group Peri Boyz in their viral parody song 'cheeky Nandos'. With this hashtag and other related hashtags like #wingroulette, Nando's connects with its target loyal customer base.
 Pizza Pilgrims have expanded to a full-fledged chain from a single stall at the food market. It had now seven locations in London. It all started with a marketing strategy. They showcased their 'have to go' back story. The guys Thom and James Elliot head off on a journey across Italy to learn about pizza. On their return, they set up a pizza van and got to be known for their delicious and affordable pizzas. 
They started with a pizza van and served people in their immediate radius. After that opened their first brick-and-mortar location in Soho.
It has positioned itself as an authentic fashionable and great alternative to large pizza chains.
It is a casual food chain that has witnessed rapid growth with its 'Lean and Clean' social media campaign. They partnered with social media influencer Joe Wicks – also known as Body Coach. The theme of the campaign was based on 'clean eating' and 'general wellness'.It positioned itself as a healthy alternative to the fast-food restaurant. The brand created two fitness videos and posted them on Joe's channels. Also, Joe continued to post new recipes and competitions and became a brand's voice for healthy living. Joe went on to release his line of best-selling books. Leon's campaign resonated with Joe's following, and they made it a hit.
18-35 age group people love to browse food images on Instagram and prefer to dine in a restaurant that has a good Instagram presence. These days apart from reviews and ratings, people also check the appearance of the place before choosing a restaurant.
Applebees is a US restaurant chain that got recognition after its campaign Fontographer. They encouraged people to upload photos of their experience at Applebees and promised that the best one will go on their Instagram.
This user-generated content helped the brand to get good exposure. This campaign gave Apple Bees 4,500 new followers on Instagram and their level of engagement increased by 25 %.
Wendy's Twitter account gained stardom in 2017 because of a challenge to a fan. Carter Wilkerson, a man behind the fast-food chain responded to a fan's tweet and set a record for the most retweeted post of all time at 3.6 million retweets. Earlier, Wendy's had been on social media for trolling McDonald's with sassy responses. They interact with their customers differently. This shows how simple factors like authenticity, engagement, and consistency can make you popular.
Nusret Gokce, a Turkish chef also known as #SaltBae became an internet sensation in 2017. He uploaded a video of him sprinkling salt over a piece of steak he had just cut. SaltBae became one of the best viral trends of 2017.
He has 1.1m Instagram followers and owns a small chain of steakhouses in Turkey called Nusr-Et-SteakHouse. We can see how being creative can make you instantaneously viral.
Eggo is a frozen waffle from Kellogg's that became popular after stranger things due to Eleven's obsession with them. The brand's appearance in season 1 gained Kellogg's traction and improved its social media engagement.
When Kellogg's tweeted about Eggo, the tweet earned more than 8,000 retweets and 19,000 likes. They also hyped Eggo on other social media platforms. 
This is how by engaging in cross-promotion, you can gain exposure and popularity on social media.
Pan 'n' Ice currently operated from London's Westfield Stratford. It is on this list for its very modern marketing approach & sells Thai-style ice cream known as Koh Phi Phi, which are ice cream rolls created by mashing, slicing, and freeze-drying ingredients on a metal plate. The brand got traction when they start creating ice cream in front of the customer's eyes. On Instagram, it posted videos of its ice cream is created. These videos have been seen over 10,000 times which is impressive.
You can also create such engaging and informative videos to get the attention of your potential customers.
We hope that these social media campaigns have inspired you to come up with your campaign. If you need any help in promoting your restaurant. If you are confused between various restaurant promotion ideas, we at RestroApp can help you to shortlist the most effective one.