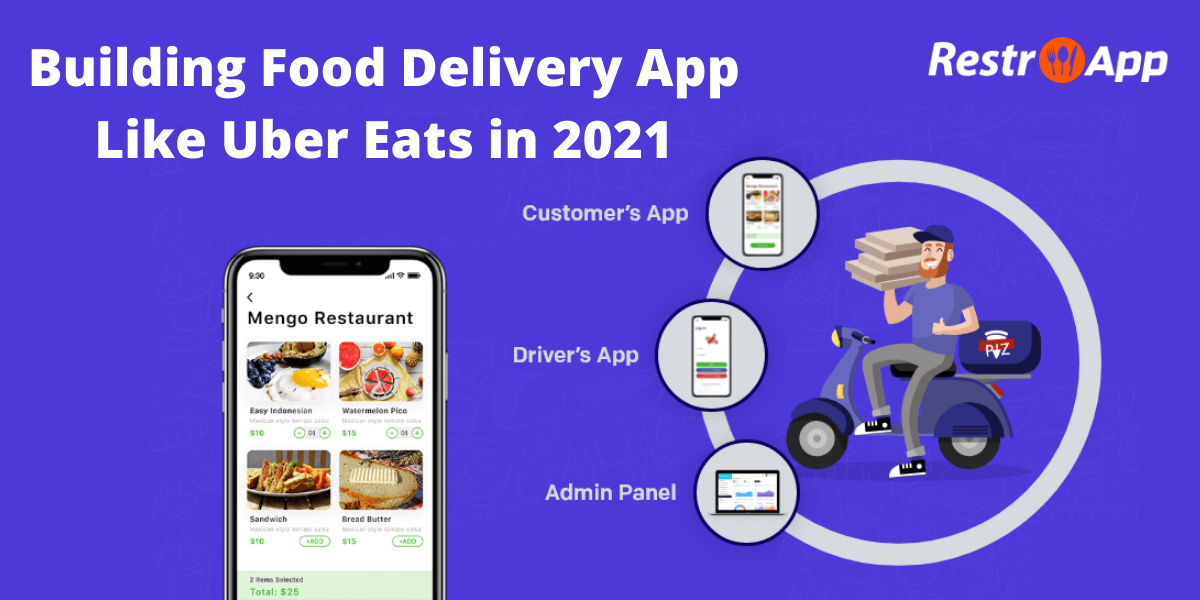 Commenced back in August 2014, UberEats has managed to become a forerunner in the online food delivery business. An online food ordering and delivery service, which has raised the bar for those who are existing in the market, and even those who are trying to step into this market. The success and reputation of UberEats have initiated the entry of many others, but how easy is it to be in the market with a brand like Uber Eats. Is it possible for newbies to even exist with such market dominators? 
Well, they certainly can if backed up by a food delivery app like Uber Eats. If you too are one of those, thinking to step into the food delivery business, then a food delivery app like Uber Eats is something, which you should rely upon in 2021. 
Food Delivery App Like Uber Eats – Here's How it is Built! 
Today's customers demand convenience and comfort. Food delivery app like Uber Eats have drastically impacted the food industry, and that's for the good. However, with the customer's increasing curiosity in food delivery apps, it is evident that more such food delivery businesses will be seen in the market soon. 
So, how does one attain success in the food delivery business? Well, we can only predict that it will get a better kick start if that is supported by a food delivery app like Uber Eats. 
First, why does your Business Need a Food Delivery App in 2020? 
The food delivery business has witnessed massive growth in 2020, and the same is expected in 2021 too. Everyone is loving the convenience and comfort. The food delivery industry has already established itself well during the coronavirus outbreak. 
Did you know that the food delivery services were boosted by 300% during the coronavirus pandemic? 
Yes, that's why more people are supporting the idea of running a food delivery business in 2020, and in 2021, as this year has almost come to an end. Hence, if you too are one of those planning to step into the food delivery business, this is the right time to do that. This is the best time to enter this industry. 
Build a food delivery platform like Uber Eats in 2021, and you will certainly win the game.
UberEats – What's Their Business Model?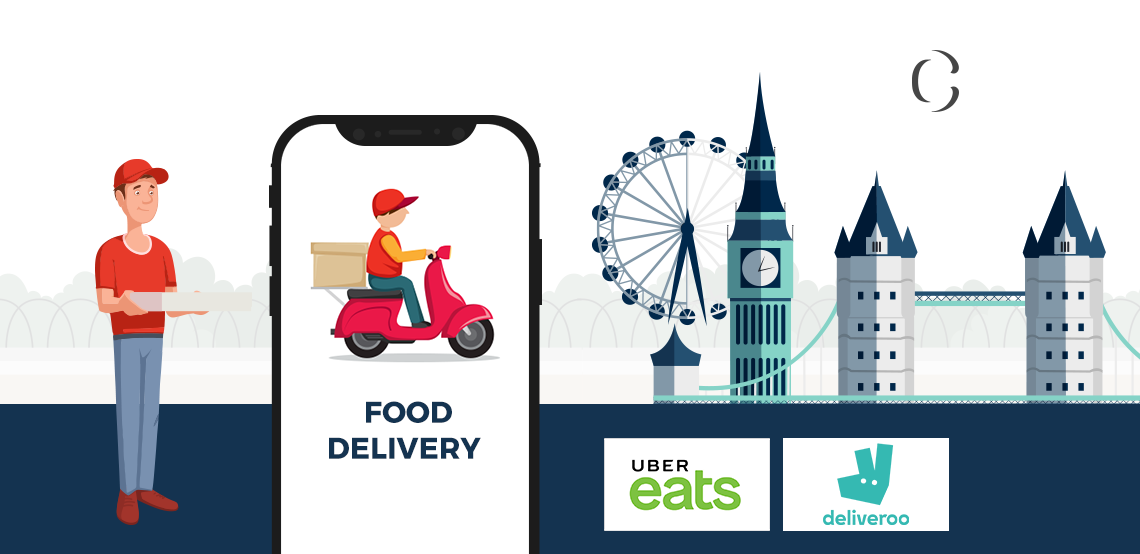 It is a big name in food delivery services across the globe. People are talking about it – customers are loving it and other food delivery businesses are trying to replicate the business model of this giant. 
So, here are the business models followed by Uber Eats, which will help you in becoming one of the most popular food delivery businesses across the world. 
Order and Delivery Platform
When using this business model, you will have to provide users with restaurant listings along with delivery services. The users will attain complete logistics support and the restaurant's job is to take the orders, get it ready, and make it available for deliveries. 
Order Only Platform
This business model followed by Uber Eats allows users to see the list of nearby eating places to order their food. These restaurants deliver the food to the users, whereas the platform just supplies the orders to these eating places.  
Newbies and even those existing in the business are curious about the business model followed by UberEats. It is the 'Order & Delivery Model,' which helps Uber Eats in acting both as a delivery agent and a restaurant aggregator. 
Since this particular brand is offering a complete suite to the customers, many businesses are replicating their business models to deliver a complete set of services to the customers. Besides, this is what has inspired many other food delivery services to opt for this business model, allowing the customers to enjoy everything in one place.
This business model is quite valuable for the newbies and restaurants that are operating at a smaller scale. Businesses that don't own a mobile app will rely on this business model. Restaurants will only need to cook the food. Rest, it is the duty of the delivery agent, delivery tracking, and vehicle managers to worry about the delivery. 
Parties Involved in UberEats Business 
There are three parties involved in the UberEats business, which are as follows: 
Customer
Restaurant Partner
Delivery Partner 
Customer –

When building a

food delivery app like Uber Eats,

the first party you will be engaged with is 'the customers.' So, how does Uber get an audience? Uber's customer base is gathered and retained and the same customer base is offered the services via Uber Eats. This is the first step of this food delivery business – where the customers place an order, which further reaches the restaurant partner.

 
Restaurant Partner –

They receive the order from the customers, and further generates revenue by giving the orders to the delivery partners. Restaurants receive their share from collecting orders and giving it further to the restaurants, who are delivering it. The restaurant partner will be accepting the orders from the customer and cooking the food as per it.
Delivery Partner –

The delivery partner will assign a delivery agent for every order, and ask him to deliver to the particular individual before the expected delivery date. The delivery partner will ensure that the delivery of the orders is done on time.
When you own a food delivery app like Uber Eats, this is how the business model will work.
Monetization – Food Delivery App Like Uber Eats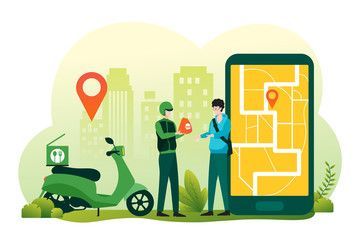 Uber Eats takes into consideration these three monetization plans to earn money. So, when you build a food delivery app like Uber Eats, these three will be your source of income, which will help you in surviving the market. 
Advertising Charges
One of the primary revenue strategies of a food delivery app like Uber Eats would be advertising charges. Restaurants want to appear on top; they want to be searched. So, for appearing in the top results, one will have to pay an advertising charge to the platform, which has agreed to promote the business. 
Generally, the customers click on the top results, hence, these restaurants pay to appear on the top, so that the customers click on their website and avail their services. This increases the restaurant's sales and the advertising charges are earned by the platform provider. 
Delivery Fee
Another source of revenue that a food delivery app like Uber Eats generate is through 'delivery fee.' The delivery fee varies depending upon the time taken to deliver the orders. Besides, the distance is also considered when the delivery fee is calculated. Apart from the time and the location, even the availability of delivery partners and agents' matter. 
Hence, when you build a food delivery app like Uber Eats, you can charge a different delivery fee from different customers based on the time and distance required to reach them. 
Commission Charges
Restaurants receive numerous orders in a day, but those received via UberEats are chargeable. The platform deducts a good 15% to 40% of the total amount when supplies orders to any restaurant. Hence, when you will rely on a food delivery app like Uber Eats, you can charge commission costs to generate revenue for your business. Also, the commission charge even depends on the reputation of the restaurant in the market. 
How to Build A Food Delivery App Like Uber Eats?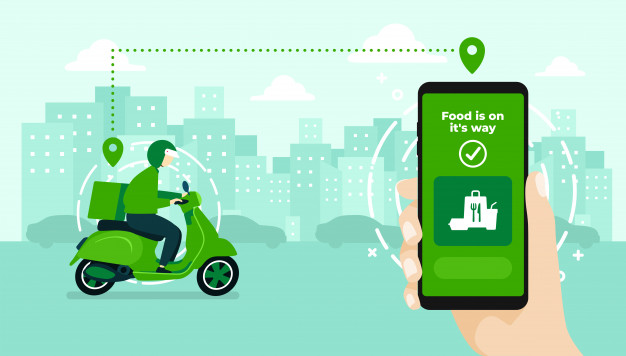 Uber Eats like app development is not that easy – after all, it takes time to build a food delivery app like Uber Eats, which is one of the best food delivery platforms that people rely on. There are different phases of building a food delivery app like Uber Eats, which includes planning, research, defining the proper structure, and deploying a high-end app as an outcome. 
Here are a few five basic stages that are involved in building a food delivery app like Uber Eats. However, you can always add a touch of innovativeness and your signature style to make it unique and personalized. 
Study the Market
The foremost need is to understand the market. Analyze it and figure out what's going on in the food delivery world, to have an idea about how your business will really survive here. Analyze what customers are looking for in this particular market. Knowing the demand of your audience is a must to deliver the expected results. Research about the market, analyze it and discover what really works for your targeted customers. Besides, you will have to figure out what really is missing in your business, and how you are going to fix that gap to make the patrons feel better. 
Identify the Delivery Model
Do you remember the two types of business models that we discussed earlier? Those were 'order & deliver' and 'order only!' So, now you know, these two will be the business models when you build a food delivery app like Uber Eats. Then, you will have to identify which business model you are going to rely on for running your food delivery business. Once you have decided that, you will be finalizing the app's design, marketing, monetization strategies, and everything else required in its making. Since the business model has to be decided intelligently, you should not hurry in creating a food delivery app like Uber Eats. 
Finalizing the App's Features
What features do you want in your app to make it unique? How much time do you need to decide on the app features? Do these features make you stand out amongst the competitors? Well, you will have to figure out answers to all these questions to proceed in the food delivery app like Uber East's development. The app features might include deciding the search options, payment processes, order status, location, registration process, menu, categories, and many other factors to make it worth your business, and serve you just like an Uber Eats app. Keeping the pandemic in mind, you can even incorporate features like contactless deliveries, using social media to order, and ordering through smartwatches too. 
Selecting the Apt Technology
Technology does matter, even in the case when you are building a food delivery app like Uber Eats. When you are developing a food delivery app like Uber Eats, you will have to invest time in finding the best technology suitable for upkeeping performance and customer satisfaction. The app should be prepared in such a way that your customers enjoy using the app while experiencing the seamlessness to order. 
Here are some essential technologies to utilize in your food delivery app like Uber Eats: 
a)

Amazon SNS (push notifications) & Cloud Messaging

b)

PayPal or Stripe for Payments

c)

Google Maps for tracking location

d)

GrubHub API for listing restaurants

e)

iCloud and social media linking for getting registered
Design & Layout
The first thing your customers will notice about your food delivery app like Uber Eats is the design. How well have you invested in the making of this food delivery app? Is your app attractive enough to hold their attention? It depends on the design of your food delivery app how many customers will it be able to gather. 
Keep an eye on design, speed, navigation, controls, and even how graphics are being displayed on the app. Since customers will expect attractive food images to hold their attention, make sure your food delivery app like Uber Eats has one. Besides, always focus on the quality of an app, its design, and the app speed. Your food delivery app must be able to carry the weight of heavy traffic. And, for that, you will have to invest in the right development team, who can design your food delivery app like Uber Eats well. 
Building a food delivery app like Uber Eats is not easy; but choosing a reliable app development company is the key to success. Hence, it is recommended to invest time, effort, and cost in building a quality food delivery app to make it work for you. The food delivery market is already enjoying the limelight, make sure to build a high-quality food delivery app to make your business do wonders this year, in 2021, and even after.