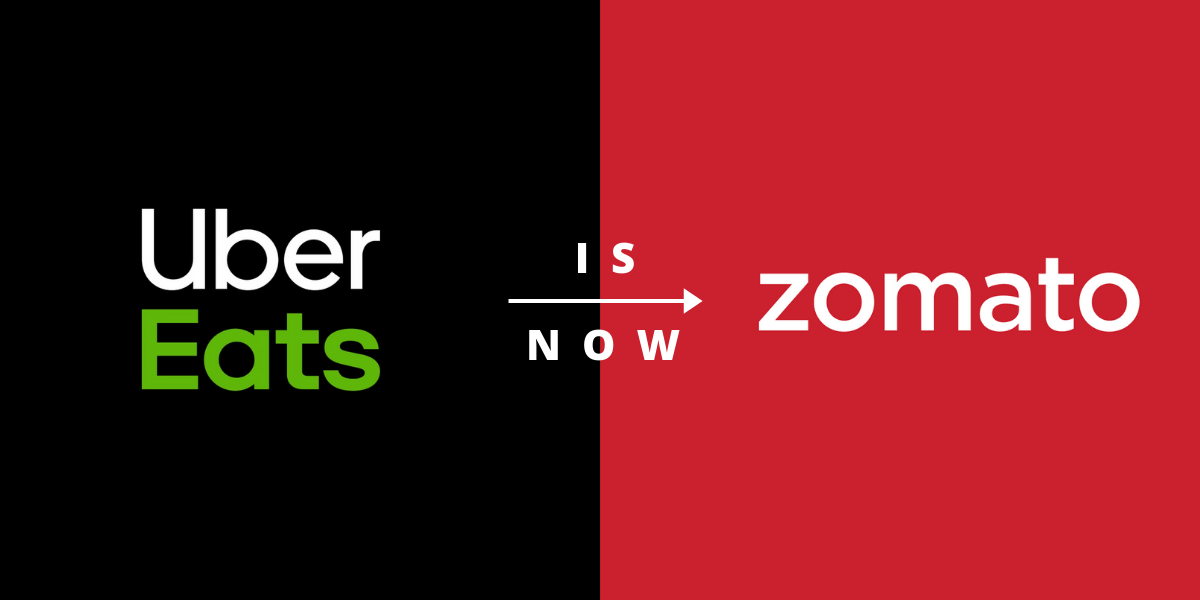 India's (Gurugram) based food tech giant Zomato Acquires Uber Eats in India. The overall stock transaction was announced early on 21st January 2020, giving Uber Eats a 9.99% stake in Zomato. With this deal, Zomato has managed to shut down doors for one of its leading competitors.
All the business-related details like customer personal information, direct restaurants, delivery partners are now transferred to Zomato. The Uber Eats app is redirecting to download the Zomato app, where customers can choose the option of ordering food online. Zomato won't absorb the Uber Eats India team.
This move of Zomato is very smart as it will take the food brand towards dropping verticals which were earlier loss-making. The Zomato food delivery app is a very popular brand in India, which is constantly working towards turning profitable.
What led to this deal?
Facing stiff competition from Zomato and Swiggy, UberEats has been facing constant losses.
Uber is under pressure from its investors to turn its business around. In 2019, Uber reported a $5.2 billion loss in the second quarter earning laying off hundreds of employees.

What Zomato have to say?
CEO & Co-Founder, Deepinder Goyal claimed that this acquisition will help their company strengthen a good position in the food industry in India. He further said, "We are proud to have pioneered restaurant discovery and created a leading food delivery business in more than 500 cities in India. This acquisition significantly strengthens the position in the category".
The CEO wrote in a blog that, "With this development, we are the undisputed market leaders in the food-delivery category in India.
Mr. Goyal assured a seamless experience for Uber Eats fans and said, "I want to assure UberEats India users that their user experience won't be compromised in any way—if at all, the scale gives us higher density to make our deliveries faster".
What Uber have to Say?
While UberEats managed to grow dramatically in the nation by reaching 12% of the food delivery share, it accounted less when compared to the global profit. It is believed that they are making over 25 percent global losses in EBITDA.
Ola that acquired Foodpanda for $200 million in 2017 had a short successful run. This is the reason why Uber Eats managed to acquire the 3rd  position in India after apps like Zomato and Swiggy.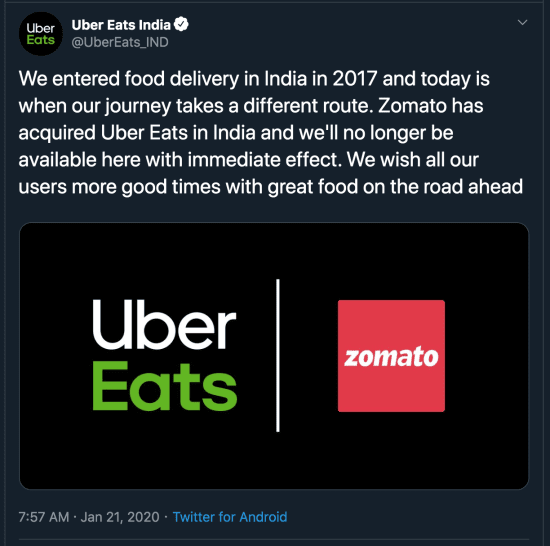 " Dara Khosrowshahi who is the CEO of Uber said that they will continue to be an important part of the market for the San Francisco based ride company. This means they are shifting their resources to their core business."
He further said, "Our UberEats team in India has achieved an incredible amount over the last two years, and I couldn't be prouder of their ingenuity and dedication. India remains an exceptionally important market to Uber and we will continue to invest in growing our local Rides business, which is already the clear category leader. We have been very impressed by Zomato's ability to grow rapidly in a capital-efficient manner and we wish them continued success".
The year 2020 has started with an interesting note, especially for the food industry. 2019 was a dominance battle between Bengaluru-based food tech-Swiggy and Zomato. It was expected that this year UberEats will also compete with both. As the online food delivery market was heating up, UberEats exiting came as a huge shock.
However, Zomato still has Swiggy which is so far a tough competition. While Swiggy and Zomato keep on battling, Ola's Foodpanda is also moving ahead and has rejigged in the dark kitchen model. With this smart dominance, Zomato is also looking forward to a steep discounting model.
According to Market Research Feature, Zomato's market is expected to reach $17 billion by 2023 recording 16% annual growth.
Here's what Customers have to say on this acquisition
The following tweets make it very evident that customers have mixed reactions although most of them aren't happy with Zomato taking over Uber Eats.
Have a look: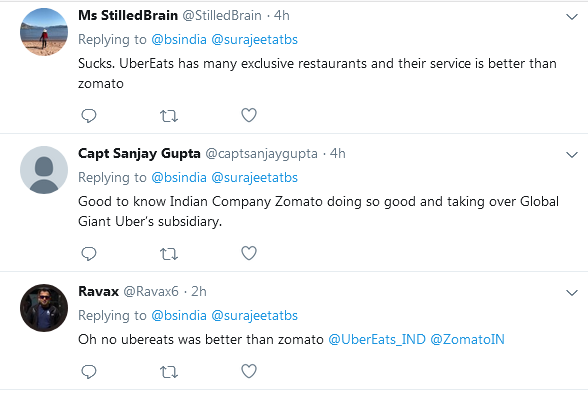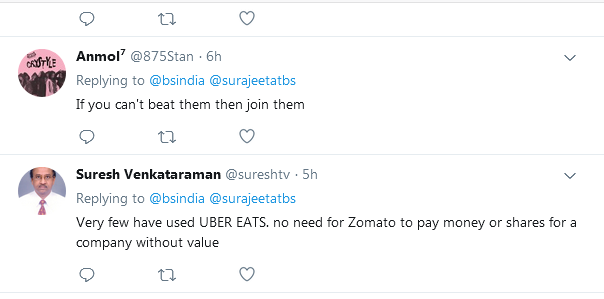 India's Food Delivery Market has a Bright Future
This will take you by surprise that Asia has become the largest international market for online food ordering mobile apps. Having $45 billion in revenue in 2018, it is expected to surpass $100 billion by 2025 as per Frost & Sullivan Report.
Although China leads the percentage of the food market share at 73%, India is ranked second with 13.2%.
In the First Half Fiscal Report 2020 (April 1 to March 31), Zomato's burn rate was down to 60% compared to six months earlier. The revenue poured to $205 million, accelerating from $63 million in the same period last year.