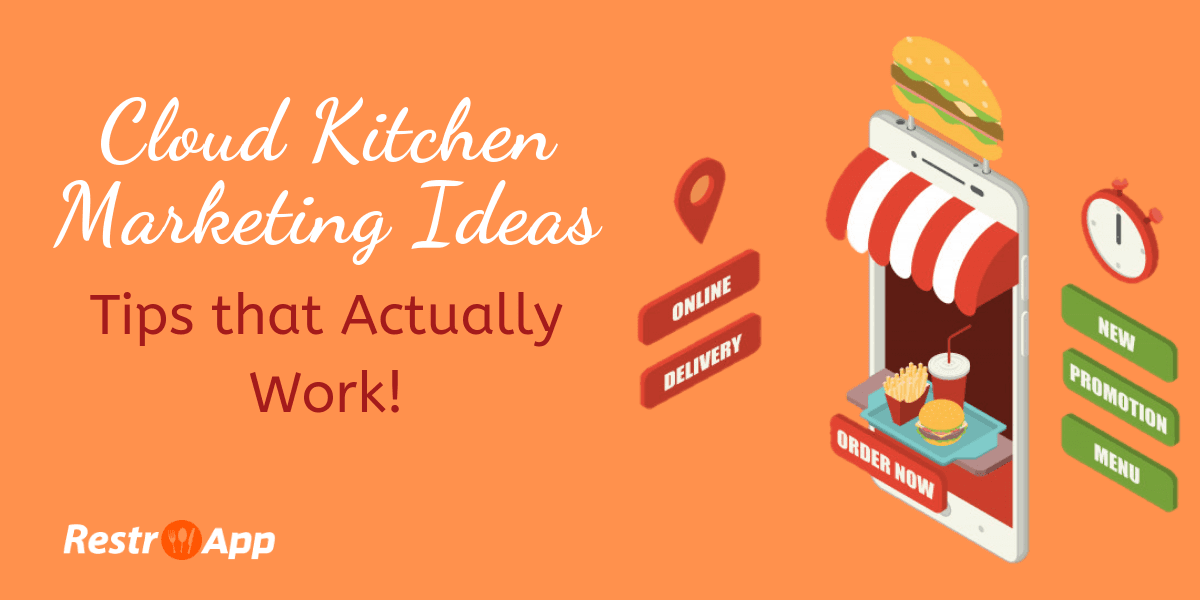 Restaurants are going high- tech and many innovations are happening in the food industry. One of the upcoming trends that have been pacing up is Cloud Kitchen.
What is Cloud Kitchen?
A cloud kitchen is a delivery-only restaurant. It doesn't offer dine-in facilities, instead mainly focuses on takeaways. Restaurants lease out commercial places, where they prepare the food. People order food online through mobile food ordering apps, and these restaurants deliver the food to their doorsteps.
Not just new ventures, but age-old restaurants are trying their hands on the cloud kitchen. It increases their efficiency and requires low startup costs.
What Makes Cloud Kitchen Popular Food Startup Business idea?
As you know, the cloud kitchen is basically a delivery-only restaurant, hence you have no need to spend on infrastructure or interior cost. This means you can focus on your food quality, delivery-timings that will give a long-term benefit to your restaurant.
How Does a Cloud Kitchen Model Work?
The working process of the cloud kitchen is quite simple. Cloud kitchens are delivery-only restaurants, which means these restaurants do not have any physical presence. And, unlike the other restaurants, they do not cater to takeaway and dine-in.
A cloud kitchen is originally a restaurant kitchen that accepts customer's food orders only through online food ordering systems. They have a master kitchen that delivers food.
So, it is the right time to explore this restaurant trend, and here are some restaurant marketing ideas which will help you to establish your successful cloud kitchen.
How can you Start a Cloud kitchen?
If you are new to the restaurant business? And, don't know where to start? You can opt for a cloud kitchen startup. Or if you have your restaurant then investing in a cloud kitchen will enhance your business's overall exposure and add more profit with less investment.
As i have explained earlier, the cloud kitchen will always require less investment compared to any dine-in restaurant.
Here's What you Need to Start a Cloud Kitchen:
It depends on how many dishes you have on your menu. If you are thinking of something big and have experienced chefs staff, you should buy a kitchen space between 800 to 1200 square feet.
Now if you are planning to open your kitchen space in a prime spot, then you will have to be ready for more investment than in non-prime spots. You know your city better. So, do a survey before deciding an area for your ghost kitchen startup.
Now, your major part of the investment is going to go to kitchen equipment. Depending on the foods you are providing, you have to have the required kitchen equipment like Refrigerator, Oven, Chimney, Utensils, etc.
Since your kitchen will be recognized for your specialty, you should not compromise on the person behind making that food. You should hire a proficient chef for your kitchen. You can extend the chef staff as you increase your offerings. (Do your mom cook the best food? Why not make her the Cook? That way you will save some cost.)    You will need one person for packing the food and one person for handling the billing of the food order.   
You will need compliance with the local food & beverage industry compliance before hopping onto the business. Moreover, You will need PoS software and the PoS system for billing inventory requirements. That way you can manage your order and staff better. Cloud-based PoS systems are a trend nowadays!
Here comes the marketing part! Check out these marketing tips that will help to market your cloud kitchen.
Here Are Some Cloud Kitchen Marketing Ideas That Actually Work!
1. Promotion:
Don't let your cloud kitchen concept go in vain.  Advertise it well through various channels so that it can reach a large audience. There are a couple of ways in which you can promote your restaurant:
Pamphlets

: Get in contact with the people who distribute newspapers in your area and ask them to circulate your flyers. You can also hire someone to do the needful.
Events

: Look out for food festivals happening around you and set up a small stall. People will come and taste your food. If they found food tempting, they will spread the news through word of mouth.
Social Media Presence

: Social media is a powerful marketing tool these days. You need to have a strong social media presence to reach your potential customers. Post tempting food photos and videos on your social media accounts.
Food is the most browsed and pinned category on Pinterest. So, explore this platform along with other social media platforms like Facebook, Instagram, and Twitter.
2. Offer Quality Food:
Quality remains the primary thing that your customer wants. So, don't comprise on quality and provide them quality food and make them feel they are having home-cooked food. This will leave a good impact on them, and they will come back to have more.
3. SEO & Adwords:
You need to optimize your website for search engines. Good SEO practices will fetch you more organic traffic. Also, test your Adwords and see which keywords are being searched. Google Adwords will cost you some money, but it will be worth to spend. Take the help of a digital marketer and run your ad as per your budget.
4. Influencer Marketing:
One of the important restaurant marketing ideas is influencer marketing. In this, you get in contact with influential personalities like chefs, food bloggers to market your restaurant You can search for relevant influencers online to market your cloud kitchen on various social platforms.
5. Reward & Loyalty Programs:
If you want to increase your online orders, then you need to reward your existing customers. Reward your loyal customers through loyalty programs and give them an extra bonus when they place an order. This way, whenever they feel like ordering food, your delivery kitchen's name will strike them.
6. Analyze your Traffic:
Analyze your customers' area, demographics, likes, and dislikes. Once you have the right information about your customers, you can create meaningful promotions and target them through the right channel.
7. Customer Feedback:
Reviews are the thing that people see before choosing any service. Keep your customers happy and provide them what they want. Encourage your customers to share their food experience online.  Respond to their comments and re-post or share their valuable feedback. 
Related Read: How Ghost Kitchen is Changing the Way that Restaurants Work?
Do you Need a Food Ordering App for your Cloud kitchen Startup?  
Yes, if you want to start a delivery-only restaurant, you need a food ordering app. A food ordering app benefits your ghost kitchen startup in many ways. In this mobile-first world, an online presence is all you need.
Now, your first question would be How much does it cost to make an app? 
Let me sort it out for you! The cost of restaurant app development depends on multiple factors. If you don't want to build your app then you can join third-party food delivery platforms like UberEats and Postmates. They will charge you a pre-decided commission on a particular order.
But, yeah there is a but! If you do have your food ordering app and delivery staff, all the benefits go to your account. You will have more control over your food-related operations. You can manage your dishes prices, create offers, send push notifications, manage delivery areas, etc.
Let's Figure Out How Exactly a Food Ordering App will Work for your Cloud Kitchen Startup?
1:  The customer will place an order via your food ordering app.
2: The kitchen receives the order details.
3: The Meal is cooked.
4: The Cooked meal gets packed properly.
5: The meal is delivered to the customer by delivery boys.
Check out our complete guide to build a food ordering app, here!
You see, from receiving the food orders to the preparation of the food and to delivery of the food order is so much easy and quick with the help of a food ordering app. Plus, having your ghost kitchen own app can give a boost to your brand visibility too. And, also there is no involvement of any waiter or sitting arrangement. Only chefs working on different food and a person packing the food.
You might have the best food in town, but if people can reach out to you then your hard work goes down the drain. So, follow these restaurant marketing ideas for your cloud kitchen and serve your customers diligently online.