Restaurants are going high- tech and many innovations are happening in the restaurant industry. One of the upcoming trends that have been pacing up is Cloud Kitchen.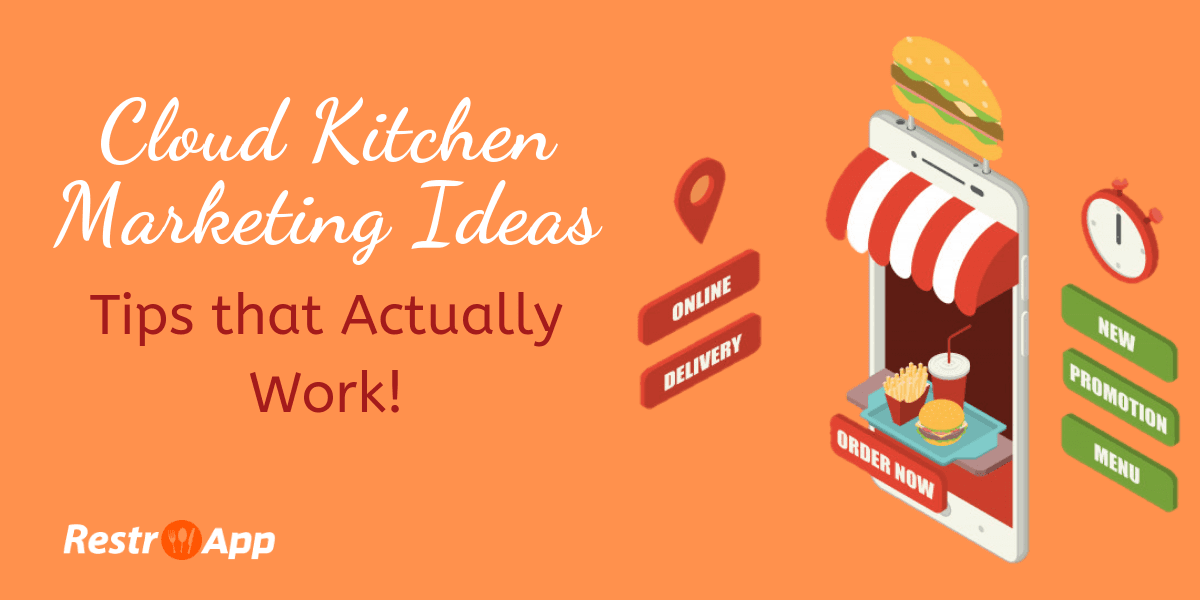 What is Cloud Kitchen?
Cloud kitchen is a delivery only restaurant. It doesn't offer dine-in facilities, instead mainly focuses on takeaways. Restaurants lease out commercial places, where they prepare the food. People order food online through mobile food ordering apps, and these restaurants deliver the food to their doorsteps.
Not just new ventures, but age-old restaurants are trying their hands on the cloud kitchen. It increases their efficiency and requires low startup costs. 
So, it is the right time to explore this restaurant trend, and here are some restaurant marketing ideas which will help you to establish your successful cloud kitchen.
Here are some cloud kitchen marketing ideas that actually work!
1. Promotion:
Don't let your cloud kitchen concept go in vain.  Advertise it well through various channels so that it can reach a large audience. There are a couple of ways in which you can promote your restaurant:
Pamphlets

:

Get in contact with the people who distribute newspapers in your area and ask them to circulate your flyers. You can also hire someone to do the needful.
Events

:

Look out for food festivals happening around you and set up a small stall. People will come and taste your food. If they found food tempting, they will spread the news through word of mouth.
Social Media Presence

:

Social media is a powerful marketing tool these days. You need to have a strong social media presence to reach your potential customers. Post tempting food photos and videos on your social media accounts.
Food is the most browsed and pinned category on Pinterest. So, explore this platform along with other social media platforms like Facebook, Instagram, and Twitter.
2. Offer Quality Food:
Quality remains the primary thing that your customer wants. So, don't comprise on quality and provide them quality food and make them feel they are having home cooked food. This will leave a good impact on them, and they will come back to have more.
3. Integrate with Online Food Ordering Platforms:
You need to have a good delivery service. However, in-house delivery boys cannot provide the same, hence you require online delivery platforms. People use online food ordering apps like Zomato, Swiggy for ordering their favorite food.
Integrating your cloud kitchen on these platforms will increase your credibility and provide a better online presence. Not only this, you can save time by delegating the delivery task to these delivery companies.
4. SEO & Adwords:
You need to optimize your website for search engines. Good SEO practices will fetch you more organic traffic. Also, test your Adwords and see which keywords are being searched. Google Adwords will cost you some money, but it will be worth to spend. Take the help of a digital marketer and run your ad as per your budget.
5. Influencer Marketing:
One of the important restaurant marketing ideas is influencer marketing. In this, you get in contact with influential personalities like chefs, food bloggers to market your restaurant You can search for relevant influencers online to market your cloud kitchen on various social platforms.
6. Reward & Loyalty Programs:
If you want to increase your online orders, then you need to reward your existing customers. Reward your loyal customers through loyalty programs and give them an extra bonus when they place an order. This way, whenever they feel like ordering food, your delivery kitchen's name will strike them.
7. Analyze your Traffic:
Analyze your customers area, demographics, likes, and dislikes. Once you have the right information about your customers, you can create meaningful promotions and target them through the right channel.
8. Customer Feedback:
Reviews are the thing that people see before choosing any service. Keep your customers happy and provide them what they want. Encourage your customers to share their food experience online.  Respond to their comments and re-post or share their valuable feedback. 
Related Read: How Ghost Kitchen is Changing the Way that Restaurants Work?
You might have the best food in town, but if people can reach out to you then your hard work goes down the drain. So, follow these restaurant marketing ideas for your cloud kitchen and serve your customers diligently online.