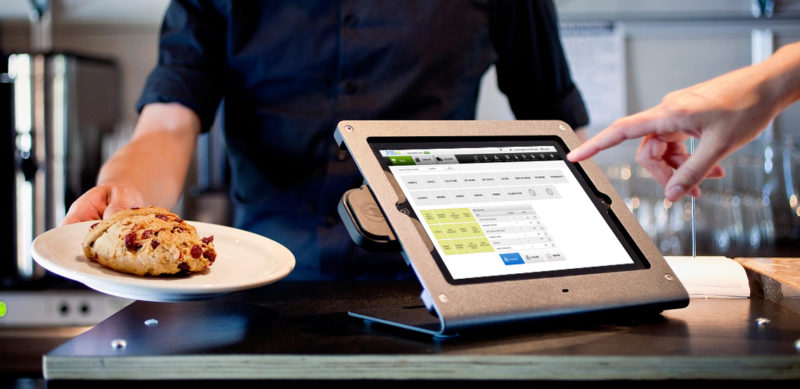 In metropolitan areas where people are busy and have no time to cook. A quick-service restaurant comes as a savior and provides them food within minutes.  QSR are restaurants that serve fast food items that require minimal preparation time and can be delivered quickly. They offer a limited menu and food is usually available as takeout, though some offer seats too.
Moreover, a quick-service restaurant is all about getting food faster and providing prompt service to customers.
Why QSRs need a POS system?
Quick service restaurants are often the unorganized sector of the restaurant industry. Some don't even use billing software and give handwritten receipts. Also, some of them use bulky POS software for receipts.  Conventional POS systems can lead to errors if the staff member miscalculates the KOT's and several orders processed. To avoid all the above, you need a proper POS system for your QSR.
Which POS should you go for traditional or cloud?
The conventional POS system stores data on the local servers. You need to be physically present on the premises to monitor it. Plus, conventional POS are bulky and have security issues. .Whereas, a cloud POS system will keep your data safe in the cloud, plus you can access it from anywhere. These can also work offline. Still, if you have a traditional POS at your QSR, then it's time to upgrade to the Cloud POS.
Confused between cloud POS vs traditional POS system? Read here in order to get a better understanding of the two systems.
The right technology for your QSR
If you want to take your QSR business ahead, then you need to equip your QSR with the right technology:
Kitchen Display System (KDS):
It automates the working of the kitchen, hence speeds up the order processing. The orders are displayed on the Kitchen Display Systems and are directed to the relevant kitchen counters. This way, customer wait-time is reduced, and more guests could be served.
Read here to know how Kitchen Display Systems can help you improve your restaurant sales.
People love ordering food and don't like getting interrupted in between. With Kiosks, people get leverage to choose their food items at their own pace without standing in a queue. Not only this, but they can also make payments through Kiosks and this saves their time of both your customers and staff. Your staff can take time for drive-thru customers.
Order Confirmation Board (OCB):
These have menus displayed on digital screens. Even customers can see their orders on each processing stage. It is compatible with the POS system and simplifies restaurant operations.
A well-integrated fast food POS software can make the job of the staff easier, and they can handle a high volume of orders with ease. POS software lets them focus more on execution and delivery. A good POS system gives you a clear picture of your business. 
For instance, what's selling, which campaign is working, etc. It will also give data to produce analytics reports on key OSR metrics. In addition to this, you can track customer's orders history and market your brand through CRM and Loyalty programs.
As an owner of the QSR, you can use digital signage for running live "offer of the day" or "BOGO ( buy one get one free)" This will entice your customers to order more.
These devices are placed at the tables of the guests. Customers can use these to place orders, re-order, and pay. It frees the staff from continuously running to every table for taking orders.
You know how competitive is the restaurant industry, you need to equip your restaurant with the latest technologies.
To reap all the benefits you need to have the right POS system for your QSR.
Benefits of QSR POS system
Staff can provide better service: 
With POS devices, your staff can move freely on your premises. Also, they don't have to keep running back and forth to customer tables to main servers, as main system is not stationary. This saves their time and they can handle customers with more ease.
Now with POS, menu can be updated in real-time. Any addition or deletion can be made quickly. In the case of your regular customers, automated menu suggestions can be used. This fastens the order processing process.
POS can work on many devices such as mobile phones, iPods, tablets or desktops. So, if you already have tablets at your Quick service restaurant then you don't need other gadgets because the cloud QSR POS systems are compatible with most of the devices.
With the restaurant POS system, orders reach the kitchen well in time and immediately processing of the orders start. This way, more tables can be served in less time.
QSR POS improves the table turn rate and hence increases the chances of getting repeat customers and higher sales. 
Easy tracking with zero wastage:
With good inventory management, every item can be tracked. You will know the quantity of every ingredient that you would require every week so there will be no wastage. This will help you to lower the food -cost.
Streamlines data analysis:
You will be able to collect more data on your inventory, staff, customers, sales. This will help you with better restaurant management. You can generate automated reports which will help you to make better strategies.
With POS, orders are punched directly to the POS machines so the chances of errors are reduced. The entire data is available on the QSR POS system and customers' allergies and preferences can be communicated to the kitchen staff.
Integrate Loyalty programs:
You can integrate Loyalty programs and other CRM campaigns through the POS system. Moreover, send automated emails and texts with a push of a button. This will help you in customer retention.
You know how promptly QSRs work, so you need to provide your guests the fastest way to place their orders. And how this can be done. It can be done through online ordering. 
People prefer getting their food delivered to their respective places and at their desired time. Most of the consumers are turning to their phones and the internet to order food from an online food ordering platform.
The QSR POS system is easy to operate and handle. The staff doesn't have to rush to every table to get orders. Also, kitchen staff can work on their pace and deliver the right order. Plus, staff gets ample time to interact with the customers.
We hope that after knowing all about the QSR POS system, you will be thinking of incorporating the same in your QSR. So, give it a go as it can transform for business and make your customers try your fast food services even more frequently. 
It is a good idea to create a food ordering app for your quick service restaurant. As a restaurant owner, you can take advantage of the online food ordering platform and send marketing material to your customers based on their personal information. Also, focus more on promotional deals and discounts on items that customers usually buy.
If you need a helping hand, RestroApp is here to help you! Drop us a line at info@restroapp.com and we'll get back to you with some amazing strategies for your food ordering mobile app!