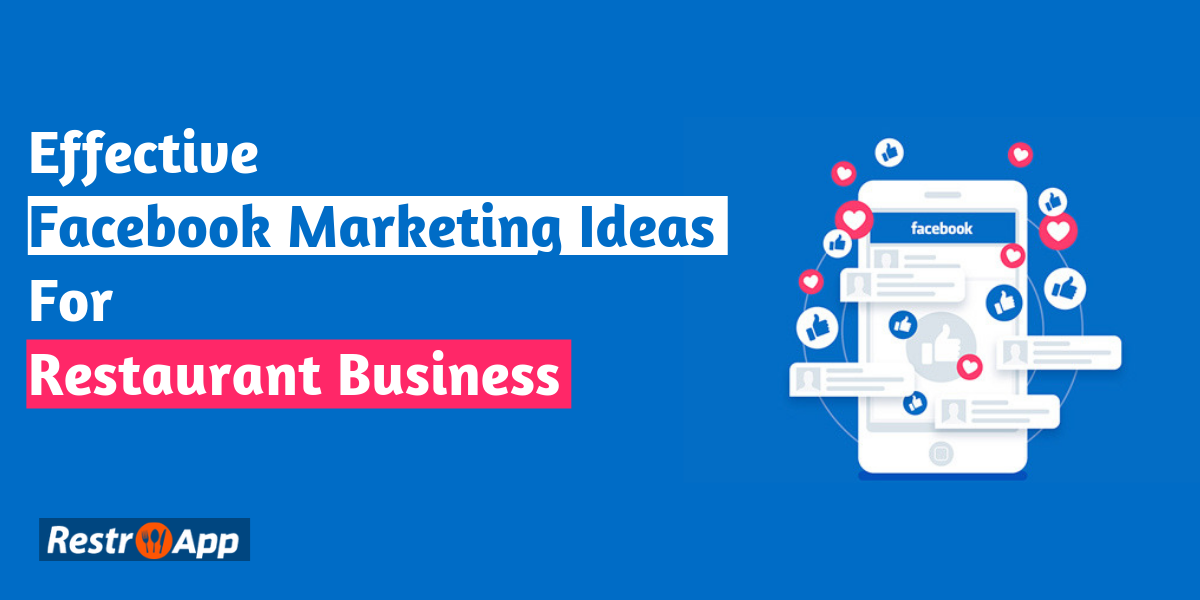 Now, to market your business, you don't have to send pamphlets door-to-door or depend on word of mouth marketing. All you need is to be on social media. There are numerous social media platforms on which you can market your business, but you need to choose the right one. People love connecting with brands over social media, plus social media is a great medium for interaction. Facebook is a great platform that you, as a restauranteur should explore. 
Facebook Marketing Ideas For Restaurants:
Marketing on social media costs much less than big advertisements. So, many restaurants are trying Facebook Marketing For Restaurants.
In this blog, you will learn 12 Facebook Marketing Ideas For Restaurants, that you can implement right now.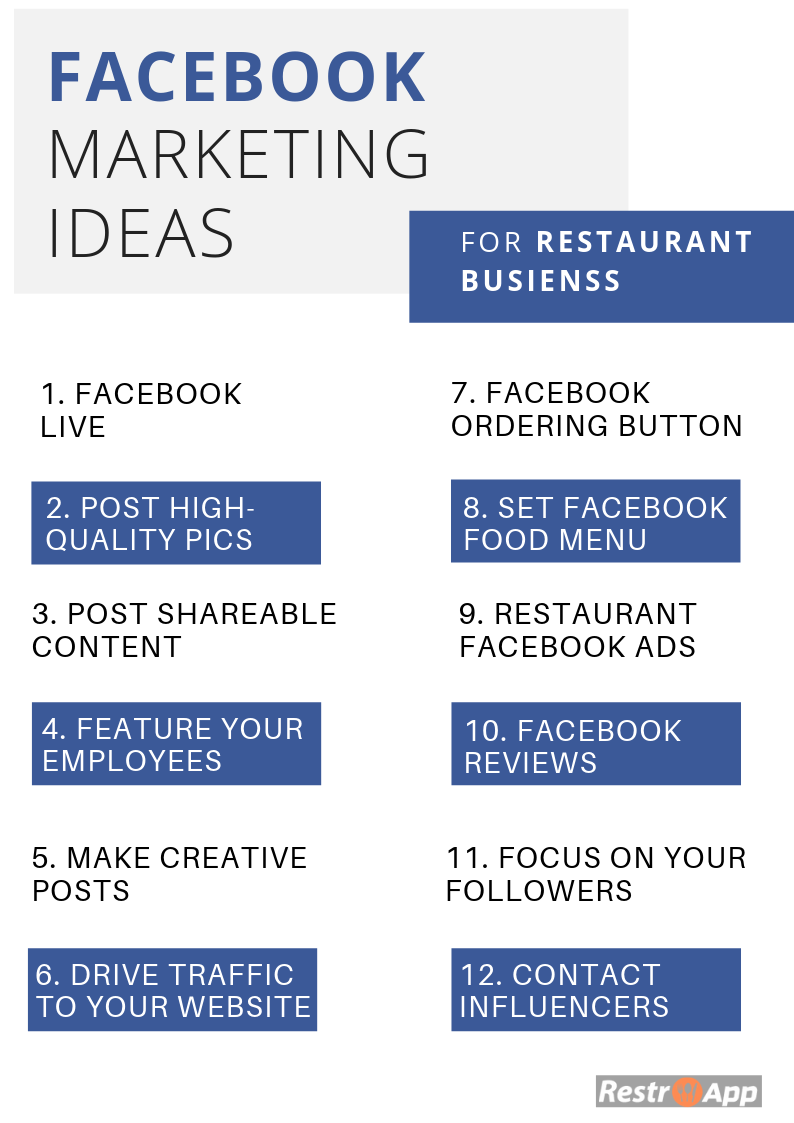 1. Facebook Live:
It is a great marketing tool for restaurant businesses as they can showcase their restaurant's ambiance, food, and much more. You can use this new feature to stream live video and create awareness about your products and services. There are endless things that you can demonstrate like a virtual tour to your restaurant, cooking demonstrations, live events.
In addition to this, you can also showcase your chef making special dishes, or bartender making a cocktail. This will help you to connect with the audience on a different level, and if they like your ambiance, they will show up at your restaurant.
 2. Post-High-Quality Food Pics:
You can make your food pics more interesting by editing them via the Facebook editor. With this, you will be able to crop your images and add interesting stickers or even create amazing memes.
Make sure your images are responsive as many of your customers will be viewing your content on their smartphones. Attractive food pics will surely attract customers, boost your engagement and increase sales. 
 3. Showcase your Employees:
People love seeing what's happening behind the scenes at your restaurant, so give them a sneak peek of your restaurant kitchen. It makes them feel connected and part of your business. Posting pictures of your staff at work or funny videos can attract your target audience to your Facebook page.
 4. Make Creative Facebook Posts for Restaurants:
You can share free recipes or cooking tips with your followers and show them they are important to you. Make a video and name it "Weekend's Special recipe".
Videos get more engagement in the form of likes than pictures, so post creative facebook posts for restaurants or shoot a nice video. When you post such stuff, then your customers feel you are more genuine and don't always try to market your business.
 5. Drive Traffic to your Website:
Create a food ordering website for your restaurant business and show off your restaurant business and services. Place your website link on your Facebook page and encourage your customers to click the same, so they land in the right place. 
People should be able to able to see your restaurant dining area, food pics, calendar of events, downloadable menu. Also, offer them an online reservation option and don't forget to mention good deals and discounts on your website.
 6. Facebook Ordering Feature:
You need to add Start order call-to-action button on your Facebook page so that your customers don't have to leave your Facebook page if they want to order food. Instead, they can directly order from tapping that button.
 7. Set up Facebook Food Menu:
Your restaurant's menu should be on your Facebook page so that your customers can view it. This way, they can simply go through the menu and prices over their phones. Moreover, you can add a "pin to top " feature to place your menu at the top of the page for easy accessibility.
 8. Create Restaurant Facebook Ads:
It is a fast and one of the effective Facebook Marketing Ideas for the restaurant page and website. Design the best social media campaigns and captivating restaurant ads that make people click on them and visit your Facebook page. You can target your audience as per your business. For this, you can use geo-tagging ads that can target a particular geographical area. Facebook provides customization features where you can select your audience in terms of area, gender, age group, and more. If you show your ad to many people then you end up :
Paying for clicks from people who cannot turn out to be your potential customers.

Earn followers those are not relevant for you.

Losing your ad budget before you reach the right ones.

Lowering your ad relevance and in return, Facebook charges you more for a click.
By targeting the relevant audience and you can bring them to your website and there are chances that they will turn out to be your customers. These ads are paid ads, so choose your budget wisely before running your ads. As you gain experience, you will be able to increase your conversions at lower rates.
 9. Get Facebook Reviews:
Reviews play an important role in making a buying decision in today's world. Reviews tell more about you and your services. They are the social reviews which build trust among your customers about your brand. Your star rating appears in the google search results and this is the first thing people that pop up.
Allow your customers to write reviews about your restaurant and respond to their reviews in a professional manner. Also, handle negative reviews with ease and patiently hear your customer grievances.
 10. Increase your Followers:
Right followers are important for your restaurant business as they will share your post with others and this way you can increase your fan base. These few points can help you build more followers : 
Never buy new followers: You don't need people who don't engage with your post, but you need those are genuine and like your brand.

Post regularly to reach more people

Promote your content in the form of discounts, offers and upcoming events on Facebook and encourage your customers to visit your page.

Run a contest to engage with your customers

 Run ads: It is an important aspect of

Facebook Marketing Ideas for Restaurants

and helps you to grow faster.
 11. Influencer Marketing for the Restaurant Business:
Influencer Marketing for the restaurant is the quickest way to spread the word about your business. Social media influencers are the people who have a good number of followers and capable of promoting your content to their followers. You can invite them to your restaurant and partner with them to reach your potential customers.
 12. Tag Bigger Facebook Pages:
If you have just started on Facebook, then your post might not reach a large audience. By tagging big pages in your post, you can increase your reach. Also, if one of them likes or shares your post, then your post will be visible to their entire audience.
Related Read: Food Industry Giants Using Top-Tier Social Media Marketing Strategies
According to Statista, With 2.41 billion monthly active users as of the second quarter of 2019, Facebook is the biggest social network worldwide.
If these Facebook Marketing Ideas for Restaurants are applied correctly, then you can gain your loyal and paying customers on Facebook and you don't have to go here and there. Lastly, don't jump over every social platform like Twitter, Instagram, Snapchat to market your business, instead get the hang of one platform and then steadily explore others. 
The key is to be authentic and creative in your social media approach. We at RestroApp will help you in choosing the right strategy for your restaurant business.