The past decade has marked a significant change in the food industry as the food trend gets inclined towards high-quality expediency. Last year was a momentous year of change with different innovations in equipment, food ordering system, service, a technology that reverberated across the globe. This year also, there are intelligent creations and delicious cuisines.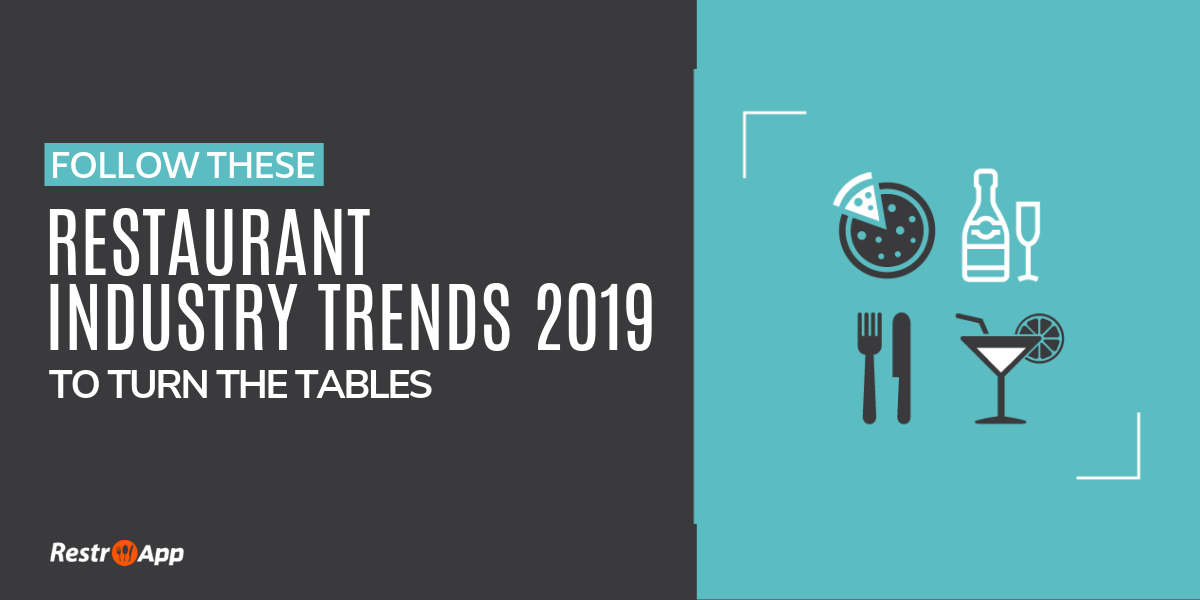 We will give you an overview of what is happening in the restaurant industry, and you make sure you keep up with them because customers have ever-changing interests.
Food Trends Transforming the Restaurant Industry Completely!
Now let's dive into the world of food!
The guests that come to your restaurants change every day. This starts growing as they are introduced to mouth-watering delicacies and new flavor combinations — more and more, millennial demand delicious food that is diverse. If you are a restaurateur, you should keep eyes on the rising food industry trends that include AI, ghost restaurants or Cloud kitchens, green restaurant, vegan options, or cannabidiol infused delights. 
Let's explore how the restaurant industry trends are shifting: 
1. The Diversity of Flavors
In this digital era, customers are updated with more information about food than ever. Diners quickly compare local flavors with standard flavors.  
From tangy flavors to spicy dishes, guest prefers a diverse range of food of different global regions. Needless to say that customers look for traditional flavors with a blend of freshness. So you should make it a point to provide them with the same. 
The current restaurant industry research from Mintel depicted that this generation is willing to explore cuisines from various regions, namely African (27%), Indian (36%) and Middle Eastern (38%). If your restaurant has more of the younger crowd, you have to consider a few menu changes right away!
Take the tip: As consumers expect new flavor rise, restaurant owners should maximize the appeal by displaying transparency, uniqueness, and comfort with the flavors. 
# Creative and spicy combinations: Patrons look forward to spicy flavors. Approximately 43% of the consumers are between 18-34 years and want restaurants to offer different flavor combinations. So try making dishes having spicy flavor combos like sour, savory or sweet blend with spice. 
# Bold Flavors: New diners have become less depended on sugar and salt and focus more on bold and healthy flavors. Go for sandwiches and burgers that have colorful vegetables and mixed flavors.
# Signature dishes: Foodies show tremendous loyalty and enthusiasm for their favorite food. And signature dishes equals self-expression
Set yourself apart with signature dishes. 43% of consumers say they get tempted when they think of having signature dishes. These dishes may include appetizers, soups, streaks, desserts, cooking method, and anything. Create something mouth-watering that has the authentic taste and rich ingredients. 
2. Vegan goes mainstream
Gone are the days when restaurants thought of vegan and vegetarians as a different group of people for whom they had to offer simple menu substitutions. Today many seek meat-free food that acts as a substitution.  From local café to national chains, more and more restaurants have started introducing vegan food options.
Vegan Domino's pizza, Crust & Pizza Hut ad more. Quality vegan food is a great option for caterers as it captivates everyone-its test, healthy, ethical, and also eco-friendly. If you have multiple vegan dishes on your offline and online menu, it tends to broaden the customer base. This will clearly depict that your outlet is ready to cater to anyone who wants to eat. 
Word of mouth spreads quickly in the food industry, so you are likely to win a broad range of customers if you adopt the vegan menu. Moreover, the ingredients are reasonable, and the dish is less costly, so you get larger profit margins. 
Take the Tip: Change your dishes according to the seasonal produce availability and be mindful of the principles that influence the vegan choices. Take care of the primary ethics, health, and environmental consciousness by choosing organic, local, and sustainably sourced produce. 
3. Modern Packaging for better online food delivery system
With the rise in online food ordering apps, consumers are looking forward to new delivery services.
Social media ordering, robot delivery, drone food delivery is being optimized for better service. Everything is done to ensure that food is delivered faster, fresher, and warmer than the others in the market. Beyond order integration, quick preparation, and improved packaging is something restaurant owners are focusing on.
Take the tip: Whether you own a dark kitchen or an online restaurant app, go for lightweight packaging option. You can grab the attention of your customer by offering them goodies with the delivery or logo canvas bags. This will help promote you wherever the things are carried. 
4. Peak Fermentation Takes the Hold
Fermented food is one of the most popular food trends at this moment. Also, this preparation offers a salty-savory flavor complimenting multiple dishes. These fermented food items benefit a lot. This is a nice way to upsell classic menu items like burgers, soups, and others. Having fewer calories. Furthermore, fermented food is a healthy option with probiotic benefits
Now, customers have become intelligent, and they look for the least processed food and probiotics that boost the immune system. As a restaurateur, don't think too much whether to introduce or not to introduce health stuff. Your guests are health conscious and look for more adaptogens in the food that amplify their energy. 
Tip to take: Adding fermented food in your restaurant menu app is the best way to make customers realize you have everything they need. Customize your menu in a way that there are better in taste and healthy too. 
5. Drinks go nitro
The nitro trend has already hit the beer and coffee industry. This started pleasing many guests. Everyone loves smooth and creamy texture in the cold brew.
Restaurateurs should be ready for the nitro craze, and they should try them to beverages like teas and kombuchas. Every diner looks for an enriched experience, so make sure you give them something to remember. 
Take the tip: Continue offering them the same beverages that you usually do. You simply have to move a step ahead by introducing the nitro version. 
Takeaway 
The restaurant industry is dynamic and ever-changing. The growing need for foodies and upcoming global trends makes it imperative for the restaurant owners to add innovation in their food so that they can entice customers. Adopt the best POS system and online food ordering app that makes it hassle-free for customers to order food from the comfort of their place.
Pick up the trend and make it your own. Give something new to your customers that they have never experienced before. Have a successful year ahead!