A website is an essential marketing tool through which you can attract loads of customers. Today, many customers dig into your website before visiting your restaurant. They want to know your food specialties, dining space, menu options, timings, location, and more.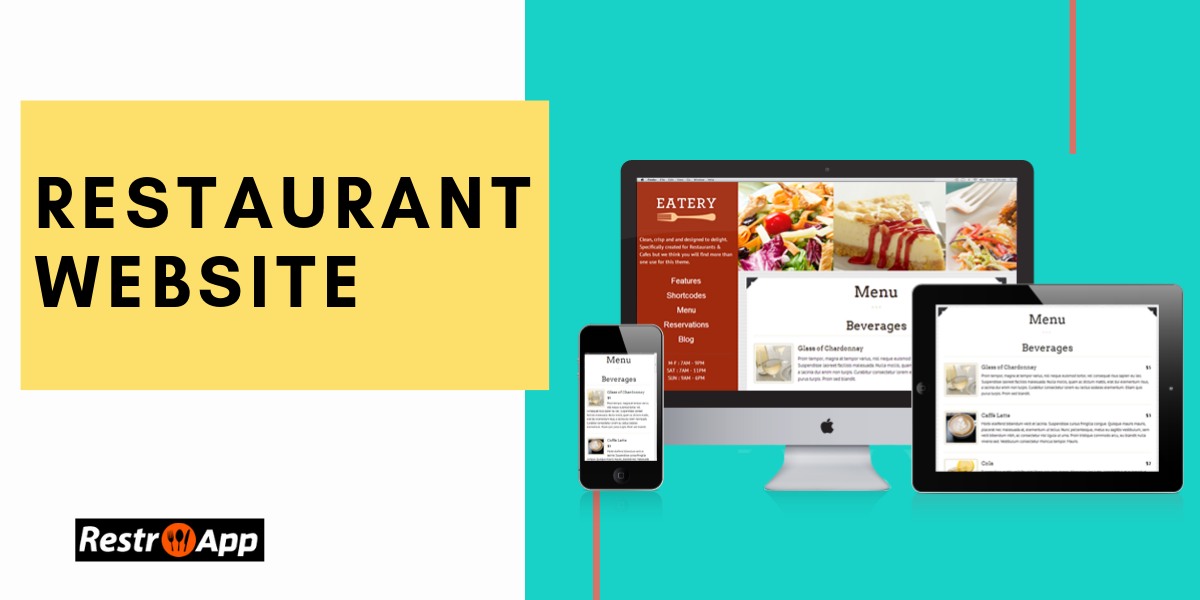 A website is a perfect place to showcase what all your business can offer. And if customers find your website attractive, they decide to give it a go.
Some businesses struggle to maintain an excellent website. But, it is essential to create a restaurant website & app that is attractive, visible to the audience and is user-friendly. If you have stepped into a restaurant business or haven't created your restaurant website till now, here are some fantastic restaurant websites from where you can take inspiration.
Some stunning restaurant's websites examples:
 Giraffe Café

 Backyard Burgers

 Ali Baba restaurant

 Pic Fresh

 Red Robin

 28Thiers

 La Maddelena

 Café Paradiso

 Mellow Mushroom

 Pizzeria Napolicentrale

 La Porte Sainte Claire
Tips to Create a Great Restaurant Website Design:
If you have decided to create a website for your restaurant, then here are some tips that can help you to create a fantastic restaurant website.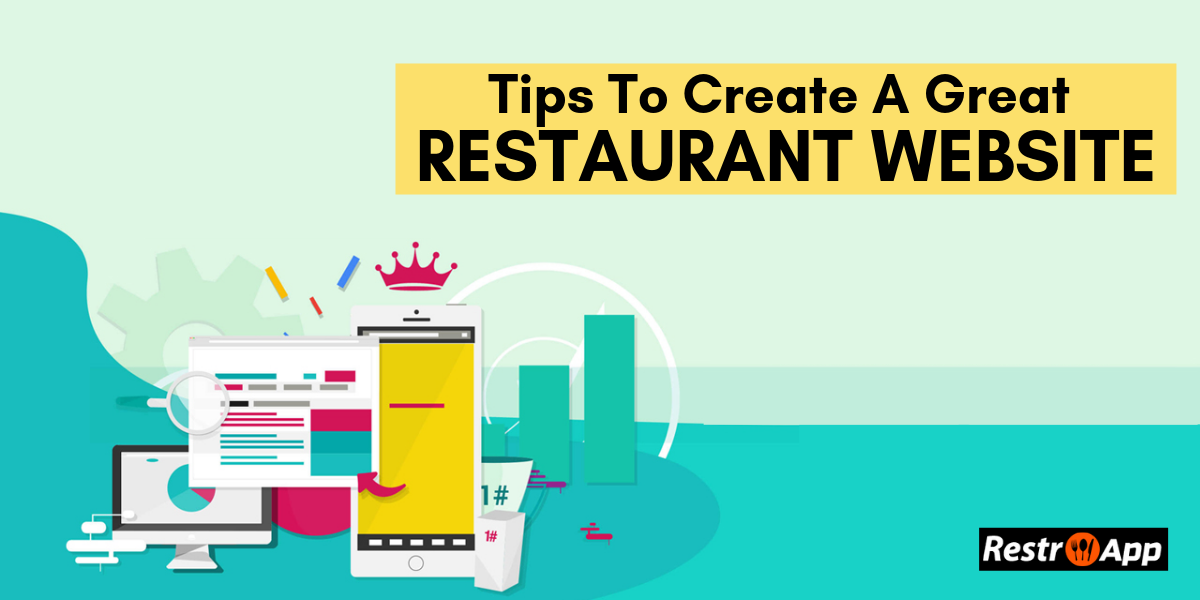 1. Define your Target Audience:
First things first, you have to find your right target audience. Before creating a restaurant website design, you need to analyze your customers' base and what services they demand. You can decide the pricing and menu as per the location of your restaurant and the age group you want to target. 
For instance, if your business is located near a university, then mostly your customers will be students, so you need to provide them cost-effective food options. However, if your clientele is corporate, you can provide corporate level services. 
Once you defined your target audience, you can go on your website's theme!
 2. Go for User-Friendly Restaurant Website Design:
Keep your restaurant website design simple and user-friendly. There is a famous designing principle called the KISS, which means "Keep It Simple, Stupid". By following this principle, user-friendly & simple website design will be your main goal. 
A good restaurant website should have main pages like home page, the menu page, about us, contact form and online food ordering option. Apart from this, you can also add review or testimonial; so that visitors can know what are others' views about your restaurant.
 3. Color Scheme:
Foremost, the step before designing a restaurant website is to choose the right colors. It is essential to use colors that reflect the emotions of the customers. You can go for red, brown, black and white.
Brown color

: reflects stability, reliability and give a traditional touch.

White:

It symbolizes freshness, freedom, and purity

Black:

This color symbolizes mystery and power.

Red:

Red color catches the eyes and reflects urgency so it is often used by fast-food restaurant s serving burgers, fries, tacos and more.
 4. High-quality Food Pics
:
Good photography has become more important than it used to be. Hiring a professional photographer for your restaurant's website is a wise decision as one will provide food quality images for your website, with these images you can design menus and upload great food shots on social media.
 5. Unique About Us Page:
Your about us page should be unique and should be able to stand you out from the crowd. Tell your customers how friendly you are and how professional you work. Make sure to highlight the main points to let customers know your key points, and it is also helpful to come in search in the vicinity of search engines like Google.
It should also include a description of your restaurant, images of your staff members, an award your restaurant has won. You can also include a link to reviews where people can see your restaurant rating and see positive things about your brand. Apart from this, you can add a FAQ section to answer your customers' queries.
 6. Add an Online Menu:
When people are browsing any restaurant's website, the first thing people love to check out is the restaurant's menu. So, you need one for your website too. Don't add your menu in the form of PDF and JPEG, as these methods are outdated and don't appeal to customers. 
Moreover, you can try some plugin that can help you in creating an attractive online ordering menu for your restaurant website. Remember to add stunning photos of delicious food to your online menu with pricing.
 7. Online Reservation Form:
You don't have to answer phones call for making a reservation at your restaurant; instead, you can allow customers to make reservations online on your website. This is a convenient option for your guest and makes your work easy too. Through this feature, you cancel or reject reservations, send notification or email or even block reservations when the restaurant is closed.
 8. Make your Website Responsive:
These days, people like to browse the internet on their smartphones, instead of desktops, and laptops. So, you need to make your restaurant website responsive i.e. suitable for mobile use as well. 
Make it convenient for your customers by including your phone number in the auto-dial panel. Also, make sure your email address opens up in a new email. You should be accessible by Google maps so, and make sure your address opens up in maps.
 9. Update it:
It is important to update your website. For instance, if you make any changes to the menu or timing, you need to update the same on your website. Moreover, you need to give correct and updated information to your customers about your restaurant.
 10. TripAdvisor:
Many people begin their search for local food places on TripAdvisor. Your restaurant's need to be on TripAdvisor, so that people can search for you easily. To get started, upload some professional photos to your Tripadvisor page. Also, reply to everyone and take feedback with an open heart.
 11. Easy to Use the Contact Form:
Leaving your email address and a contact number on your contact page is not enough, you need to have a feedback form too. Try adding various fields in your contact form, so that people can contact you for various purposes. Also, don't attack a map to the form as some might ask you about your location.
 12. A Cool Our Story Page
Tell your restaurant story on this page and add some emotions into it, so that it reaches people's hearts and they can connect with you well. Include how you evolved as a business, and what makes you different from other restaurants.
Bonus Tips: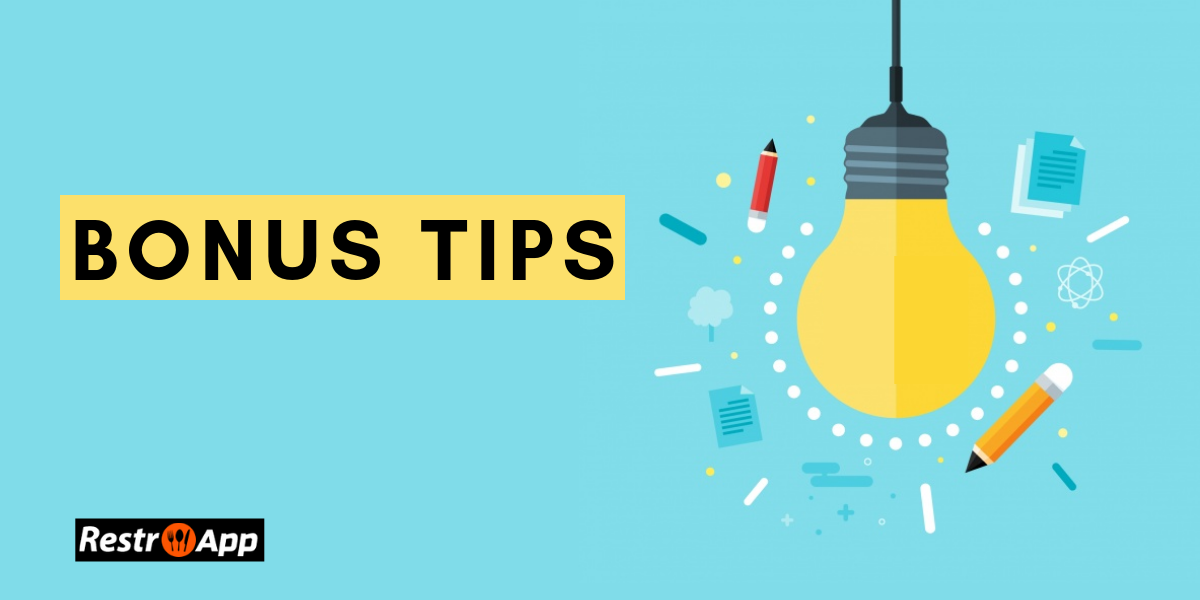 Bonus Tip 1: 
Correct Logo Placement
Here comes the bonus tip, the best place to add your restaurant's logo is in the top left corner. As research shows, when a person opens a website, his or her view runs from left to right.
Bonus Tip 2: 
Why is it important to promote your restaurant webpage on social media platforms? 
Online presence has become utmost important for every business out there, so how can the restaurant industry be left behind. You might have seen that many businesses encourage their customers to follow them on every social platform as possible, such as Facebook, Twitter, Instagram, Foursquare, Tripadvisor, etc. But, do we as a customer follow each networking site. The answer is simply "No". 
Related Read: Food Industry Giants Using Top-Tier Social Media Marketing Strategies
As a restaurateur, you can experiment with various platforms, but focus on the one that suits your business. Facebook is the biggest social network that you cannot ignore. You can run your advertising campaign on Facebook and can reach a large audience. You can also post high-quality food pictures to entice a large crowd on Instagram. 
Moreover, you can turn your followers your voice that will temp new customers to try your food. Foursquare is a good platform for making your business searchable. 
Bonus Tip 3: 
Free DIY Website and App Builders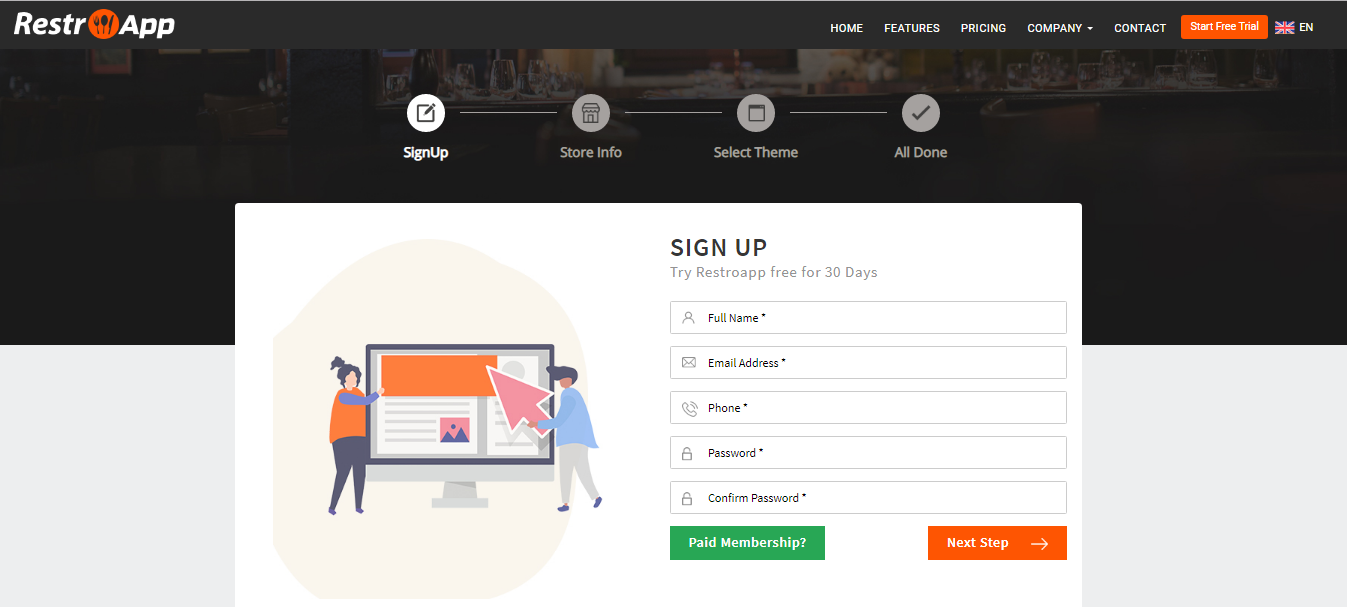 You can try some DIY website and app builders to create your restaurant website. There are so many platforms that allow users to create websites for free. All you need to do is create a user account, fill up your restaurant business details, select theme, add products & your website is created for free. 
We hope you will consider these tips while designing your restaurant website. Your website creates the first impression among your customers, so the restaurant website design should be magnificent in every possible way.
If you need any assistance in creating a restaurant website, restaurant app, food ordering app, food delivery app, or custom-app solutions for your restaurant business, reach out to RestroApp. And, we will assist you to create a stunning website & app that will impress your customers in every way.