Upselling in the restaurant business is the sheer art of persuasion without really going over the board to make it happen. Upselling is all about striking a sale at a price over and above its usual price through a revised or premium version of the existing offerings.
However, upselling is not a cakewalk job. And the lack of staff training for effective upselling may lead to disappointing results and loss of potential customers.
Effective upselling requires knowledge, perception, and discretion. And, if done right, it becomes a way to improve customer service instead of the sales.
The upselling process begins with defining your target customers. In general, the customers that are already impressed with your services are the best fit. But, the technique works well if you are aware of these two major factors:
Offer the Premium: Make sure to create some premium offers after considering your restaurant marketing strategies, sales, and pricing. This will help express your acumen on the elite customer range.
Keep Asking: It's a great idea to showcase your premium offers as soon as a customer enters your restaurant. The more offers you will show to the customers, the more chances they will choose one. So, put showcase your premium offers everywhere it makes sense.
Makes sense? Sure, it does!!
To help increase your sales and revenue, we have covered some smart tips for upselling in the restaurant business. Here we go!
Tips for Upselling in Restaurant Business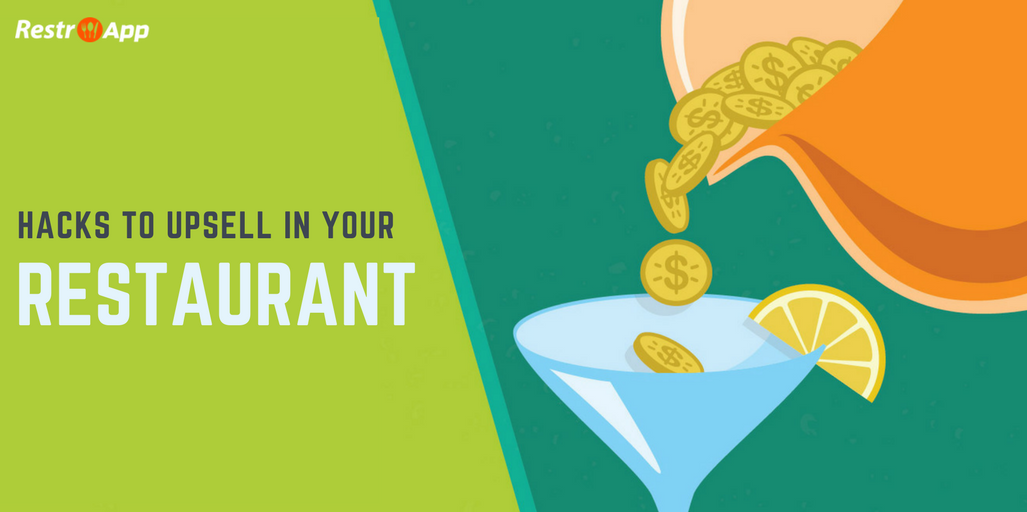 1. Be Sure of What you Recommend:
As a restaurateur, it is your duty to ensure that your upsell platter will benefit the customer. It must be the best that your restaurant can offer and boast about in the market.
This exclusiveness will help you upsell more effectively. Make sure that you know what is on the cards before you make a pitch to your customers.
2. The Takeaway Act:
After having a meal, customers get full. So, if you upsell them with a dessert, it will lead to failure. And that's a barrier, which is easy to overcome with the help of a takeaway option.
When your customers do not order dessert, offer them an option to take it home. In most of the case, customers want to have a dessert after the meal, but to avoid overeating they ignore their cravings. Therefore, it is easy to upsell customers by giving them the option to take away their favorite dessert.
Related Post – The Big Restaurant Trends of the Year 2018
3. Restrict in Numbers: 
If you have a lot of products to offer, make sure that you restrict it to just one or a maximum of three. With many products in hand, you may baffle your customers.
So, make sure to offer only the best and strike the right kind of sale by avoiding any unwanted elements on the platter. Apart from displaying your up-selling specialties, make sure that you ask for the opinion of customers as well.
4. The Online Game:
Make sure that your online presence also boosts the offerings you have. It is a millennial tendency to go online and browse for almost everything associated with our daily lives.
Therefore, it is nowadays, it is mandatory to have an online presence. Using the internet to get the most of its benefits onboard is an intelligent move. You just have to tap the untapped potential that surrounds this option and offer your premium products to up-sell.
Related Post – Benefits of Having A Google My Business Page for your Restaurant
5. Focus on Quality & Price:
If your target is the modern working class, you have to make sure that you do enough to attract their attention. These are the people who prefer quality and fair pricing over quantity.
Customizing your orders as per their requirement will help you sell your products to these esteemed folks and that too, at a better price. Loosen the quantity focus and get the fair price and style strategy onboard.
6. The Loyalty Factor:
Your premium offer receivers are no doubt your esteemed followers. Make sure that you offer them the best. From loyalty programs to an irresistible deal, offer all that you have in a subtle yet powerful manner.
7. Restaurateur App:
If you are planning to tap the premium layer of the customers, you ought to work hard on setting up a mobile app for your restaurant. With more than 60 percent of your customer base being the tech-savvy ultra-modern millennial, you have to be seen in the tech space, recognized and appreciated.
Only a restaurant food ordering app can become that one step forward in this game. Invest your time and strategizing abilities on your app. The results might make you feel great!
Conclusion:
Now, that you have a set of tools to employ in your up-selling strategies, make sure that each of the techniques mentioned here blends into a perfect strategy. The one that suits your brand image and budget. Every establishment is going to have its very own strategy in place and it is up to you as to how you decide to take it in the desired direction.
Need some help with creating an online presence for your restaurant? Your search ends here at RestroApp!
Our incredible team of experts with a proven track record can help find just the right mix in your upselling plans. Get in touch with us and together, let us kick start your journey!