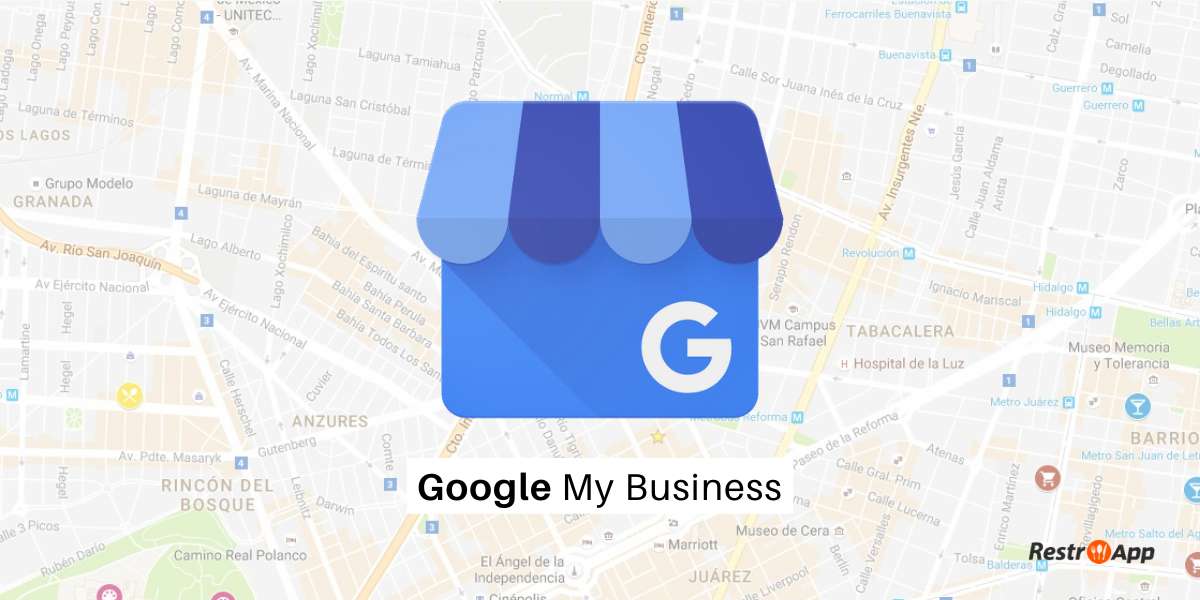 Nowadays, we use Google for everything, don't we? It has become the go-to guide that assists us in choosing good restaurants, traveling places, and other tasks. Nowadays, when someone asks us something, we say "just Google it", so you can see how popular it has become globally.
Do you know that every day, five billion searches happen on Google? 
If you have opened a new restaurant, you are thinking about where to start. To gain the attraction of your potential customers you need to make your presence felt. This merely cannot be done with word of mouth; however, you need a strong online presence too. And, one of the unique restaurant promotions ideas to gain visibility is via Google My Business.
What is Google My Business? And, why is google my business important?
First of all, it is a free online tool that helps small businesses to create a local business listing in Google maps. It is a good way to grab the attention of the local customers who are searching for a restaurant. Every restaurant owner should create a Google My Business page for their restaurants to reach locals. Your business appears in the Google search or Google Maps. Apart from this, there are many benefits of listing your restaurant business on Google My business page.
What can Google do for your restaurant business?
It helps you to engage with customers online.
Building a fanbase of loyal customers.
Help people easily find your business online.
And, ultimately, attract new customers to your restaurant.
To, discover more interesting facts about google my business page business read along.
Why do you need to list your restaurant business on Google My Business page?
Restaurants don't struggle much as other businesses in the Google search results, as it is a local business. People search for good food over their smart devices and end up ordering one. So, if your restaurant will be present on Google My Business, then you will have a good chance of being chosen over others.
In addition to this, there are many benefits to Google my Business page.
It's Cost-effective:
As we have already said, it's free of cost, plus it puts your business in front of many potential customers. There are several search engines where you have to pay to get your business listed. Either, you have to pay monthly or yearly. 
However, the GMB profile gives your customers insight into your business like phone number, business hours, address, review ratings, and more. This also gives your customers access to your operation hours, website and direction with a click. GMB gives you good visibility and increases your chances of being discovered.
Show in Google Maps:
Most customers use Google Maps to locate nearby restaurants. Yes, they do check online reviews, but they also take into consideration the proximity. After creating and listing your business on 'Google My Business', your restaurant will be visible in the local searches. This will further allow your customers to see how close you are and if they can visit you.
For example, if you're into a restaurant business, with Google My Business listing, then your restaurant will be visible in the search results like this: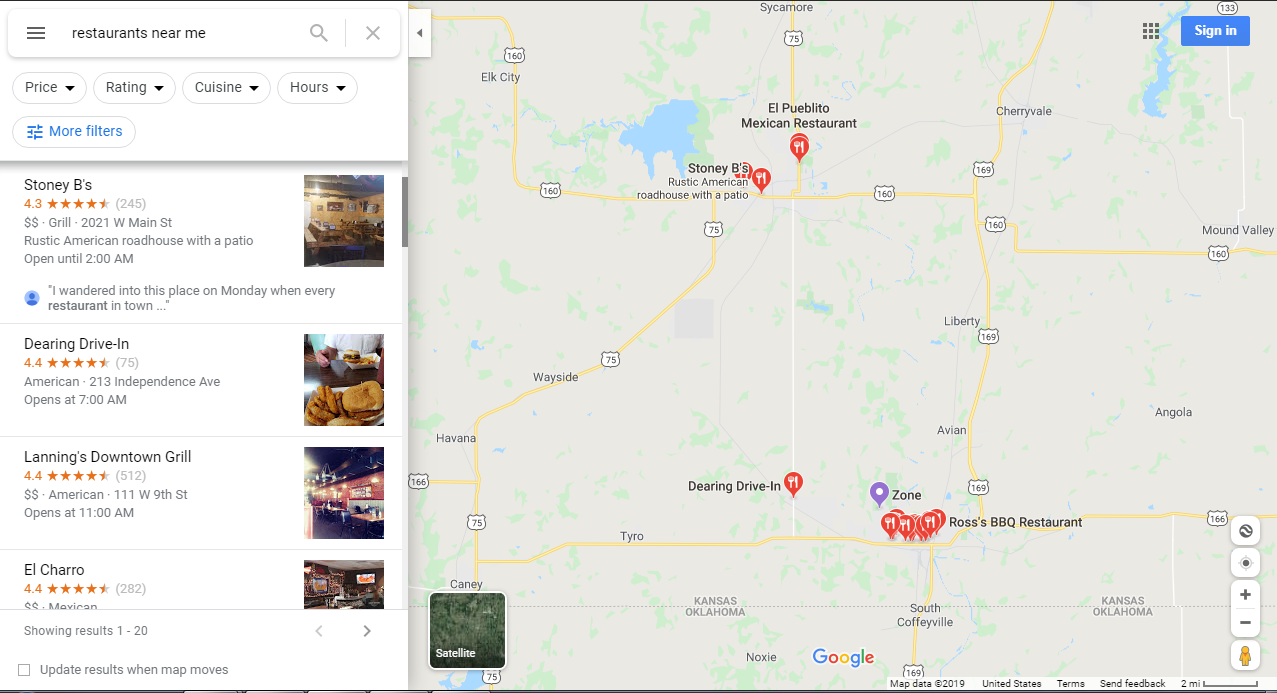 Visibility on Google's Local "3-pack"
GMB profiles appear in the local "3-pack" area and  Google Maps search results. For instance, when you search for a particular thing on Google, the first three listings are reserved for Google Adwords, also referred to as paid search. Next, you will see a map with three local results. After that, you will see "organic" results.
If your GMB profile appears local 3-pack of search terms, then you will be able to get new customers, as your restaurant business will be visible in results. It is an affordable process to get into the top search results. Moreover, with a highly optimized GMB profile, your business can appear in the top Google searches.
Chat with customers: 
With the new feature of Google my business, you can chat directly with your customers who find your business. This will help to interact with customers and assist them in every way possible.  All you need to do is to turn on this feature to get connected and receive messages.
Don't worry! Google will not share your phone number with users. 
You can either receive messages through SMS or Google's messaging app, Allo. Moreover, you can designate a staff member to answer customers' queries.
Video:
Business owners can now upload videos. Videos are engaging and allow you to showcase your services and food items. You don't need a professional video, but a natural shot will do. Remember to upload the video that is relevant for your business, otherwise, Google will take them down. You can also flag inappropriate videos through your dashboard. To get your videos posted, you need to abide by Google's business video guidelines.
What are Google my Business Video Guidelines?
The video should max 30 seconds

Video Max File size: 100 MB

Video Min Resolution: 720p

Videos are also supported in Google Posts, Events, Offers, and Products.
Manage Menu:
Being a restaurant owner, you can manage your menus on your GMP profiles. With the menu editor, one can create and edit their menus that are displayed on mobile. This new editor enables you to add, edit titles, descriptions, prices or break menu in different categories such as desserts, beverages, appetizers and more.
Post menu items highlights:
Restaurant owners can add a photo or video of menu items and add their costs. In addition, you can add 100-300 words description and call to action button.
GMB Heat Map Insights
Heat Map insight gives you the ability to uncover untapped geographical areas where people are searching for your business.
It breaks the total number of requests down by city or neighborhood, and you can easily figure out the area where you need to expand your restaurant business.
Google Offer Posts:
Google introduced this Google post in May 2018. With Google Posts, you can share promotional offers, news, events, updates, etc. These updates will be visible in Google search giving you a good opportunity to connect with your customers. The best part is, Google posts are absolutely free and not paid, which helps you reach your target audience.
You can add these in your offer posts:
Title

Start & End Dates & Schedule Time

A Call to Action button such as "View offer"

You can add a photo or video

Coupon Code

Link

Notifications

Terms and conditions
Moreover, use high–resolution images to get your message across. Use Title for promoting your services. Describe your promotion in 4- 5 words. Try to limit the description length to 150-300 characters. Make sure to add a call to action like "Book online", "Call", and "Visit", "Order Now or Reserve table".
Follow these points to get more out of Google posts:
Attach UTM Codes to your Posts, since Google Post doesn't integrate well with Google Analytics.

 You can add 150-300 characters in your description, but only 100 characters visible in the "snippet". So, make the best use of this space.

The single post remains valid for about 7 days, so post frequently to stay ahead. The posts are displayed from newest to oldest in a carousel format.

 Make your images are "center-weighted" otherwise they will get cropped off at the sides.
Claiming & Optimizing Your Google My Business Profile for Restaurant Business
If your GMB profile is optimized and updated then it has the potential to be seen in the Google local 3 pack. Before optimizing your profile, you need to claim your business on Google.
How to claim your restaurant business?
Go to Google My Business

Check if you have already claimed your business by clicking on Start Now.

If not, then you need to sign in with your Google account. 

After this, a sign-up form will pop-up. Here you have to enter the name of your business into the top field of the form.

Now, confirm that you are authorized to manage this business.

After claiming your business, make sure all your business information is up to date.

You need to make sure your company's information like name, address and contact details are the same across various platforms.

If not, then make it consistent as it might confuse your customers and have a negative impact on your ranking.
After cross-checking everything, create your Restaurant Google My Business Page, upload high-quality images, which will make your business stand out. Upload pictures of your cuisines, restaurant ambiance and events of your business. This will help your customers to choose your restaurant over others nearby. Also, make sure that you have online reviews, as they help people to make an informed decision to visit your restaurant.
Increase Engagement:
GMB provides good engagement opportunities. People will get access to your website, address, and phone number. Customers can directly contact you or reserve a table using your listing information.
Increases Traffic and Sales:
Often local businesses fail to get a good amount of traffic to their website. But, with Google my Business you can increase your visibility to get customers' attention.
Google had found that businesses visible in search results are 70% more likely to attract more location visits.
Online Reviews and star rating:
Nowadays, customers check online reviews before ordering their food from any restaurant. So, online reviews influence a customer's decisions. Google My Business listing allows customers to give feedback/reviews to your restaurant business. This way, you get an honest evaluation of your business which helps you to improve in the future. Not only this, but you also get a nifty star rating system next to your business.
All you have to do is serve your guests best and provide quality. Over time, you will start collecting more positive reviews along with the star rating. This will help you to give fierce competition to your nearby restaurants.
Get valuable insights:
If you want to succeed in the restaurant business, it is very crucial to know your customers inside and outside. Form your Google My Business page when you navigate to the 'Insights section',  you will be able to get valuable insights about your business. For instance, you will be able to figure out who are your target customers and how they are engaging with your business.
This will help you to understand what is working for your business and what's not. By tracking your business performance, you will be able to come up with great marketing strategies.
Stand out from the rest:
Google My Business profile for restaurant business shows your essential information to your customers. In addition to this, you also get to display a brief description to help people to choose your business over others.
So, create an effective business description with relevant keywords and depict something unique which adds value to your business. This small snippet gives your business to stand out from others and help your customers make a quick decision.
Rank higher in Google search results:
Upload new and quality content consistently on Google to get in the eyes of Google. The more Google likes your business, the more it will tell customers about your business and rank you higher in the search and maps results.
Setting a Google My Business for a restaurant business can be an initial step in building your online presence. It will help you to reach more people and drive more traffic to your website. Gradually, you can take long steps like improving local SEO to rank higher and increase your visibility.
Bottom Line
We hope after learning about the benefits of Google My Business you would like to list your restaurant business on Google My Business. In addition, create a Restaurant business page with your business posts, food images and offers/discount coupon updates. So, all food ordering restaurant businesses should have Google My Business profile to reach a target market, share new updates, branding, ranking higher, geofencing and get more customers.
Even if your restaurants have a full table every weekend, there is a possibility that you may be missing out on a lot of potential customers if you don't maintain a strong online presence. It has been evident that the tech-savvy approach towards marketing has the power to make a world of difference, particularly if you are struggling with your business.
If you require any guidance regarding how to list your business on Google My Business page, you can reach out to us at https://www.restroapp.com or email us at info@restroapp.