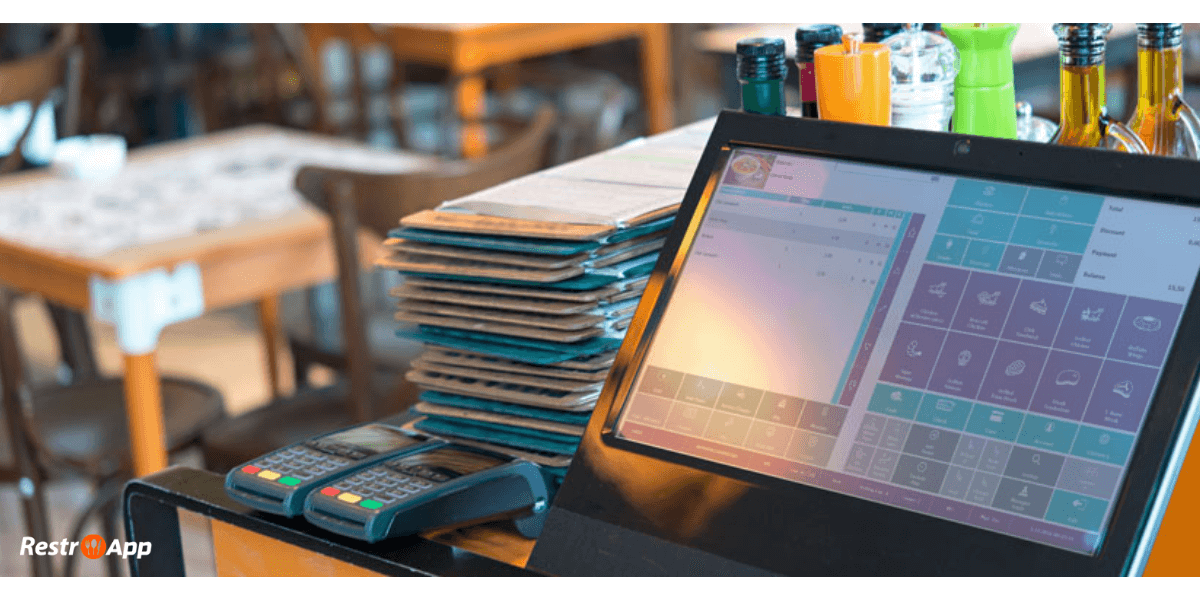 POS system (Point of Sale) can do wonders for your restaurant. It is a computerized system designed in a way to track sales, cash flow, food inventory, and simplifying tedious restaurant operations. Moreover, POS software has advanced features that speed up the billing process and improves customer experience.
Why you need a POS system for your restaurant?
Every day you have to deal with heavy cash flow and credit cards, so it becomes necessary to have a POS system. This not only helps you to track cash flow but makes the billing system secure and safe as the system is password-protected, so the chances of employee theft become negligible.
Apart from this, it simplifies the communication between the kitchen and the restaurant staff. Orders go directly to the kitchen printer, and this saves a lot of time. Another benefit of POS is that you can track everything like food usage, popular menu items, and more. It can also help you organize the profit and loss statement. With POS, customers can pay their bills at their table. Also, POS can generate split invoices too. It has become more like a restaurant management system.
Moreover, there are two types of POS system software that are widely used. One is the Traditional POS System, and the second is Cloud-based POS systems. Now you might be thinking about which POS system software you should choose, whether traditional or cloud? Which one should be best for your business?
I suggest you should opt for a cloud-based POS system. This POS system helps you to manage your restaurant online. Installing the POS system won't make any difference, but using the POS in the right way will make a huge difference.
If you want to know more about the Traditional and Cloud-based POS systems, check out this blog. In this blog, you can check the complete comparison of both the POS systems, which will help you to choose the best for your restaurant.
Here we will let you know how you can use the POS system for your restaurant in the best way:
1. Select the best equipment:
You got to pay for the additional features. If you are running a simple operation, then you don't need a POS with advanced features. However, if you are running a venture where you have to handle complex inventory, then you need to opt for the POS system, which can make your tedious work simple.
2. Go for EMV compliant:
Nowadays, credit cards are equipped with a chip, so it is wise to purchase equipment which is EMV compliant. This way, your customers will feel secure and safe while paying. 
3. Prevent Credit card fraud
:
POS can connect you with payment processors that are EVM complaints, which means they can accept both credit and debit cards. The microprocessors that are embedded in the cards store and protect the cardholder's data. This helps customers guard against thefts and fraudulent credit card chargebacks.
Some POS also offers integrated payments, which means customers can order and pay through the same system. 
4. Make use of analytical features:
POS systems offer analytical tools through which you can sort the inventory, track traffic and behavior of your customers. So, make use of these features and reduce your workload. 
5. Reduce order errors:
As a restaurateur, you don't want to hamper your image by delivering wrong orders to your customers. Serving wrong orders costs you time, money and you have to face customer agitation.
With modern POS, you can completely avoid this chaos, as your servers can take tableside orders on mobile. Getting the order right is the first thing that can help you in customer retention.
6. Automatically sold-out items:
With the POS system, kitchen staff can easily communicate with the serves and alert them about low availability on certain menu items. So, that while taking table orders, your server can intimate your guests by telling them the item they have requested is not available. This saves both the server as well as the guest's time. Furthermore, you can check our restaurant staff training plan to process online orders, visit here.
7. Improve Kitchen efficiency:
POS shortens the order processing as the orders are sent directly to the kitchen with no longer waiting. This reduces the to and fro movement of the waiters and their main focus is set on customer service.
Also, with the restaurant POS system, you can analyze your popular and profitable food item, plan to price and plan your kitchen operations beforehand as per the future demand.
8. Redesign menu to make more profit:
POS system can help you to optimize your menu design and influence customer ordering decision. Once you have identified your high-margin items using the POS system. Now, you can place these items accordingly on your menu in an area called the Golden Triangle.
This is the area that your customers read first and they are more likely to order items from this area. Make your menu in such a way it displays high-margin items in the Golden Triangle. This will help you to boost the sales of high-margin food items.
9. Manage your floor in real-time:
With floor plan and table management, your managers can figure how much is being spent at each table. They can know in real-time how long guests are taking to finish their meals. If they see any table lagging but spending, then they can ask the servers to upsell them on coffee. Also, if the table had been seated for a long time and not spending much, then servers can give a subtle hint by asking would you like some coffee.
10. Track front-of-house staff performance:
Restaurant POS system reports can give you a clear picture of the working of your staff. With this, you can track their every activity and figure out how long they are taking with each customer.
You can easily identify the mistakes and identify do they need any special training from your managers or outside. Not only this, you can identify your top performer and know who to schedule during the busiest hours.
11. Boost customer retention:
Loyalty programs are the best way to reward repeat customers and encourage them to come back. Restaurant POS should have an integrated loyalty program, so that customer interaction could be tracked and accordingly customer base can be created.
12. Speed up a transaction:
With the POS system, you can serve more customers in less time as it speeds up the transaction process. A restaurant POS system enables your servers to take tableside orders and this eliminates errors and speeds up service. 
Servers don't have to run back to the kitchen to inquire about the ingredients. It is all right there on the menu. It has been seen that restaurants that implement tableside ordering experience 20% more sales.
13. Optimize menu prices:
A restaurant POS, lets you break down food cost percentages and contribution margin. With this, you will come to know how much a menu item is costing you and accordingly optimize your menu prices. Furthermore, you can update your menu instantly from anywhere through restaurant POS.
14. Manage labor costs:
You can take better labor decisions and schedule more staff during busy times and less staff during slow times. This will help you in improving your service. Browsing through POS reports, you can identify your busiest and slowest times in a day. Your POS system can tell you if you need to adjust the working hours or not.
15. Identify what worked for you:
You can figure out what worked for you using past data and make decisions accordingly.POS can help you to collect a variety of data. You could also cross-reference sales reports with menu categories and find the best time to run a promo.
16. Produce cost reports:
With POS, you can track your total costs like how much you spend on food, alcohol, and labor. For instance, food cost reports show things like a number of items sold, gross sales, gross costs, etc. You can use these cost reports totally with your sales report and analyze upcoming purchases.
17. Better engage with staff:
POS helps you to track the performance of individual staff members like how much their customers are spending and how long they are seated. You can use these performance reports to identify high performers and then reward them. In the same way, you can also track your underperformers so that your managers can guide them who need help.
18. Integrate a food ordering app:
A food ordering app integration to the restaurant POS system also makes the restaurant operations and tasks very easy and quick. You can replace the paper menus with mobile phones, iPads, tablets to take orders. If you don't have a food ordering app for your restaurant, it's time you should consider to create one. Read more about the restaurant food ordering app, its benefits, development costs, best app development company, etc. visit here.
19. Integration with accounting software
:
Entering data into your system is time-consuming, but with POS you can export data automatically. A restaurant POS can connect with various accounting software, thus exporting the latest data such as sales, labor, inventory costs and more. Compiling data in the right way helps your accountant to speed up financial operations.
20. Backup data on the cloud:
Sometimes when the system crashed there are chances that you might lose your data. However, POS can help you backup your data in case of technical glitches.
Also, if your equipment gets stolen or destroyed by any means, then still all will be not lost. Restaurant POS systems can automatically back up the data on the cloud, enables you to use data from anywhere.
21. Email guest checks:
When a customer is about to pay for his order, you can ask them would they like guest check printed or email to them. This option will save you money and provide convenience to customers. Moreover, customers don't have to worry about losing paper checks.
22. Keep track of bar tabs:
With bar tabs, you can manage customers at the bar who wants to stay up for a few rounds. Restaurant POS helps you to track which drink belongs to which customer by storing the card details as a tab.
A bartender can use the POS bar tab to locate the right amount and process payment easily. With modern iPad POS, you can transfer bar tabs to a different table. Once the table is ready, your bartender can use POS to transfer the bar tab to that table with few taps.
23. Split Bills:
Customers don't like a server being upfront and asking for separate bills. But a restaurant POS system can divide and calculate separate checks. This way, your customers can easily split bills without any pain.
24. Target marketing campaign:
You can use the customer database to create marketing campaigns. Through the POS loyalty program, you can target an individual as per his or her preferences. People love when they get unique offers specially curated for them. These targeted campaigns can be highly beneficial in spreading the word about your restaurant
We hope after getting familiar with all the perks of restaurant POS, you want to invest in one. Restaurant POS is specially designed to cater to your restaurant needs.
Investing in the POS system can help you to grow your restaurant business and take better decisions in the long run.
If you need a helping hand, Contact RestroApp or drop us your queries at info@restroapp.com and we will get back to you soon!