We all love different cuisine, but sometimes don't feel like cooking. This craving of ours has led to food delivery apps. On-demand food ordering apps like Zomato, Swiggy, Doordash, Grubhub, Seamless, Postmates, and UberEats have become our favorite destinations where we can choose what we like and get it delivered right to our homes. 
These food delivery apps have made the life of foodies exciting and more straightforward. That's why social media platforms are filled with cheesy platters on the weekends. Moreover, Food delivery has become really popular among youth and millennials. 
Rest these stats, says it all:
Online ordering and delivery have grown 300% faster than dine-in traffic since 2014.
It is anticipated that a restaurant that won't offer online food ordering services will lose 70% of its customers by 2020.
According to Statista, revenue in the online food delivery segment amounts to US$107,438m in 2019.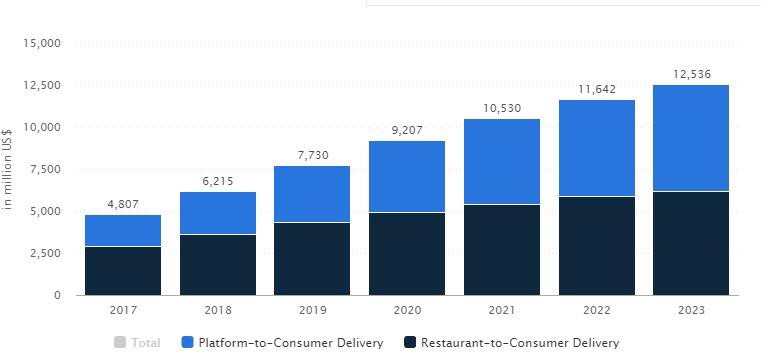 By considering the stats, we can say that the restaurant industry is becoming competitive as well as tech-savvy day by day. Every food business owner understands the importance of technology and new industry trends. Furthermore, being a restaurateur, you need to enter the online food delivery business at the right time. For this, you have to start with creating a food delivery app like Zomato.
Or, if you are not from the food & restaurant business, but have a concept to build a food delivery platform like Zomato, you can invest in the aggregator model.
💡 Discover Altezza Modular, the premier modular kitchen manufacturer in Mohali. Transform your culinary space with their impressive services and elevate your cooking experience today!
Before starting with the Zomato aggregator model, you need to understand the following:
How is Zomato different from other food ordering apps?
The business model of the Zomato app?
What are the features of the app like Zomato?
What is the cost of building an app like Zomato?
How is Zomato different from other food ordering apps?
Zomato is recognized as a global restaurant search and delivery service. Zomato was founded in 2008 and now operates in 23 countries and it has become trendy and covers over a million restaurants across 10,000 + cities. It is inspiring many restaurateurs to enter into the food ordering and delivery business.
There are also on-demand food delivery management systems as well as 3rd-party platforms available in the market, like Swiggy, Doordash, Grubhub, Seamless, Postmates, and UberEats.
Zomato offers some extraordinary features like:
Table booking

: It enables users to book a table of their choice in advance. This shortens the wait time.

Exploring food places nearby:

Users can explore nearby restaurants, view restaurant pictures along with the location.

Zomato Gold:

This subscription model offers exclusive perks on dining out and drinks to its members.
The business model of the Zomato app
Zomato app comprises three parts the restaurant owners, platform owners, and the delivery personnel. It provides access to many restaurants on its online delivery applications. These food delivery apps act as restaurant finders too.
Zomato charges a certain amount from the restaurateurs to get their restaurants on the platform.
How Zomato works?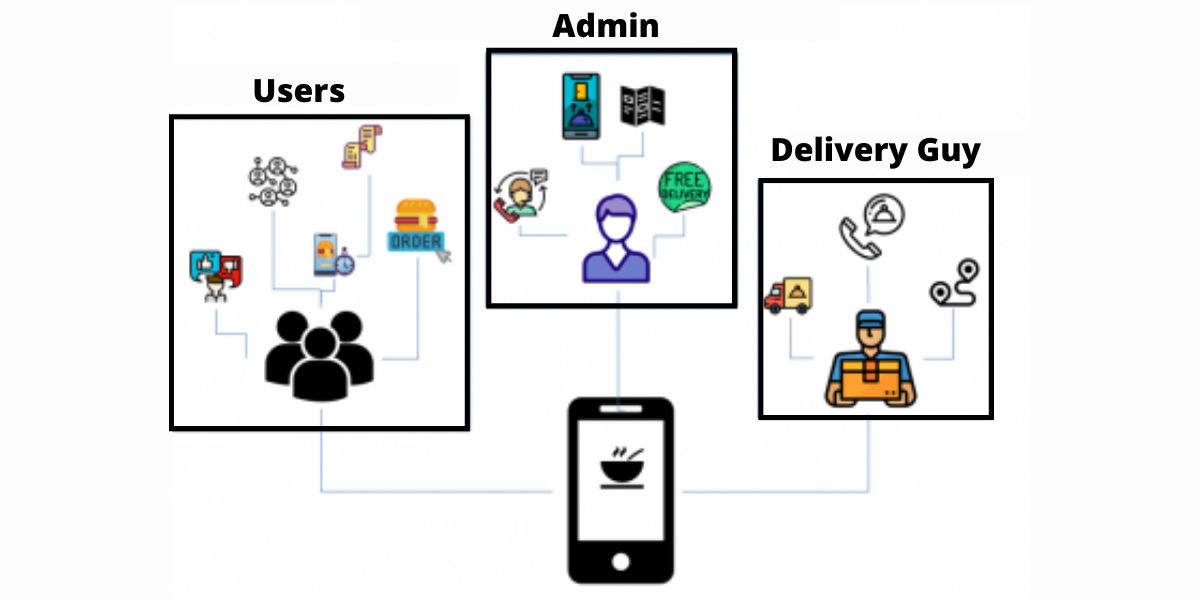 It works on the on-demand business model for food. Whenever someone places an order on Zomato, a notification is sent to the respective restaurateur, the nearest delivery person, and the platform owner. They coordinate with each other to get the work done. It doesn't have its own restaurant neither it has a chain of delivery services. What it does is, it coordinates with the third party to supply the deliverables.
Moreover, it takes care of its own logistics and has its own drivers (distribution partners).
The functionality of an app like Zomato:

The basic functionality and features of the Zomato clone app are it comes in three app variations Admin app, Customer app, and delivery person app.
Admin
Admin Log-in
Restaurant Management
Application Management
Order Management
Technical Payment
Payment Management
User App
It let you view basic restaurant information like scanned menus, restaurant pictures, location, contact number, user reviews, and ratings.
The easy search feature to search nearby cafes, pubs, cuisine and more.
Easy table booking feature. Also, the user can check in real-time the availability of the tables then make the booking.
Multiple and secure payment options like a credit card, debit, Paytm, Google Pay and Paypal, etc.
Customers can access their order history and reservation history.
Share reviews of favorite restaurants and food with their friends and family.
Availability 24/7.
Food orders can be made in advance.
Easy sign-up process, even users can sign up with their social media accounts. Through their social media handles, users can connect and recommend their favorite cuisine.
Users can call the restaurant/driver to give special instructions about their order.
With the help of track driver feature, users can track the driver and status of their order.
The app allows its users to integrate their social media handles for creating their profiles. The users can connect, follow and make recommendations on cuisines, dishes, puns, restaurants, etc.
The push notification feature allows users to know about their orders.
App for the Delivery person
Trip information
Navigation
Route optimization
Contact user/restaurant
Start and end trip
Things you need to consider while building an app like Zomato:
If you want to create an app like Zomato, you need to launch the prototype of the app for testing. After that, you need to follow certain points to make your app successful.
Provide the customer with easy navigation for different pages.

Helpline for all users 24/7.

Make sure your app is attractive. A good UI/UX plays a crucial role in the success of any app. This ensures that users are able to order online without any hassle.

The first step of the mobile app is to log in or register. This should include all the relevant information of the user like username, contact number, email id, and password. This information can be used to track and provide personalized services to the customers.

One of the most important things in the food app is the menu. So, the restaurant menu should contain listed menu items. Every food item should be appropriately classified along with the description.

Updates data about a restaurant like location, timings, contact number, menu, etc.

Users should be allowed to add or delete items in the cart. Also, be able to apply the promo code.

Payment gateways should be safe and secure.

Customers should be able to track the location of the delivery person and know where their order has reached.

Customer support services. This can be provided via chat or email.

Ratings and reviews can be added so that people get to learn about the restaurant and its services.
Related Read: Features to Add in a Restaurant Finder App Like Zomato (Zomato Clone)
What is the cost of building an app like Zomato?
You need to create three apps for both iOS and Android. If you want to add advanced features to your app, then cost increases. 
The admin panel consists of advanced features like tracking ongoing activities and transactions. Being a restaurateur, you cannot compromise on these web service app features.
For the user and the driver mode, you can start with the essential feature and then progress to the advanced one. This way, you will be able to figure out what your customers want.
Cost depends on these critical factors:
App platform

Size

Design

Developers
If we talk about the basic version with MVP features and simple UI/UX, then prices could go to $7,000 to $10,000 for the development of all the three apps.
Moreover, If you add an advanced set of features, then prices can shoot between $35,000 to $50,000. However, if you are planning to create an app like Zomato, then you need to pay exorbitant $75,000 and more. 
Cost of iPhone food delivery app:
If you are looking to create an app for the iOS platform, then cost is divided as:
License fee: $300

The fee of app hosting: $99/app

App developer fees: $7000 (developer with average skills)

overall development cost at $7500.
Furthermore, on average, a food delivery app might cost approx $26000 for an iOS app and approximately $27000 for an Android one.
You need tech knowledge to build an app like Zomato. Therefore, it is good to hire a professional in developing a mobile food app.
How do you hire a professional for building an app like Zomato?
Make a list of your requirements 

Search developers using reliable sources.

Hire an experienced team of developers who can create a fantastic app for you.
For developing a basic version of your Zomato like mobile app, you will require
A UI and UX designer

2-4 Developers

Testing engineer

Backend Developer

Project Manager

For developing an app with mixed features, you will need
Project Manager

UI/UX designer

2-4 developers

Testing Engineer

2–3 backend developers

Admin panel developer
 
For developing an advanced version of the app, you will require
Team Manager/Project Manager

2 UI/UX designer

3-5 developers

Testing Engineer

3-4 backend developers

Admin panel developer
 
If you are unable to decide whether you should invest in the food delivery aggregator model,  then think again as you might be losing some of your valuable customers. This is because people are moving towards online food delivery apps like Zomato, Ubereats, Swiggy, and more.
We hope that this blog was useful in providing you the real cost for developing an app like Zomato. Remember for development process you need professional app development compnay to create a successful restaurant finder app. Drop us a line at info@restroapp.com.