Food delivery platforms are the most significant and giving different foodservice businesses a run for their money. In recent times, the online food delivery system market has evolved and has expanded its business and foothold in many nations. Now, it has also successfully established in suburbs where so many restaurants are getting set. Ever wondered what is the workflow of food delivery apps?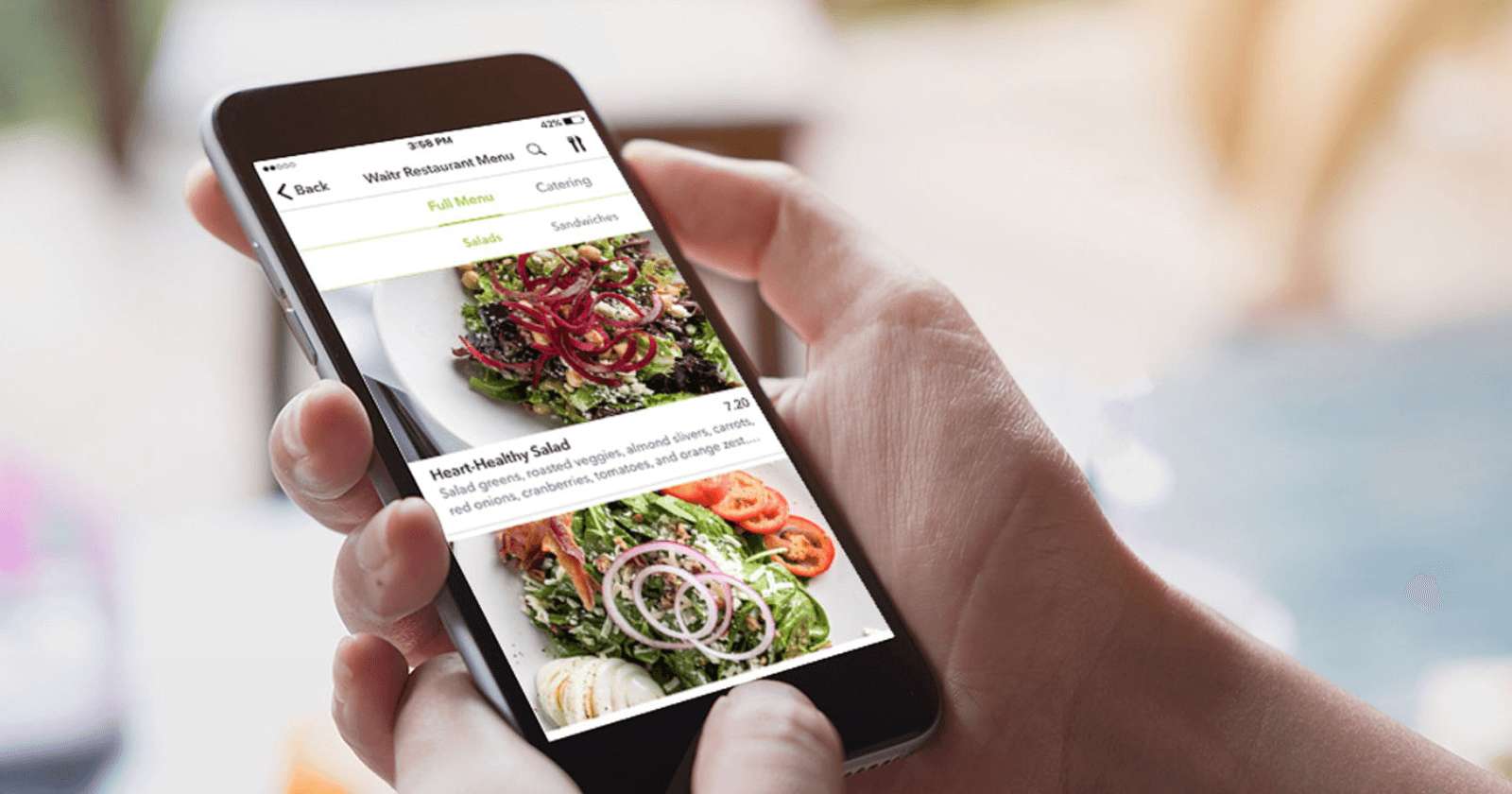 How does Zomato, UberEats, Seamless, Grubhub, etc. food delivery platforms work?
Let us have a quick check!
Zomato, Swiggy, UberEats, Seamless, Grubhub, Postmates are the food delivery apps from where you can order food online. They charge 25% to 35% commissions on the order summary. Reports worldwide, suggests a massive surge in the food delivery market in recent times. 
The average American spends $232 per month eating meals ordered on a food delivery app. With 18.2 meals eaten outside the home in a month, these meals cost a person $12.75. Also, let's break this down into individual people.

The average American household is 2.58 people. Thus the average American person spends $2,792 per year on food, or $233 per month, or $54 per week, or $7.64 per day on food. Thus there is a vast increase and rapid growth in the food delivery market.
Apps like Uber Eats, Seamless, Grubhub, Postmates, Swiggy, Zomato, and Jumia are promoting their business through promos and coupons. Startups working in smaller regions are focusing more on targeting local people.
"What's the rating on Zomato?" has transformed into the default question, "Should we go to this restaurant?" nowadays. This change didn't occur without any forethought; the team at Zomato is behind it for very nearly 10 years now. 
Uber Eats, Seamless, Grubhub, Postmates, Swiggy, Zomato, and Jumia are online food delivery platforms having access to 23 nations. It engages people to order food from nearby restaurants and get it delivered at their doorstep for a small amount. Certainly, it also specifies data about restaurants, their menu cards, average cost, evaluations, and surveys. 
The unique plan of action for Zomato has got lots of investments from financial specialists. It has helped it to increase its client base. Zomato was propelled in the year 2008 with the name Foodiebay and a brief period; it has turned out as a huge success.
Food Delivery Apps Workflow: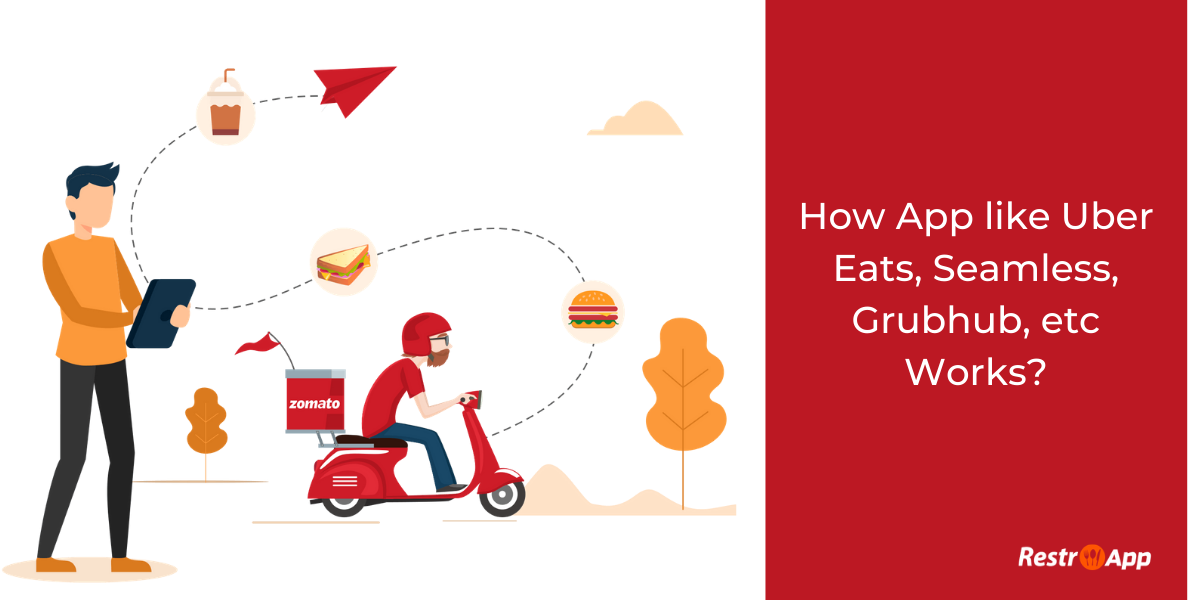 Consumers can place their order via these food delivery apps through their smartphones. The restaurant confirms the order with Seamless and then prepare and deliver the order. Moreover, customers can also pick up the order as well. The online food delivery system is completely digitizing the restaurant food ordering process. 
Similarly, Grubhub connects customers to restaurants near them. They can order food and get the food delivered to their destination. It also allows them to pay online or in cash.
Also, Postmates connects customers with couriers for making deliveries for local businesses. Using the Postmates app, customers can order items ranging from food, alcohol, groceries, and more. After the ordering process, the delivery guy will then pick up the customers' orders and deliver them directly to them within minutes.
How do Food Delivery Apps Make Money?
Advertising (62%)
Food delivery apps like Zomato began its business like a restaurant aggregator. It still grabs the majority of incomes through its exceptional — advertising. Food Delivery applications give cafés; diners bars an opportunity to publicize on its platform. This adds to a 62% portion of Zomato's worldwide income in FY18. It was 78% in the year 2017, as appeared by the details given by Statista. 
Food delivery (30%)
The organizations like Uber Eats, Seamless, Grubhub, Postmates, Swiggy, Zomato, and Jumia propelled their food delivery benefits in 2015 and forcefully expanded its food delivery benefits. In FY18, food deliveries present 30% of Zomato's comprehensive income, transforming into the second most significant asset of income.
Others (8%) 
Food Delivery applications propelled its magnificent membership program Zomato Gold in India, SwiggyIT coupons in the wake of steering it in UAE and Portugal.
According to stats, Zomato Gold crossed 26000 followers in the first seven-eight hours and a brief moment, transformed into a hit among the customers in India. Also, Zomato says that Zomato Gold currently adds to 12% of its month to month income. 
Furthermore, Zomato Gold will most likely transform into a vital income supporter for the association. Zomato Treats was propelled in April a year back and offered people a free sweet when they ordered food. It adds to 0.5% of its income. 
It would appear that most of the income development for Zomato could rise out of its ordering business. While its promotion business grew simply 20% this year, its food ordering business turned out to be practically 60%. 
With its services growing fast with not much competition, other food delivery apps have to change their plan of action.
How is the Food Order Processed?
Food delivery applications empower customers to look through a summary of restaurants and select the food from the app. Once customers pick their order, Zomato gives them various mediums to pay for the same.

The restaurant then accepts the order and packs it as indicated by the prerequisites given. 

Food delivery agents get food from the restaurant and deliver it to the customer.

Meanwhile, one can also review and rate the food. Food delivery applications have developed a rating system which places restaurant in an order dependent on their evaluations and surveys. Furthermore, the customers rate the restaurants depending on food quality, look, etc.
Related Read: How to Satisfy Customers with On-Demand Food Delivery Apps?
Key Takeaway From Food Delivery App Like Zomato 
Zomato started as a restaurant's menu posting platform that later on became an application to order food on the internet, and afterward, it began promoting. With the advancing scene, Zomato changed its plan of action too. 
Zomato's CEO said in an announcement, "Doing food delivery alone isn't manageable." That implies the organization is constantly prepared to develop to arrive at new statutes.
Concentrate on Customer Experience 
To keep up net incomes, the food business needs to use additional money-making models (for instance, notifications, online ordering) for a primary pay channel. 
Food delivery applications are moving in all places for each business person. In fact, the primary explanation for its magnificent accomplishment is the conviction and the craving to try different methods. Some owners are hesitant to begin with, online food ordering. It can appear as though a complicated and tedious procedure.
So they either surrender this part. However, at that point, the whole arrangements get resolute or excessively costly. 
Why are Food Delivery Apps Here for a Longer Run?
It does not destroy the restaurant's benefits. The vast majority of all work for entrepreneurs and food lovers. For this, restaurants required a sustainable model that enables them to sustain in the long run. Also, a food delivery app makes it so reasonable that you don't have to spend extravagantly on online orders. 
Also, by free delivery they don't mean taking commissions or showing promotions for you or your clients, they detest those too.
1. Comfort at Doorsteps:
Apps like Grubhub, Uber Eats, Seamless, Postmates, Swiggy, Zomato, and Jumia enables urban foodies to order food from close by restaurants and get it delivered at their doorstep. An extensive rundown of eateries and their menus with costs are shown in the application to pick and order from. 
Aside from collecting eateries, Swiggy likewise has its very own armada of delivery services. They get orders from eateries and send them on-order in under 30 minutes. 
Since Swiggy works as a double association model, it additionally benefits eateries that can get more orders from customers utilizing their Swiggy application. 
When the order is put in, the order is assigned, and Swiggy drivers deliver it. Along these lines, eateries don't have to utilize their very own delivery faculty, sparing expenses.
2. Client Segments of Food Delivery Applications:
The client sections of food delivery applications incorporate those individuals who don't wish to go out to restaurants to dine. Individuals who need their food delivered at their doorsteps are the key clients of food delivery applications.
Some stores right now accessible on Swiggy are Grofers, Bigbasket, Wallmart, etc.
The fundamental goal of food delivery applications is its no-limit order strategy for online food delivery. 
Food delivery applications have no base order necessity for delivery, which is the reason it frequently gets orders. Moreover, food delivery applications are scaling up to 14 million orders for each month on each platform. 
3. Payment Options:
Food Delivery applications give various diverse payment mediums to their customers to pay for orders. These can be classified in 3 different ways: 
Paypal

: It is the best payment model in the  USA. Other than that, they also do payments through cheques or other cardless payment modes.

Cards: 

Credit and Debit Cards 

Others: Sodexo Meal, Ticket Restaurants Meal, and Zeta Food Card – Got these supper cards? Amazing! Use them on food delivery applications for your food orders.
4. Delivery Service:
Another offer is its delivery competency. Its armada size expanded to 45,000 delivery faculty in 2018. Plus, it has more than 20,000 dynamic eatery accomplices on its foundation.
Check more features of a restaurant all-in-one food ordering system, here!
Key Activities of Food Delivery Applications 
The key exercises include: 
Building organizations with restaurants and retail shops.

Procuring delivery suppliers and providers (full-time/low maintenance/consultants) 

Obtaining clients and dealing with their orders 

Overseeing delivery and payment process 

Overseeing specialized tasks 

Refreshing system and building IT foundation 

Taking care of inquiries of clients and accomplices 
Key Partners of Apps like Uber Eats, Seamless, Grubhub, Postmates, Swiggy, Zomato & Jumia  
The key partners of Food Delivery applications are:
Restaurants– Restaurants who wish to have food delivery administrations to give customers food on-order. Other than restaurants, the delivery agents hired are also notable partners who deliver the food to the consumer's doorstep.
Summing up
What makes apps like Jumia, Uber Eats, Seamless, Grubhub, Postmates, Swiggy, Zomato worth it, is is the fact that it is instantaneous and quick. 
Some restaurant owners are still hesitant, to begin with, online food ordering. It can appear as though a complicated and tedious process. However, it can take your business to greater heights.
It the necessity of the hour and is trending in the restaurant industry. So, building an online delivery app is rightfully the first thing you should do. In short, you need professional and skilled people to create a food ordering app for your restaurant. For this, you can Contact RestroApp at info@restroapp.com. We specialize in creating customized food apps for restaurants. I hope this guide helps you in understanding how these apps, who've made it big, works!