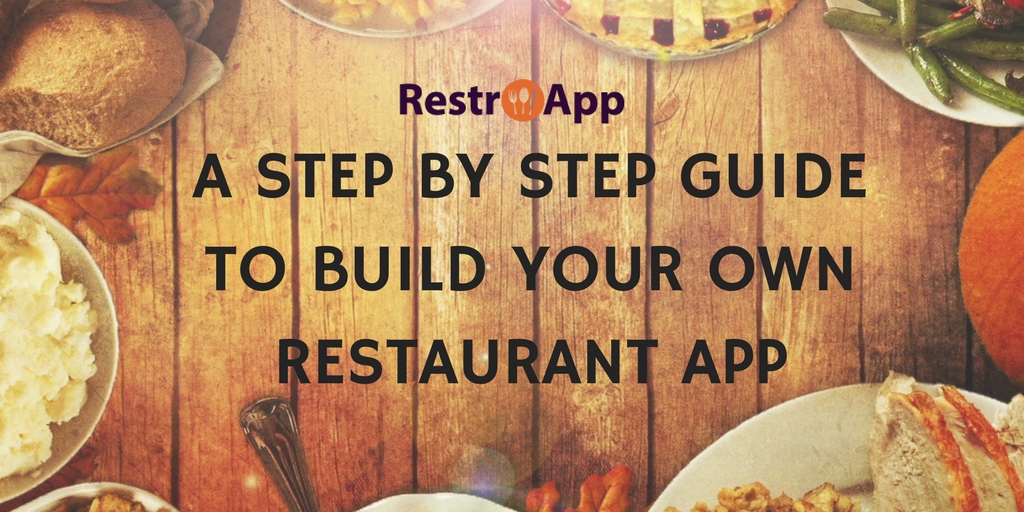 From a tea stall or a fancy restaurant, a classy hotel to a mobile food truck, there are a lot many options ready to feed the hungry eaters in the city. While at work, on a tour or on a day when food love is at its maximum, foodies have a lot many options to choose from. From exceptional cuisines to exotic flavor of our very own country, these establishments bring the best of both worlds on a platter. So what makes you a potential choice to end the search for some incredibly delicious food?
Why your business needs a restaurant app?
As a restaurateur, it's your natural palate as well as business acumen that decides what must be added to your menu card but as a customer, most foodies look at two major aspects while choosing their food joint – taste as well as the ease of ordering.
No time to search for printed menu inside drawers nor do they have time to call and ask for details and spend another ten minutes explaining what is it exactly that they are searching for.
It is interesting to know that about 80 percent of the orders placed by customers are while they are traveling.
The surge has happened ever since the introduction of restaurant mobile apps and this phenomenal upgrade in the interest and style of food ordering is here to stay.
In the biggest fight between a successful mobile app and an unsuccessful one, what determines the win is the level of planning and deploying an app. These factors don't really become a yardstick but are certainly the factors that satiate customers with growing expectations. No matter how incredible the food you offer tastes, for your app to become a favorite, planning with a lot of precision is a must.
How a restaurant app is helpful to increase your revenue?
A restaurant app can improve the customer's dining experience as well as leave its mark in their minds, only to force them to click on your mobile food ordering app every time the food bug bites. It's also interesting to find that eateries that do not provide incredible taste have also managed to carve their niche with an amazing app experience that forces their customers to return for a lot more of such a unique dining experience. Creating is crucial but planning with the utmost care is the recipe for building your own restaurant app.
We, at RestroApp, have charted a step by step guidelines to make your app an unforgettable digital experience for your customers.
A well-researched plan that will serve as the foundation to build your restaurant app!
1. The Point of Introduction:
App users judge mobile apps on their looks. Let's face the fact, we have all done that. Your restaurant app has to be visually appealing, an app that portrays your business ideology without compromising on its penultimate task of forcing a potential user to install the app. It starts with the logo and doesn't really come to an end.
Your restaurant app has to keep improving itself to rough through the tide. A logo may be an image, a design or even a letter that should identify itself as your brand logo. Every time a customer looks at the app, your logo must serve as your business identity. This further leads you to the theme of the app.
Make sure that the theme and color scheme of your restaurant app matches the brand image as a whole. The images, the style, the font; every single element must be in sync with the brand image of your restaurant business.
2. Speak the Information:
Minute details within a few taps, that's the world we live in. When your customer searches for dining places on Google, it gets every possible information within the palm space. From the address, cuisine served, directions, the open or closed status or even outlets in case you are a chain of restaurants and the customers on the go.
Apart from this, there is a lot more than a customer would like to know about a potential dining space. Make sure that you include a bit about your restaurant, what is it that makes you special and also make sure that you mention your specialties. This may range from a special dish, a food fest or even a chef who may have laurels to his name!
Speak about yourself via your restaurant app to make your app feel a bit more personal and not restricted to the 'google' information.
3. A Digital Menu App:
Your menu speaks volumes about your restaurant. Yes, that's true! Imagine clicking on the 'menu' option on an app, only to see an uninteresting list of dishes.
Sounds weird, right?
Make sure that your digital restaurant menu app has an incredible menu to its credit. With some amazing colors that have the power to entice with names written in style and pictures of delicacies that can force anybody to click on the 'order now' button, your menu must be a compelling one. It must include a list of specialties and a little detail on the ingredients that are included in there.
In short, your digital food menu app must become a visually appealing food encyclopedia.
4. Mobile Food Ordering:
Apart from the quintessential details, digital menu, it is necessary to enable an online food ordering functionality in the app. Your restaurant must also focus on serving customers who may not be able to physically experience your hospitality but would also love to experience premium food ordering services via your mobile app.
From providing the details on availability and ability to deliver food at the location specified to enabling live delivery tracking, there's a whole lot that you can do to serve your customers within the digital precincts.
5. Loyalty programs, discounts, and coupons:
Now that old customers have decided to stay and new customers have entered the restaurant app gate, isn't it time to devise a way to maintain loyal customers while luring potential targets? With a restaurant app in hand and a bit of creativity, you can find success in doing so!
You can create a Plan for a customer reward program for your regular customers or even better offer a customized deal for them. Also, discounts and promo codes can surely double up as enhancers in here. Apart from that, a referral program is something that you must definitely add to your plan of action. This will help you connect and analyze your customers, their preferences, and their business potential. This marks the beginning of customer relationship management techniques.
Bringing them all together, that's the foundation of the plan. When discussing the potential of a mobile app ordering system, the fact is that competition is tough and with the hotel industry booming, one cannot rule out the possibility of a thumping perfect competition in the industry.
It's time to break out of the monotony and create something extraordinarily creative and amazing for food lovers across the country to connect with your business and your restaurant app is your digital ticket to an interaction that can create a breakthrough in the industry.
A restaurateur with an incredible idea? Meet an amazing team of experts who can provide the best restaurant mobile app.
At RestroApp, every app development is a story, perfected to succeed. Drop us a line at info@restroapp.com or click here & our team will help you begin your very own mobile app ordering system story!