Creating a multi-restaurant online ordering system may seem like a daunting task. But it is certainly worth it. Having an online food delivery for your restaurant chain is a trending business model & has a lot of potential in the coming years.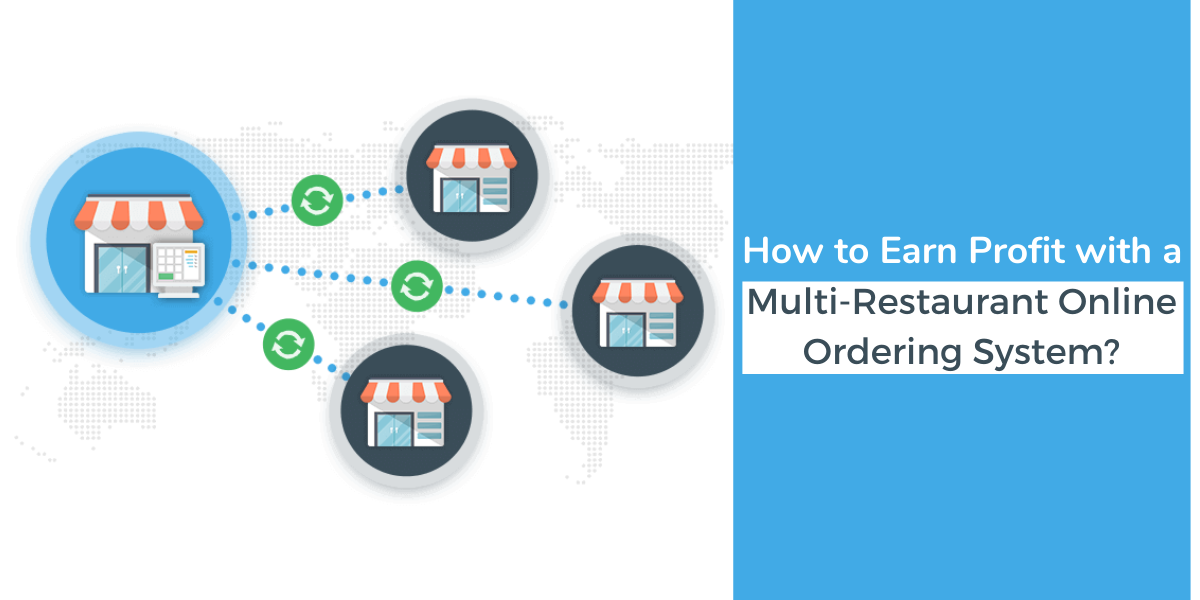 Are you planning to set up or manage your food chains with an app like Dominos or Dunkin Donuts? This post is for you!!
Why Use a Multi-Restaurant Online Ordering System?
By choosing a multi-restaurant online food ordering system, you are making it easy for customers to order food from your restaurant. Depending upon the location, a user can place the order from your nearest restaurant branch. So, with this approach, you can drive in more sales for your restaurant.
Do you want to get clarity? Here, we go!
1. No More Commissions:
Do you know how GrubHub, Zomato, Swiggy, UberEats, etc, work and generate revenue? They charge 20 – 30% on every order placed via their platform. By creating a multi-restaurant online ordering system, you can avoid losing out this money.
2. Manage Everything via the Touch of Technology:
When you create a multi-restaurant online ordering system, you don't have to worry about managing the inventories, stock, orders, and bills like the old days. The admin panel of the software will let you manage everything flawlessly.
Where You Can Utilize the Multi-Restaurant Online Ordering System? 
The multi-restaurant online ordering system can be used for any business-related to the food items. It may include perishable products like frozen yogurt, or on-demand food items like pizza, donuts, etc.
If you are planning to create an online ordering system for your restaurant, here's the; 
Rather than making it from scratch, you can opt for an online food ordering app. It will spare you a great deal of time and even money. Such systems are easy to integrate and don't demand much attention. All you have to do is pay a monthly or annual fee in return for using the software.
Offers and Coupons for Customers to Avail:
The multi-restaurant online food delivery system comes equipped with features like deals and coupons. Therefore, by offering deals and coupons to your new or regular customers, you can promote your restaurant chain and boost online sales.
You can also use coupons to invite new customers via social media channels.
Related Post – Best Restaurant Social Media Marketing Campaigns
Using the database, you can get in touch with your customers via push notifications and send them updates for a new cuisine or deal. On the other hand, you can start an email marketing campaign by accessing any tool available in the market to accelerate your restaurant sales. 
This will boost the digital presence of your restaurant and produce greater profits.
To manage the online food delivery system at a restaurant, it is imperative to manage the orders carefully. Especially, when the orders are too many. So, with the help of a multi-restaurant online ordering system, you can easily handle a long list of orders coming in from all your restaurant chains.
Highlighting Features of a Multi-Restaurant Online Ordering System:
Address Detection via GPS 

Sales Analytics and Reports

Normal Order Subtleties (every day/week/month) 

Client request/subtleties the board 

Deals & Coupons

Loyalty Programs
Push Notifications
A multi restaurant online ordering system must come equipped with an admin panel, a website for the restaurant, and as well as iOS and Android apps for the users. Also, the apps must be easily accessible and allow login via email & social media accounts. 
How Does Multi-Restaurant Online Ordering System Works?
It works similar to a food ordering app like Uber Eats or Zomato, however, in this case, all the restaurants listed are basically your own branches.

Rather than visiting your restaurant, customers can simply open up your restaurant's app, choose their favorite cuisine and place the order.

As soon as the order is placed, the admin will be notified and can start preparing the order. Once the order is ready, the delivery boy will pick up the same & deliver it to the user.
Advantages of a Multi-Restaurant Online Ordering System:
1. Improve Staff Efficiency
As soon as you create a food ordering app for your restaurant chain, you automatically get one step ahead of your competitors. With an online food ordering system, you can automate most of the tasks.
In fact, it enables your restaurant chain to efficiently manage inventory, menu, staff & incoming orders. In short, with a streamlined administration process, an online food ordering system makes it simple to deal with day to day activities.
2. Save Time
Nowadays, everyone is busy doing their routine work. Therefore, most of the customers prefer to order food online. It helps them to save their traveling & waiting time as well as fuel.
3. Loyalty Program 
A loyalty program is probably the best strategy to improve your sales number. Not just online, you can run a loyalty program in your restaurant chains to get more customers online. 
45% of clients state a loyalty program would urge them to use an online food ordering app.
Using an online ordering system, you can empower your restaurant chains to run loyalty programs in two different ways. Either you can offer loyalty points to order from a specific food category or each order.
Conclusion:
The 21st century is the technological era. Therefore, if you're not allowing the users to find your restaurant chains online, you are loosing from your competitors. Creating a multi-restaurant food ordering system is the solution as it will give you an opportunity to reach your target audience via desktops as well as mobile apps!
Are you ready to boost your restaurant sales? Get in touch with us and we will help you transform your restaurant chains digitally!!