Technology is being excessively used in the food delivery industry. And these trends are also modernizing a lot of things like restaurant operations, delivery process, the customer data, etc. These digital technologies are set to develop further in 2020.
The National Restaurant Association predicts they could boom even further in 2030. Most of the industry move is driven by quick eateries. Which only delivers food and does not have a dining system. Over 60% of the restaurant's market's traffic is driven by conveyance, human resources, and vehicles, which will grow in the coming decade.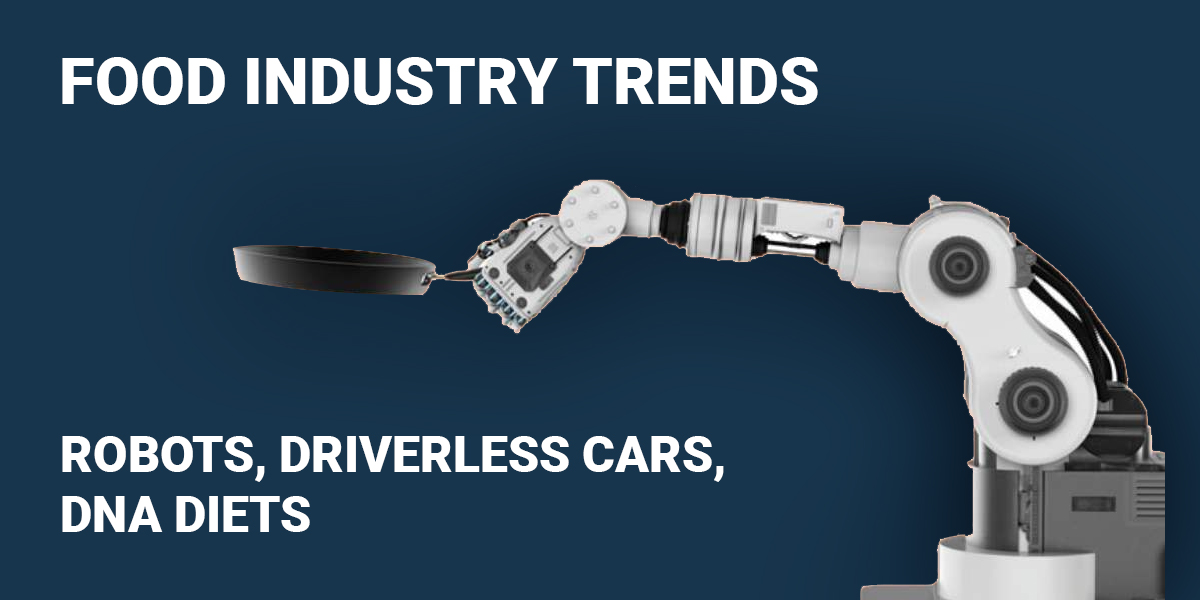 In the NRA's Restaurant Industry 2030 report, a group of researchers from Foresight Alliance built up some points that could change the restaurant space in the following decade. Seven of the ten focused areas are established in digital and operational innovation — "potential prospects, for example, statistic patterns and artificial intelligence," per the report. However, these food industry trends could bring revolutionary changes to the restaurant business. 
Food industry trends are all set to transform the foodservice world:
It will Decrease the Dependence on Labor
The report guarantees that using cellphones with AI assistants like Apple's Siri and Amazon's Alexa will drive restaurants to increase their operations in information technology to meet the demand for dynamic, responsive data. Thus there is a continuous need to supply and meet the requirements. It will be significant for restaurants to hold onto Artificial intelligence as both a connective advertising device and a functional building block.
AI will soon serve as a personal assistant and gatekeeper between brand and consumer. 
Restaurants can embed themselves into this relationship by including objects embedded with software that can receive and share data, such as Chick-fil-A's tableside ordering sensors. Voice search is additionally anticipated to be a vital segment. And, the report sets that more brands will promote themselves on digital platforms.
By 2030, NRA likewise predicts that AI could be customized with information on cooking strategies, food science and plans to make new food.
Automation will likewise change back-of-house apply autonomy, which Foresight's researchers accept will be more modern and reprogrammable than what's accessible in the present market. This could incorporate activities as re-making the particular specific movements of chefs in the kitchen with machinery through motion capture, and this kitchen technology could relieve human labor from repetitive food preparation tasks. 
Implementing Robotics: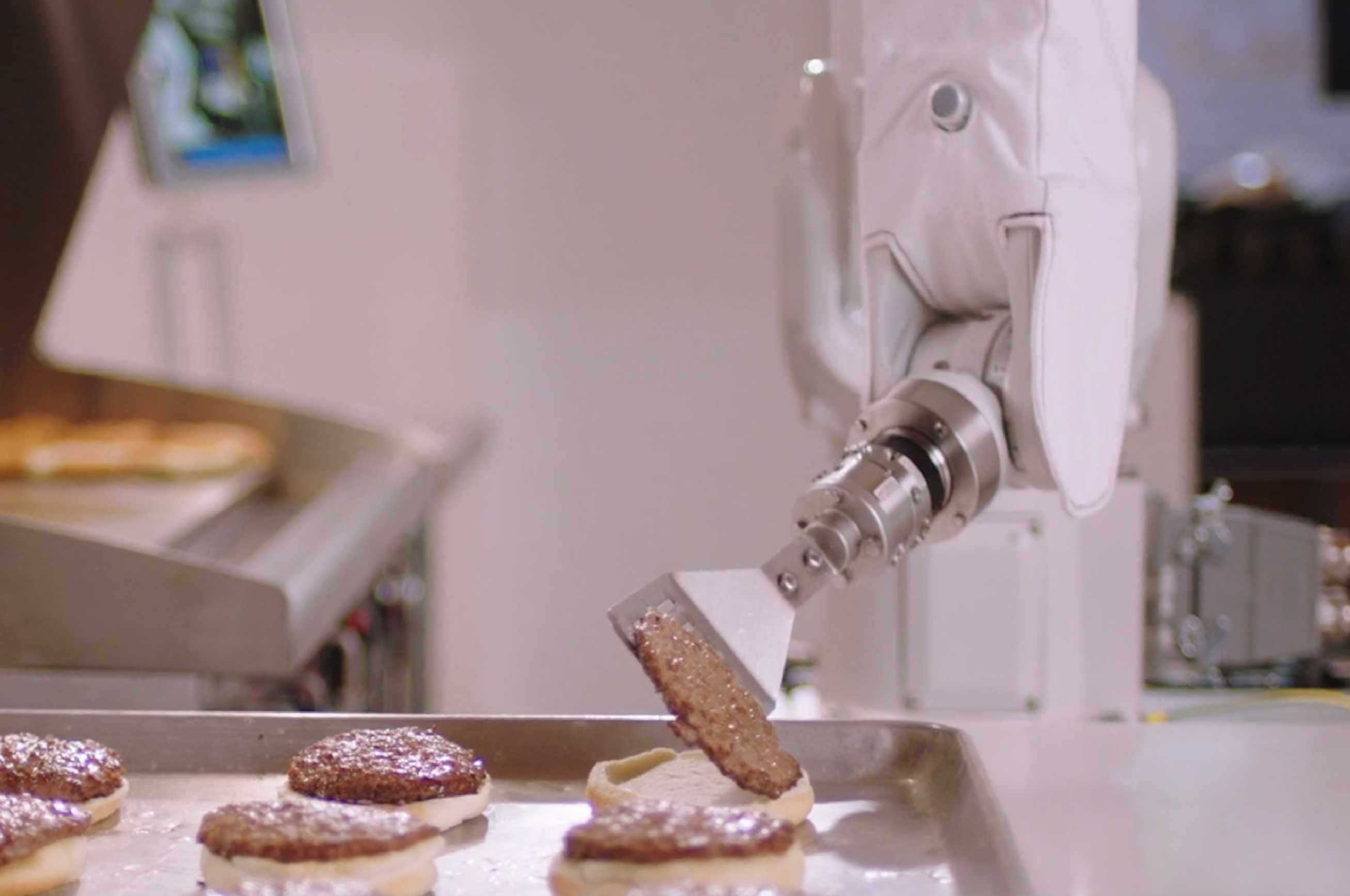 There are a lot of use-cases for robotics in the food industry. And, how robots could be used to keep output levels inconsistency. At the point when a restaurant gets occupied, or the kitchen is short-staffed, those components could make quality levels drop. Brands may utilize robots to prepare food and beverages for usage.
In a Tokyo bistro, a robot expects the job of a barista and starts making espresso. The code mentions to the robot the drink that was ordered by a certain individual. Other than blending dark espresso, the robot can utilize a different machine that makes a few different beverages, including hot cocoa and green tea lattes.
Likewise, a San Francisco burger restaurant called Creator where a robot especially makes burgers. Individuals can browse 15 sauces and twelve seasonings to alter their requests. 
Robotics for Staffing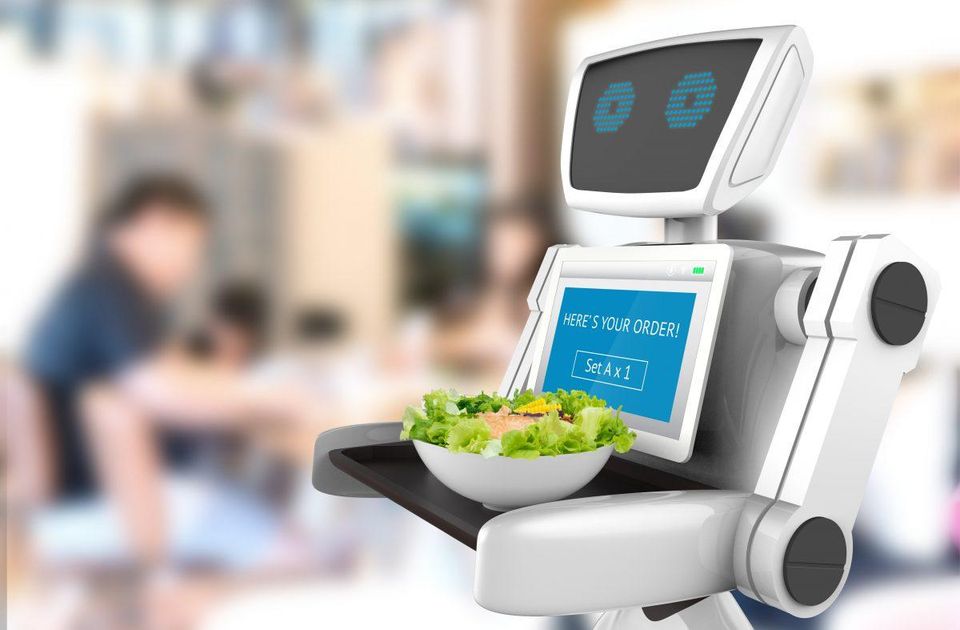 Filling in as a server in the food business can be exhausting, including long hours strolling and attempting to adjust heavy trays of food and drinks while winding through crowded areas of a bustling restaurant.
A presently shut restaurant in California called the Kang Nam Tofu House attempted to make things simpler for its waiters by presenting a robot that served food and bills to clients. The human representatives split their time by either getting ready side dishes and stacking food onto the robot or connecting with customers and taking care of the sales register. 
This arrangement allegedly required an acknowledgment from the servers since it made them feel their profitability had dropped after the robots began bringing food. In any case, they, in the long run, understood this better approach for working. 
Different endeavors to carry robots into the food services workforce do remove human laborers. At a Chinese cafe chain called Robot, the robots move up to tables to circulate food conveyed in secured compartments. They even advise clients to make the most of their dinners. 
Artificial Intelligence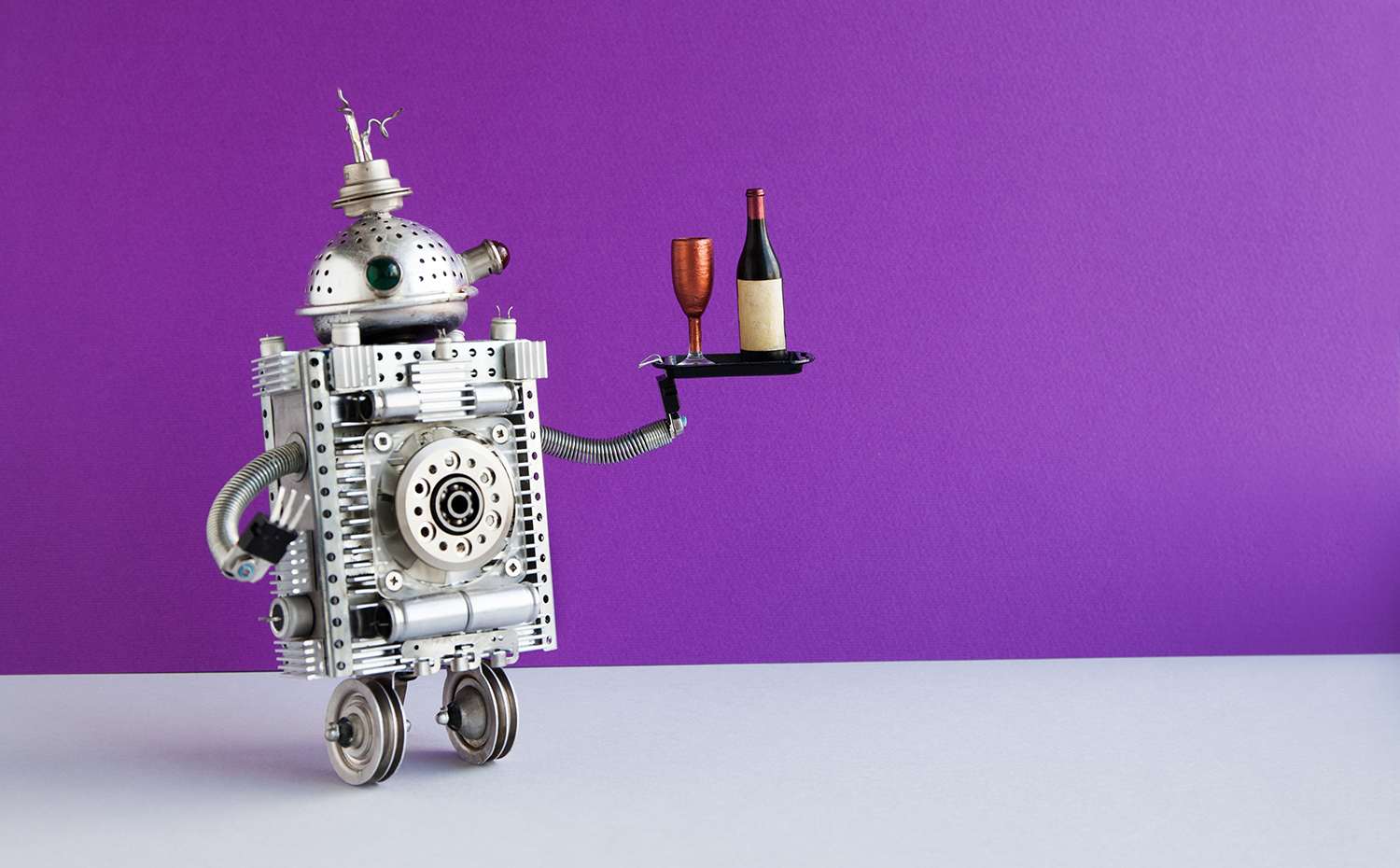 Tastes can change quickly in food administration. Brands think of this as a tried-and-true standby. Many of them know it's essential to change what they offer to keep people interested and intrigued, too. Some food scientists depend on AI to bring changes to the existing technology.
IBM Research and McCormick and Company tried the value of an AI-based framework to think of new flavors and fixing mixes.
For instance, the calculations can propose substitutes to utilize when a particular flavor isn't accessible. It can likewise foresee how people will react to the flavors or advise a client how novel something tastes dependent on the fact that it is so like its closest flavor "family members." 
In view of its fulfillment with the early consequences of the innovation, McCormick and Company intend to reveal the AI instrument in excess of 20 labs in 14 nations. It says the change helped it concoct new flavors it didn't know about previously. That favorable position could help intensity. 
Zume Pizza in San Francisco uses robotics and AI to craft its pizzas, from pressing the dough and then spreading the sauce to keeping pizzas in the oven. In Pasadena, CaliBurger tested AI-powered facial recognition software that allowed customers to pay for with a glance into the camera.
DNA Diets Revolution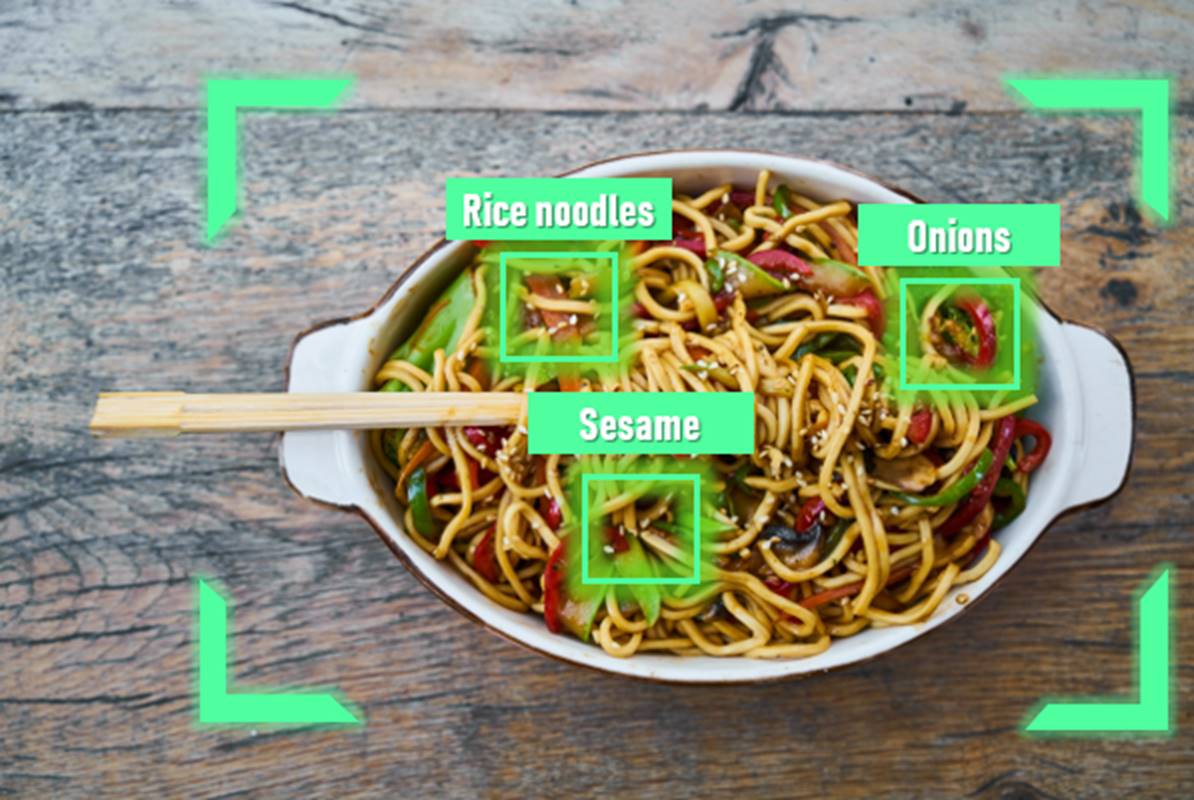 People nowadays want to have explicit food prescriptions suggested according to their DNA. DNA testing kits are trending. Every industry from health care to food delivery is finding new ways to use science. Can DNA- personalized diets be far behind? Our genetic makeup has a unique way of processing foods; some of us process certain ingredients better or worse than others.
Introducing Ghost kitchen
Restaurants and some third-party delivery platforms are already trying ghost kitchens. The demand for delivery is too much, and it will allow restaurants to deliver quickly, and it would also reduce the crowd. The business currently has more than 1 million restaurants. On a net premise, that increases by about 1.5% every year. So in a year, around 60,000 new restaurants open.
Restaurants should grow progressively vigorous social media strategies and online branding to stand apart among an increasingly jam-packed market.
This movement will likewise compel brands to characterize being a restaurant when a brick-and-mortar space doesn't secure an idea or when there is an interaction between store staff and consumers. 
These additional assets could likewise give restaurants the budgetary adaptability to come up in various markets. Setting up a stable brand personality for a virtual restaurant won't merely be difficult in 2030.  In any case, this scene may offer independent restaurants an advantage by bypassing costly startup costs and getting before the digital marketplace. Restaurants will also need to fine-tune their restaurant ordering menu to cater to market demands and current trends. This is majorly needed for standing apart.
Self-governing vehicles will change the drive-through
Significant restaurant networks are now redesigning their drive-through systems to suit future coffee shop patterns.
McDonald's and Sonic furnishing their computerized menu sheets with AI to offer prescient, customized contributions for clients, and Chipotle turning out "Chipotlane" pickup paths only for online orders.
These speculations could start an ocean change in off-premise venture one year from now.  However, in 2030, the drive-through should adjust to the ascent of efficient vehicles too. 
For instance, the NRA 2030 report predicts that AI-upheld voice aides will interface with brilliant vehicles. Along these lines, it will be significant for the restaurant to robust marketing that includes campaigns featured on screens in autonomous vehicles. 
Utilizing AI to Spot Sanitation Issues 
Issues like food contamination and reviews can be critical in the food administration industry. Mainly, if a brand works in various states or nations. Other than evading those issues out and out, the objective of most food services is to limit the harm. AI intelligence can help with that point. 
A device called safefood.ai accumulates information from numerous sources to manage sanitation issues. It furnishes an altered news source related to the brands of foods. The stage additionally has AI-controlled identification that could assist restaurants with assisting before any mishap occurs. 
Chick-fil-A is accomplishing something comparable with an in-house tool worked for social media mentions that could indicate if any mishap occurs if people fall sick after eating at any of their restaurants. It screens data from the restaurant every 10 minutes, and it also looks for a lot of relevant keywords. The data at that point goes through a characteristic language processor that checks the remarks for authenticity. This methodology has a 78% precision rate. 
So to what extent will it be until you start experiencing AI force and apply autonomy in your average restaurant's experience? It's difficult to state this. Undoubtedly, technology is going to keep on evolving anyhow in the coming years.
Conclusion
Change is the rule of life, and AI is anyway ruling it. Hopefully, Mechanical Automation, robotics, and Automation bring a wave of useful innovations in the restaurant industry.
New edge restaurants are wanting to change pretty much. Cafés are actively evaluating how the utilization of AI and mechanical technology in food services may pay off in this requesting and quick evolving part. Individuals ordinarily need eateries to meet or surpass their desires. Bringing technology to it is the best we can do. There is so much to seize out of technology. AI is an infinite and unconventional model that we have. Ideally, all these driving changes are only going to modernize the industry.
The innovations examined here won't give the appropriate responses in all cases, yet could bring positive changes. Many groundbreaking brands are exploring different avenues regarding AI or mechanical autonomy (or both) to address their issues. Everything has cons, but to see the positive aspect of it, embracing new technology is always right. 
For any further queries about the technology trends, restaurant industry trends, mobile app technology, integration, custom on-demand app solutions or anything else, just drop us a line at info@restroapp.com or visit RestroApp, we'd be happy to help!