People see good potential in the restaurant industry and interested to check new restaurant business ideas; that's why many entrepreneurs are entering the restaurant industry. This trend has led to fierce competition, so you will have to strive to be the best.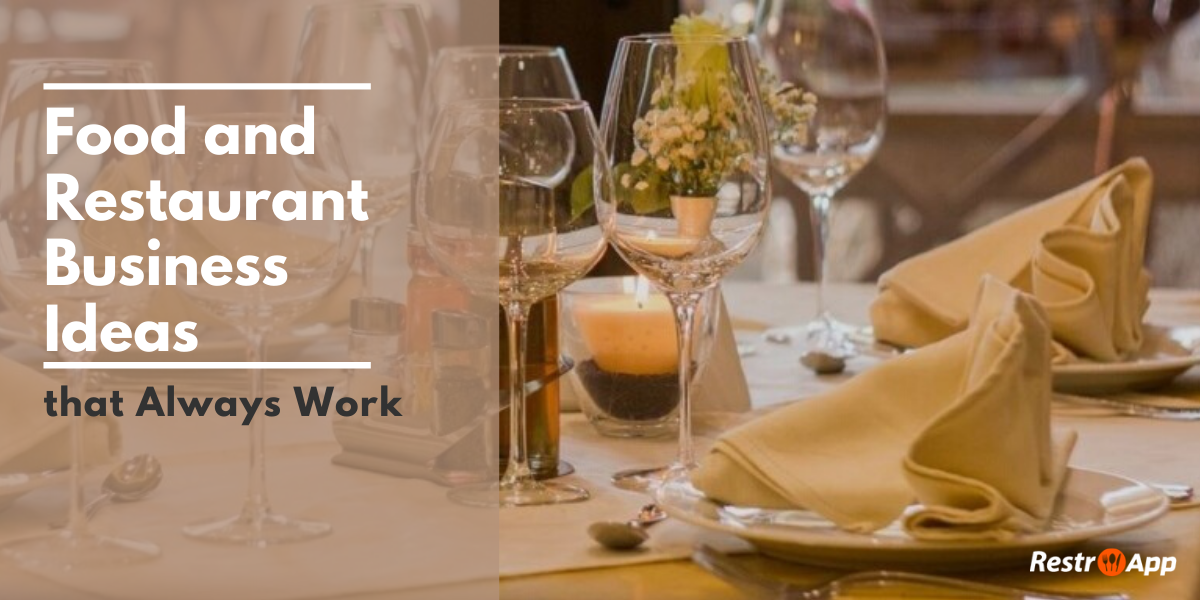 Many startups businesses fail in their first year due to negligence and not making the right decision on time. The food market is crowded, and you need to pave your way.
It is not easy to jump into the restaurant business, there are so many things you need to consider before start. Don't worry, we can help you with that!
Let's start with some important points that you need to consider:
How do you choose a restaurant concept?
A restaurant concept is a theme that defines the restaurant. Well, choosing the restaurant concept is completely up to you. The concept depends on your budget. Furthermore, the concept includes your restaurant's menu design, service style, dining room, the style of food, decor, and interior.
Here in this blog, we have highlighted 17 restaurant business ideas that can help you to establish your restaurant business. These business ventures require less investment, minimum risk, and grantees high profits.
Conventional Food and Restaurant business ideas that work for start-ups:
1. Quick Service Restaurant
You can initially start with Fast food restaurants. QSR's are known for their fast deliveries. Here food is semi-prepared beforehand or prepared in a short amount of time. Food is collected by the customer as Quick service restaurants are self-service restaurants.
They provide services like eating at the outlet or take-home. For opening a QSR, you require a minimum investment, which includes a place for rent, kitchen equipment, and less staff. You also require three licenses, shop establishment license, police eating out license and municipal authority permission to operate your business. 
Location plays a major role in QSR. You must set your QSR business in any densely populated area such as near hospitals, big office complexes, airports or university areas. Also, set aside some budget for promotion.
If you want to make your restaurant business a brand, then QSR is the right business for you. You will usually require a minimum of 2 years to build your brand.  There are many successful QSR chains like McDonald's, KFC, Subway, Dominos and more.
2. Ghost Kitchen
Ghost kitchens are the restaurants that operate on delivery alone. They don't provide any dining space. The food is prepared in the kitchen and then delivered to the customer's address. This venture requires less investment and is good for targeting more customers. 
If you are new in the restaurant industry and want to try this restaurant business idea, then investing in the Ghost kitchen can be the high-profit food business for you. The initial investment is almost negligible as you can use your home kitchen to prepare the food. This will let you save on monthly rentals. All you need to pace up your online as well as offline marketing game, and soon you will see the influx of orders.
3. Casual Dining Restaurant
It is one of the high-profit food business ideas in the restaurant industry. The investments are not much, instead, they have good potential to reach high revenue within 18 months. The Profit Margin of casual dining restaurants is around 20-25%.
You don't require a posh area to start your casual dining restaurant, instead, you can start with malls, shopping streets. The areas should be not less than 2000 sq ft and make sure that there is a parking space.
You require licenses like Fire Safety Certificate, Shop Establishment, Police Eating House, Local Municipal authority permission with seating capacity, FSSAI Licenses, Liquor license, and GST Registration. Also, you require at least 15 employees. A casual dining restaurant provides a casual environment along with the popular menu and bar menu.
4. Fine Dining Restaurant
If you want to target a very selective audience, then fine dining will be the best option for you. You need to have an impeccable setup, great ambiance, best seating, and table service. Also, you need to provide a top-notch experience to your customers. To make your restaurant's fine dining successful, you need to serve your elite guests with great food, service and implement a good marketing strategy.
5. Cafes
These days cafes are quite popular with people. A cafe is a perfect place for having a cup of coffee or beverages. With cafes, you can cater to corporates, college-goers, and locals. All you need is a nice place, basic kitchen equipment, good decor, and quality staff. Moreover, you can explore different cafes options like rooftop cafes and outdoor seating.
6. Food trucks
All you need to run this low investment food business is a truck. You can buy a second-hand truck and easily convert it into a Food Truck. Apart from this, you will require 3-4 employees and some licenses like Fire Safety Certificate, Shop Establishment License, NOC from RTO, NOC from Municipal Corporation, FSSAI Mobile Vendor's License and Kitchen Insurance. This food business can fetch your high-profit margins.
With this food business, you will be able to target different types of people, plus you will have the liberty to change your location. These days people lookout for quick food that they can relish. You might have seen a long queue in front of food trucks. The estimated profit margin for a food truck is around 50%. However, the profit margins as per the food you serve, season to season and location.
To read about food truck marketing about ideas, visit here!
7. Pop-up Restaurants
Pop -up restaurant is the budding concept and does great during festivals. You can operate this from your homes, vehicles, or any open space. You can take advantage of high demand during special occasions, and earn a good profit.
8. Juice Bars
If you don't want to get involved in the high-end restaurant business, then you can simply set up a juice bar and include fresh juices, and shakes too. This requires limited investment and space. You can easily place your juice bar near colleges, gymnasiums or busy market places, where people can notice you easily.
9. Breweries and Beer- Houses
You can serve beer and other alcohol in your brewery. The overall investment depends on the location, but due to high demand, you can earn much.
10. Bars & Pubs
In bars and pubs, you can serve a whole range of drinks -alcoholic as well as non-alcoholic, along with quick snacks. People tend to have their drinks with their friends, so the order size increases and hence the cost. The profit margins are pretty high in this business.
If you don't want to be willing to take risks in the restaurant business, we have other food business options for you.
11. Baking from Home
If you have baking skills and fond of baking cookies, cakes, then you can consider this option. Many entrepreneurs have made a good name as bakers. You can also get connected to the nearby shops and let them put your items on the shelf. Furthermore, you can try selling them online on your platform or tie with the already existing online bakeries.
12. Catering
Catering is the best way to start a small food business. All you need to develop a food niche and build a few contacts and provide your services during special events and functions. Also, you need to register your business and have an FSSAI license.
13. Local Delivery Network
If you want to refrain from the cooking process, you can easily get into delivery networks.
You need to connect the restaurants/cooks to the people who are looking for tiffin and catering services. To make this venture successful you need to have a good network base so, consider tying up with PG managers, grocery shop personnel. Market your business in the right way over social media and post your ads to target a large audience.
14. Tiffin Services
People who live away from their hometowns are often in search of home food. They love opting for tiffin services that deliver them freshly cooked home food. You can serve corporates, students your food, and charge them monthly for delivering the food. This will regularise the payment stream of your food business.
15. Dinner or Supper Club
In this, customers submit their interest to dine at a premise. You were running a supper club that evaluates all applicants and assigns a particular time slot to them. This venture will make you stand out from the rest of the food businesses.
Online or unconventional food and restaurant business ideas that work:
16. Cooking Classes
You can even start your cooking classes both online or offline. If you have good cooking skills, then you can target beginners as well as experienced. The key is to promote your business so that it can reach the right people. 
It's time to get online especially Youtube. You could upload your cooking videos on YouTube. Ask people for feedback and start building your social media presence. Later on, as you progress, you can build your website to extend your food business further.
17. Food Blogs
If you are a foodie, then you would have thought about starting a blog. Well, now is the time to get online to start your food blog. Post quality pictures of dishes you cook on your blog and drive a good amount of traffic to your page. Later on, as you start getting enough traffic, you can monetize your blog and earn good money. You can also use Pinterest, Facebook, Snapchat to promote your website and become an influencer or affiliate and charge for pay per click.
We hope you will try one of these restaurant business ideas and food ventures to enter the big food industry. All the above business ventures can give you good returns if you maintain your food quality and services. 
Moreover, the mantra to succeed in today's world is a good promotion. And, in this digital world and fast-paced life, word of mouth is not enough to advertise your business. You need to adopt various social media strategies to reach a good amount of people. Invest your time in creating some innovative ideas to market your business.
These restaurant business ideas and strategies will help you become one of the big guns of the restaurant industry. If you are looking for effective ways to market your restaurant business, then get in contact with Restroapp.