Keeping up with the advancement in the retail business, home delivery, and takeaway is also experiencing rapid growth. The entire process of setting up the staff for it, taking the receipt, deliver the order in a given time is important.
An ongoing report on the internet stated that 51% of Americans use home delivery for their dinners, and 26% order at least once every week. 

The National Restaurant Association research shows that almost 33% of people of all ages and 41% of individuals aged 18 to 34 orders their food online or get takeaways.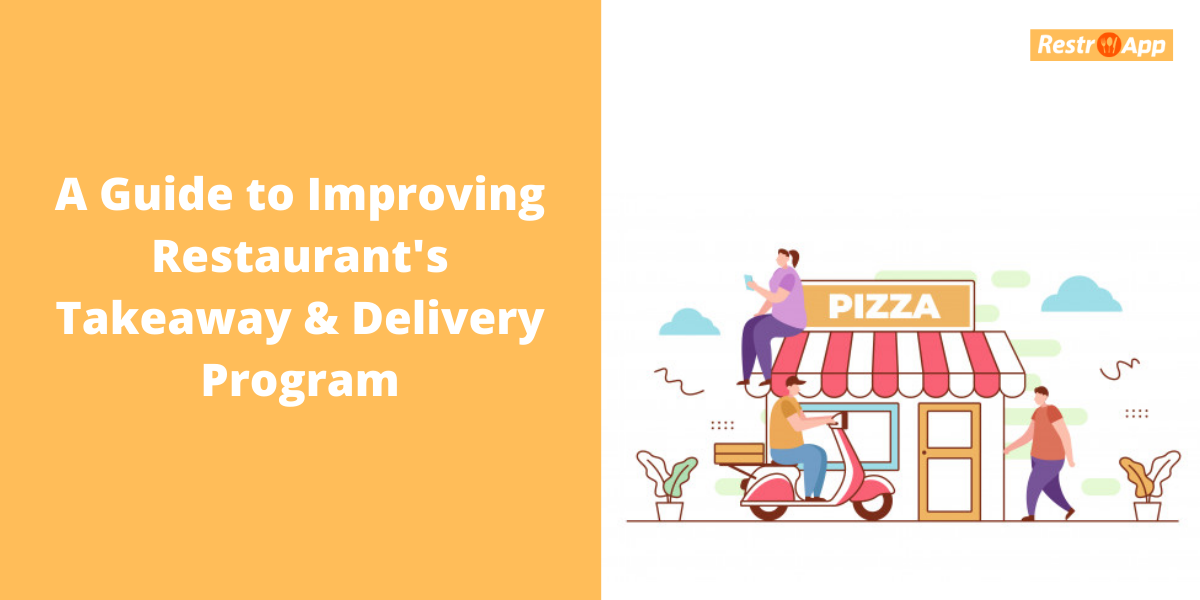 The online delivery business was worth $5 billion for the initial two fourth of 2018 alone, a 55% increase from a similar period in 2017. Customers are spending more cash on takeaway more regularly than before. With the progression of technology, online food ordering has become the most favored of all.
When everything is done automatically,  it spares the issue of manual computation. You should realize how to effectively utilize innovation and improve your service to give your customers a wonderful experience.
In addition, we have seen a pattern these days that pizza joints, for example, McDonald's, Pizza Hut, Dominos, etc have worked on the strategy like delivery guaranteed inside 30 minutes of the order or free of cost'. Do you think it would be feasible if the staff needs to do it manually?  The answer is No, but with the coming of online delivery and takeaway service, this has become possible. Here is a quick guide on how you can improve your restaurant's takeaway & delivery program.
Steps to improve a restaurant's takeaway & delivery program with a food delivery system:
1. Train your staff for the best customer service:
Excellent customer service is very important. If your restaurant doesn't provide good customer service, you might lose out on a lot of customers. It is your duty to train your staff in being efficient and serving your customers. 
Ensure that each of your staff experiences the necessary training that goes into the making. 
2. Guaranteeing effective communication between staff members 
The most significant rule of any extraordinary restaurant service is that there ought to be a predictable and viable communication between your staff. Normal workforce meetings need to happen so that everybody's work remains smooth and there are no misunderstandings.
Communication between the service staff and kitchen staff is essential for the smooth delivery of the food. If there are good communication and coordination between the staff then things run smoothly. When your staff is changing shifts, everything needs to be taken care of by the supervisor. 
3. Accurate wait timings 
One of the noteworthy mood killers that lead to poor restaurant management is delays. With the help of a restaurant management system, you can reduce order processing time. In addition to this, we can track deliveries and food orders in real-time.
Update your online menus and put the timings according to the rush hours at your restaurant. There should be a separate staff for managing the online schedules and orders.
If there's too much rush in the restaurant and you know that it may take one more hour to deliver the orders to the customers,  let them know. 
4. Making online menus
An easy to understand menu is far better than modifying it with over designing. The menu should convey all the information related to the food items. Make a stellar online menu that can be displayed on your restaurant food ordering app. 
5. Managing online customers complaints and concerns
'The Customer is in every case right' is the notable precept among restaurateurs. The issue of any client needs to be dealt with very seriously. In the digitized world, customers post their issues on social media, yelp and google my business and no matter what the concern is, your reply to them should be prompt and right away. It should come with respectfulness and civility.
Let's discuss some bonus tips about how you can handle customer reviews:
(I
) Acknowledge the Customers Complaint 
If your customers are unsatisfied with your service, permit him/her to voice their concerns uninhibitedly and give full consideration to their negative reviews. It shows that you have listened well and you are ready to help. This way, the trust will remain and they will definitely come back again to your restaurant. 
(ii)
Immediately Action 
A prompt apology to the customers helps you in building a good bond with your customers. Your primary action should be to resolve the problem so that your customers order from you again. 
(iii) Offer Freebies
Offering compensation is the best way to do it.  Indeed, even a small offering like giving a sweet can help you win back their trust. It makes them feel acknowledged and will establish a positive relationship with the restaurant. 
(iv) Ask for criticism and Learn from Them 
Always ask them to write feedback online and to rate you. By assessing carefully customers input, you can make good decisions to improve your restaurant and services.
If you are facing issues regarding customer service, you can check out this article here: Top Restaurant Service Mistakes That You Must Avoid!
6. Improving customer service
Giving great service to customers is very mandatory. It is not only important to provide good service at the restaurant but it should also reflect in your delivery service.
Here are some points to improve customer service while delivering orders:
Deliver hot and fresh food 
When your restaurant delivers hot food, customers believe that the food is freshly prepared. But when you serve food that is not hot it gives a negative impression and it can impact customer retention. This can be solved by keeping track of the delivery time and ensuring that orders reach on time.
Remember that the restaurant should partner with delivery boys with insulated food bags that keep hot items warm and cool items cool till the time you reach customers. This can have a huge impact on your restaurant's business.
Packaging food to safely deliver
Nowadays, the packaging is a major concern while delivering any item. Care should be taken that the food does not spill and get messed up in the containers because a messed up meal will eventually appear unappealing and less appetizing to the customers. It should be treated well while delivering it to the customers. You can implement a different packaging technique and use spill-free containers for orders meant to be delivered.
People are nowadays using so many eco-friendly packaging products for packaging. The idea is to deliver the food safely without any spills.
Give special attention to add-ons
Add-ons are customer's favorites. So if you forgot or gave it in a less amount it might affect the sale. It can be extremely disappointing for your customers if they order a pizza and find no oregano or chili flakes. The entire experience of customers ordering food and eating should be convenient and be fulfilling so that they will again order from your restaurant.
Hence, you must ensure that appropriate condiments, napkins, and required tableware are provided along with all your orders. 
7. Proper communication between restaurant and customers
A lot of restaurant delivery orders are got late not only because the preparation takes a long time, but also because of the prolonged delivery time. Sometimes, the customer's address is very difficult to find. This is a small hurdle that can be easily managed with proper communication with the customers.
Making a call to the customer before taking their order out for delivery to confirm the address and ask for appropriate landmarks if you think that the address seems incomplete is an ideal way to reach customers on time. Also, it helps customers making people aware that the order is on the way. 
Thus, improvisations in your food delivery system are the best way to bring about good regularization and can attract more customers. Following certain guidelines is essential when you want to bring more leads to your restaurant. The first step, to begin with, is to improve your food delivery system.
Furthermore, if you need any assistance in building your restaurant food ordering app then you can drop us a message at info@restroapp.com we will create an app for food ordering in the best way possible. Also, if you need restaurant promotion ideas, we are here to help you.
Hope this guide helps you and your restaurant get more sales in the coming year!