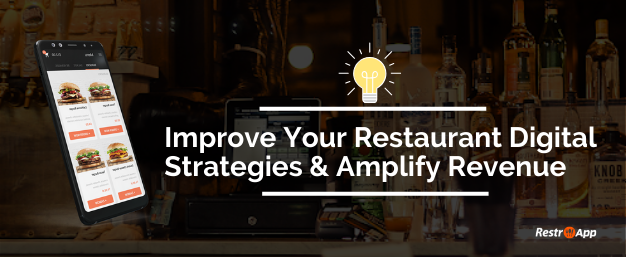 The Internet has become a sensation, and today over 3.6 billion people use the internet. Internet usage is not limited to browsing. Instead these days it's used for searching restaurants too. We all love food and often look for the right places to order food from. People look up the menu, compare prices, and go through the online reviews before dining or ordering food from a restaurant.
As per the 2016 Adweek survey, 25% of people have at least one restaurant app on their phone. Another study says that 85% of those who look up for food online end up completing a purchase.
The above stats show how online presence is critical for the restaurant. The conventional ways of marketing have changed, and new modern-technologies have taken over. 
How to improve restaurant digital strategies and amplify revenue?
It is easy to get lost in the crowd, but if you adopt effective digital strategies, you can make a mark in the restaurant industry. 
With the help of below restaurant digital strategies, you can amplify your revenue:
1. Restaurant Brand Visibility on Social Media Platforms
Let's start with the restaurant's social media visibility and customer engagement rates. Significant social media presence is a significant phase of a restaurant business and brand. It is a place where everyone resides these days. 
You must create various social media pages for your restaurant. Update your page regularly and post pictures, information about upcoming events, and a lot more. In addition to this, you can use this to notify your customers regarding menu changes or timings or making special announcements.
If you want to improve your social media, here is all you need to know!
Manage your restaurant social media content properly
Tech and social media savvy people click pictures of the food and share their experience on social media. They also post online reviews about restaurants and their services. Most marketers think that social media is just an interacting platform.
Through engaging content, you can drive the right amount of revenue from social media. You need to post restaurant pics, food pics, showcase ambiance, and services you offer.
Social media, when used in the right way, can do wonders for your restaurant business. So, ask yourself, are you using the right social media platform for your restaurant.
Use social media content as Digital signage
Digital signage captures more views than static signs.  It is seen that consumers trust content created by their peers rather than the brand itself.
By implementing digital screens in your restaurant bearing social media shares, real-time reviews, and user-generated images, you can increase ROI. Social media shares can increase conversions by 7%.
Add social media content to the restaurant website
Your website plays a crucial part in your business. This is a place where people get to know about your services, and this helps them to make a buying decision. People these days rely on their peers for making a purchase. They love hearing real stories from real people. 
Research has shown that 71% of consumers are likely to purchase on social media referrals. So, you should add a social media wall on your website and share existing customers' experiences to get new customers and amplifying revenue. You can get creative and add user-generated content next to your food services instead of professional shots.
Use Social Media Content for Paid Ads
Nowadays, paid ads marketing is not doing justice to marketers as they cost more and reaching fewer people. But, you can take advantage of the social media content created by your previous customers and use them as paid social media promotions. There are chances that they will perform well with your audience. This is because consumers can relate more to real-life images than a polished professional picture.
Employ social media expert for effective marketing
Social media has become one of the most effective ways to market any business. It is a great way to reach your potential audience. You cannot take it for granted. Instead, you need to use it wisely. To get the best out of social media, you must employ social media experts. They will take your business to great heights and introduce you to new business opportunities.
There is no point in creating and sharing HD food pics if it gets unseen. You need to analyze your traffic and position as per their schedule to gain maximum visibility. If creating fresh content daily is hard for you, then you can post the same content multiple times.
You can engage people by asking a question and interacting with them. This could include liking, replying, sharing their images, and more.
Choose the right social media channel
There are a plethora of social media channels to choose from. But, you should opt for the one that suits your target audience. Therefore, first, you need to figure out your target audience and the platforms they frequently use. Research their online behavior and also keep an eye on who your competitors are targeting. This will help you to utilize your resources in a better way.
2. Use user-generated content for your brand
It has been seen that the majority of people create and share photos and videos online. You can search for the user-generated content and user data including, pictures, reviews, specially designed by Millenials for advertising your brand. 
You can generate a library of assets from UGC. It will not fetch you direct revenue but will help you cut the cost of hiring designers and freelancers for creating a fantastic post.
How can you build a UGC library for your brand?
Create a hashtag for customers that they can use for your brand. It makes it easy to collect content in one place.

Publish the hashtag across all your social media platforms.

Keep track of new images and the content about your hashtag.

Ask permission from the creators to reuse their content.
3. Advertisements through videos
These days videos get more attention than pictures. Social media platforms play a significant role in targeting patrons. Start sharing videos of your signature dishes online and gain recognition. Creative videos engage the crowd and hence increases ROI.
You can ask your customers to share videos of your restaurant and then share it on your social media channels. User-generated content will enhance your brand's image.
Make YouTube part of your social media marketing and often go live. With this, you can not only reach a broad audience but can also create your expertise. All you need to share amazing recipes on your youtube channel, which will tickle your future customers' taste buds.
4. Keep restaurant details updated online 
Nowadays, customers look for restaurants online. Therefore, it becomes necessary to update your restaurant's online information continuously. Update your address, phone number, current menu, etc. Your online information is the first thing that a customer comes across, so it should be accurate and visible.  
5. Maintain your restaurant's online reputation
Online reputation can do wonders for your restaurant. People will visit or order food from your restaurant if they hear good things about you in the form of good reviews. Therefore, provide the best service to your customers so that they keep boasting about you, and also respond to any positive or negative review promptly to gain their trust. 
6. Maintain Google My Business Page + Run Google Ads 
Google is a popular search engine which people use to search for nearby restaurants. Therefore, it becomes vital to list your business on Google. Include all the necessary information on Google My Business page. It is a great way to attract your target audience.
7. Collaborate with local food bloggers & influencers
It is one of the compelling marketing ways to reach a broad audience. Collaborate with local bloggers who can be the voice of your business. These people act as influencers and have a significant influence on people. Encourage them to share your content across their social media. In return, you can provide them freebies or discounted food or drinks.
8. Create your own Food Ordering App
Lately, food apps like Swiggy, Zomato, Food panda, GrubHub, and more have become popular. Usually, people have at least one food app on their mobile and love to order with a click of a button. You should take advantage of this opportunity and partner with food apps. 
People love having their food in the comfort of their homes, rather than dining out. If you haven't yet taken a plunge into the domain of online ordering, you will be losing out on many customers. This will help you to increase your sales.
On the other hand, you can create a food ordering app for your restaurant business and take control of your hands. Creating an app for your restaurant can benefit your business in many ways. You can increase your restaurant's revenue by 30% with the help of online food ordering apps. And, plus this will give your brand excellent visibility in the market. 
Furthermore, online ordering is a lucrative mode of ordering food, which can take your sales higher.
Hire skilled professionals to create an app for you. RestroApp can help you in creating the same. Our team has all the expertise that takes to deliver an amazing app. These apps can help you in reaching more potential customers.
9. Hospitality on special days via email
You should keep track of consumers' birthdays, anniversaries. Human is a social being that loves getting attention. So, you should drop an email on their special days and provide them exciting discounts on selected food items. This will make them feel special, and they would like to visit or reorder. Moreover, it is an excellent way to earn a reputation and retain customers.
 10. Connect to your target patrons through Email marketing
Take advantage of email marketing, as it is an excellent medium for customer acquisition. Find ways to collect customers' email addresses such as through feedback forms, and build your email list. Send messages, exciting offers, and a new menu list via email. Not only this, but you can also send a newsletter once in a while. However, you need to be cautious while executing this marketing strategy.
 11. Get listed on restaurant discovery platforms
Yelp and Zomato are the review portals that are widely used to search and find restaurants. Over the years, they have become a one-stop destination for online foodies.
You need to be on these restaurant discovery platforms to get maximum exposure. Yelp, on average, gets 26 million monthly mobile app unique visits, 73 million monthly mobile web unique visitors, and 84 million monthly unique desktop visitors. If your restaurant isn't listed on Yelp, then people will choose others over you.
The majority of consumers between the age group 18-34 read online reviews, so you cannot ignore the importance of online reviews. By having higher positive reviews, your restaurant can rank higher in platforms like Yelp, Zomato, Google, and more.
12. Run promotions and contests:
Contests can do a lot for your restaurant. They can drive engagement and generate leads. They build awareness and encourage people to participate to earn great rewards.
13. Leverage the power of Instagram and Pinterest
When it comes to food, anything that can grab the eye of the customer can do the magic. Marketers have been relying on this strategy for a long time. To attract customers to your restaurant, share captivating food images on sites like Instagram and Pinterest. In Spite of this, you can also post your staff faces and make them part of your marketing adventure. This helps your customers to get connected to the faces behind your menu.
You can also encourage your customers to post a picture of your dish on Instagram using a hashtag like #restaurantspecial and give them a free dessert in return.
Bottom Line
The market is flooded with a lot of restaurateurs who are ready to take over the rest. So, you need to keep up with trends and adapt these strategies before your competitors to have an upper edge.
Try the above-mentioned restaurant marketing ideas to amplify your business. With these marketing tips, you will be able to take your business to new dimensions. We would appreciate it if you would share any other restaurant marketing ideas that have worked for you in the past. Do mention the same in the comment.